Into The Woofs
The Incomparable Bernadette Peters & Broadway Barks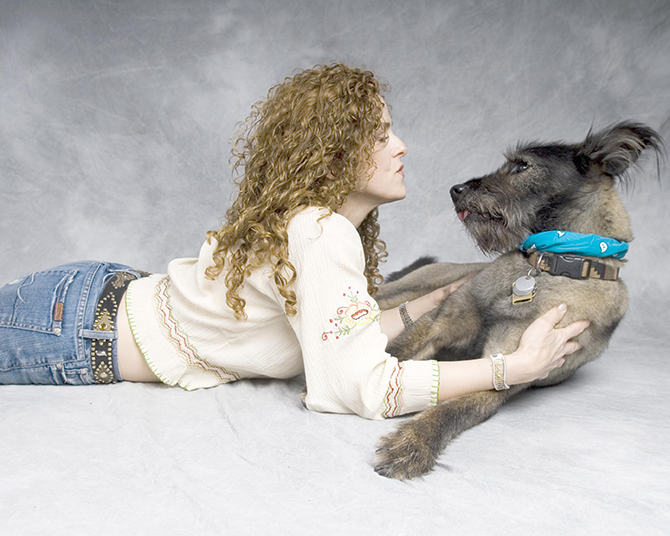 By Adrienne Frost and Lori Zelenko
Two decades have passed since Bernadette Peters with her good friend, the late Mary Tyler Moore, set out to help save our furry friends by founding Broadway Barks. Come this July, the star-studded festivities will be something special as Broadway's brightest, boldest stars are unleashed to celebrate this adopt-a-thon's 20th Anniversary. Save July 14th to join in the fun!
Broadway Barks celebrates 20 years in Shubert Alley this summer, and Bernadette Peters will, once again, hold center stage. Singer, dancer, actor, author, animal advocate… it seems the only thing that the extraordinary Bernadette Peters hasn't done is visit the moon (don't count it out, though!). Pet Lifestyles was lucky enough to speak to Ms. Peters about the history of Broadway Barks, her love of all animals, and what's coming up in the year ahead for her and her remarkable charity work.
Bernadette Peters grew up in Queens, NY. She began acting at an early age, earning her Equity card before she was ten. At the same time, she was begging her parents for a pet. "When I turned nine, they thought I was responsible enough, so we rescued a dog from Bideawee in Manhattan. My first pet was a puppy and we named her Suzy. She was a 'family' dog that everyone, including my aunts and uncles loved. I remember when my siblings and I would argue or when we would raise our voices, Suzy would get very upset and start barking. We would always have to calm her down".
Flash forward to the late 90's, and the moment she realized how many shelters needed help promoting themselves and the amazing pets they save. She remembers, "I was inspired to start Broadway Barks some 20 years ago when I went to a shelter to look for a pet. It was during that visit I first realized how much help the shelter needed.
Immediately, I called my friend, Mary Tyler Moore and recruited her. Mary was always a big animal advocate, so it wasn't difficult. She said "absolutely!"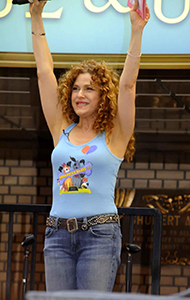 Bernadette Peters boosts the energy level at Broadway Barks
Since that time, the city shelters have been doing a terrific job with limited means, but back then - 20 years ago - they needed even more help and although the grass root rescue groups were doing their share, we decided to get involved. Mary and I started a pet adoption event and with the help of Tom Viola, the executive director of Broadway Cares/Equity Fights Aids and his staff, my stage manager, (I was in 'Annie Get Your Gun' at the time), my assistant, Mary's assistant, and our respective publicists, we created our first ever animal adoption event supported by many in the Broadway community. It was the first time that so many NYC animal rescue groups had ever worked together side by side to support homeless animals. We started out with six shelters. Today, we have 28 participating shelters. If only we had more space in Shubert Alley to accommodate our long request list."
Space notwithstanding, Ms. Peters and the late Mary Tyler Moore grew Broadway Barks into the mega-event that it is today. Sadly, Moore passed away in 2017. But she is remembered every year in a moving and unforgettable way. "Mary Tyler Moore was my dear, dear friend. I miss her every day. When we lost Mary a year and a half ago, I wanted to keep her legacy alive, so we created the Mary Tyler Moore Award - which is given to an individual or group who has changed the lives of homeless animals in a way that encourages others to do the same." Come to Broadway Barks to witness this year's recipient.
Ms. Peters has her own rescue dogs, Charlie, and Rosalie. They are best friends and love playing together on her fenced terrace, especially when the sun is out then they enjoy some doggy relaxation sessions. "When I can," she says, "I join in and adore spending time out there with them…they both are loving, cuddly dogs so we do a lot of that too! When I'm not working, we go for walks in Riverside Park and around the neighborhood.
In the summertime, we sometimes stop at Sephora where they offer water bowls for dogs and they take a rest on their cool floor. The store is so dog friendly."
True, she is an icon of Broadway, television, and film unmatched in her talents but her knowledge of animals and her dedication to them is where this star shines brightest. She is simply luminous when describing how the love of animals influences her on a personal level. "For me, animals are inspiring in so many ways. How they communicate with us without words is particularly beautiful to me. How sensitive they are to us and the elements around us," she adds. "Animals can feel natural disasters before we ever have a hint anything is happening. In addition, dogs can sniff out cancer before there is any detection medically. They are so healing to be around on top of being such great company."
This summer, Bernadette Peters will be sharing center stage with dogs once more. Adding to the festivities this year, Broadway Barks' 20th celebration is during The Year of The Dog. Ms. Peters says, "Our Broadway Barks team members are so excited that our 20th Anniversary falls on the Year of The Dog. Famed artist, Hilary Knight who draws 'Eloise' is designing our poster this year... with the Year of the Dog in mind.
"This year our Mary Tyler Moore Award recipient/special honoree will be given to one of our original participating shelters, BARC (Brooklyn Animal Resource Coalition) Shelter of Williamsburg," Ms. Peters tells us. "This year, we lost one of their founders, Tony Spoto so we will be honoring Tony and BARC for their exemplary rescue work over the past 20 years."
Broadway Barks may be an annual celebration but the good the funds raised at this event lasts all year long. Just look at Braille Barks. Ms. Peters explains, "We are very proud of Braille Barks, a program Broadway Barks developed that translates children's books about animals into Braille. We learned that 90% of blind children cannot read. There are not enough teachers or books to help visually challenged young people, so this has become a very important program in the development of the young brain."
Broadway Barks has blossomed into one of the most important animal rescue initiatives in New York City. The event has grown rapidly over the years. "We now have 28 participating shelters under the Broadway Barks umbrella. We started out with six," then she adds, "In the past 20 years over 2,000 animals have participated and 85% have successfully found forever homes."
Ms. Peters won't stop until all the animals in need find a home. She pronounces: "My continued hopes and dreams for Broadway Barks are to make a difference in the world of shelter animals and bring about awareness on how wonderful a pet can enrich one's life. Many of these shelter animals became homeless because of human condition. They suffered without a loving home. When these special animals are rescued, they know it and are SO grateful."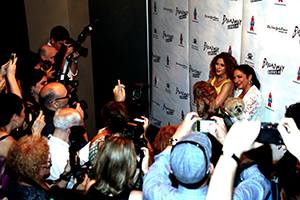 Bernadette Peters and Gloria Estefan at Broadway Barks
She reiterates, "I'd like to stress how important these companions are in our lives. There are so many older people whose only reason to get up every day is to take care of their pet. Think of the shy child who reads to his dog to help overcome social inhibitions and to help get comfortable with connecting with others."
In the years to come, Ms. Peters knows exactly what she wants to do with this amazing charity. She lays it out, stating, "A. We want to continue to find ways to help animals and people because we feel animals heal people. B. To encourage people to HAVE animals because they are calming and reassuring to us. C. Help animals that need us to bring out their best as companions."
A beautiful talent, a beautiful person, Bernadette Peters has changed the face of New York theatre is so many ways, including the bringing the blessing of Broadway Barks.
She wants us to know, from the bottom of her heart, to never forget, "Animals play such an important role in our lives that I don't think we even understand just yet. Hopefully someday we will."
Read more about Broadway Barks at broadwaybarks.wordpress.com.