A Moment of Paws
Bebe Neuwirth and Her Fabulous Felines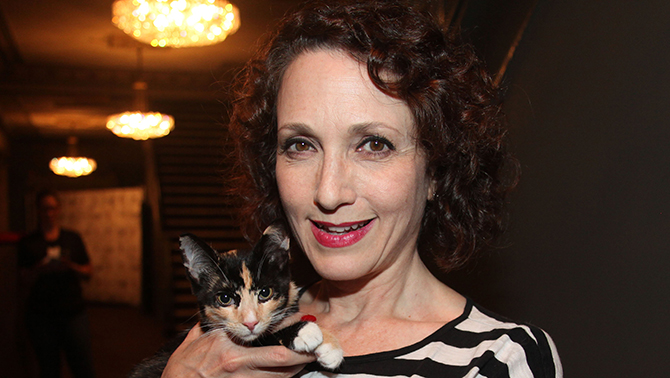 By Adrianne Frost and Lori Zelenko
Broadway's "cat lady" purrs, no claws come out here as Bebe Neuwirth reveals her loving journey through life with rescue cats – and actually, dogs too as she loves all animals and those in dire need most especially.
Tony and Emmy winner Bebe Neuwirth is a cat lady at heart. "I was born this way", she said when asked how long this has been the case.
The first cat she got was when she was in a Chorus Line, at 19. "I went to the Milwaukee Zoo they had kittens, ducklings and puppies. I picked a kitten and that was that", she says. In fact, her "real cat" toured with her and they travelled together for one year. This made up for a childhood without pets. "I could not have a pet as a kid - my big brother had allergies - but as soon as I was out on my own I started adopting. I could not wait to adopt my first cat."
"The animals in your life find you", she believes. Bebe has three cats, because, even with the pain of the loss of a pet, she says, you "Cannot get a replacement immediately but when there is a surviving cat it is out of balance, lost without a partner. So we got Tallulah for Bobby but sadly we lost him two years later." Her fuzzy feline family now consists of Tallulah, a small long hair calico from Philly paws, Siamese mix Billy, and Bengal striped cat Ruby.
Her love of animals isn't limited to cats. This triple-threat has participated in the ASPCA Storytelling Program, an initiative designed specifically to socialize victimized, shy, unsocialized dogs. She "read to dogs who were damaged... some of these were too damaged to heal," and who had "never heard a human voice except in anger." As part of the program, she sat with the dogs in the process of healing and read to them. "New arrivals do not look you in the eye," she recalls, and she had to "read softly, they are nervous at first." Through reading to them (she read a passage from War and Peace), Bebe says, "they hear the human voice then in a different way, filled with kindness and compassion." The result of this therapy? "Dogs develop trust."
When talking about dog and cats, she thinks, "Dogs are more willing to be responsive but cats do develop a willingness to come along. It's hard to make generalizations however; each one is different from the next." She continues her analysis by adding, "Each cat is a unique individual. Some have a brilliant sense of humor, some are more reticent".
Ms. Neuwirth is a staunch supporter of animal rescue, believing they all need a home. "I believe in encouraging adoption of older cats - it is the saddest thing, heartbreaking to see senior cats in a shelter often their original humans (owners) died." then she adds, "Adopting as kitten, it can be a surprise the way the cat looks when it becomes an adult".
Her motto for herself and her cats? "Love me the way I love my animals". Which, obviously, is a whole, whole lot.