BEAUTY AND YOUR BEAST
THE DO's and DON'TS OF DIY GROOMING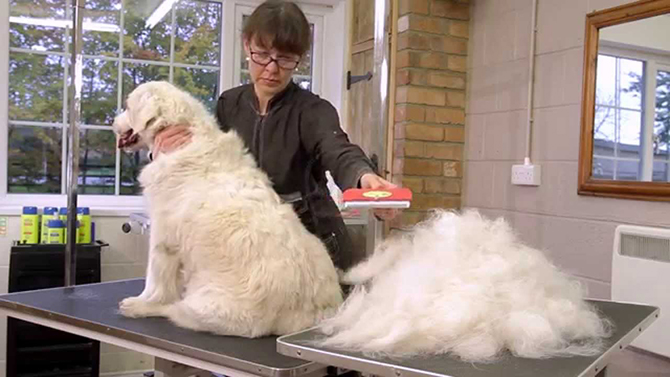 By Adrianne Frost
Pet Lifestyles asked the pros to share the do's and don'ts of beautifying your beast on your own. Here are our tips for DIY grooming. If you've ever bathed your dog, you know that, in the end, you can end up as soaked as your pup. And if you've ever had your dog professionally groomed, you know that the gorgeous fluffiness and shine can disappear with a little dirt or rain. Frequent trips to the groomer can get expensive and frequent baths can get, well, exhausting. Luckily, we've got some tips to help you DIY your doggy's do at home.
Before bathing, make sure to give your dog a good brushing. For short-haired dogs, a Furminator is a great choice. It gently gets rid of extra fur, alleviating shedding while also giving your dog a nice massage. For a dog with longer fur, a slicker or pin brush works well to gently detangle. Elly Wong at Towne House Dog Grooming in Chelsea says, "A slicker is a good all-purpose brush for long hair. Use the angled side to brush out tangles, then go over your dog with a comb."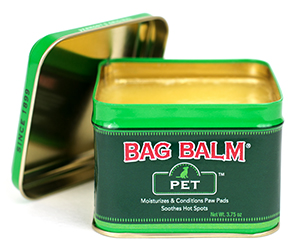 A tried and true remedy for chapped nose and paws. Find it on www.bagbalm.com
If you find a few mats, you may want to cut them out. Brushing out mats can be painful for the dog. If your dog is very matted, have the groomer shave the mats off (it's far less painful). Nancy of Downtown Doghouse says, "It is SO IMPORTANT to brush and comb your dog between groomings. People come to us all the time and tell us that their dog shouldn't be matted because they wash him all the time. Washing causes mats to tighten, actually! The only way to that prevent mats is consistent brushing and combing." Bathing your curly, drop-coated, or other long-haired breed WITHOUT being able to first get a comb from the skin through the hair - especially on the legs and chest - is ill-advised.
Now, let's talk about the actual bath! Dogs tend to slip around, so use a textured tub mat to give them something to hang onto. Pop some cotton balls into the ears to stop water from accumulating. Have a wet washcloth on hand to wipe the face (try not to pour water on the snout or near eyes and ears). After bathing, use an ear drying solution, vets recommend Virbac Epi-Otic (on www.chewy.com).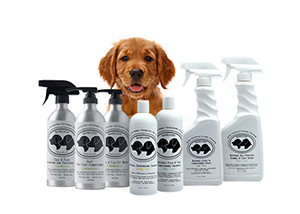 Bark Logic offers natural grooming care for dogs. Find a selection on www.logicproducts.com
A spray attachment can be very helpful to wet down your pet; try the new Aquapaw Bathing Tool (on Amazon.com). Looking to lather up and remove excess fur at the same time? HandsOn gloves are super-effective even on long-haired dogs like a Pekingese. Choose a shampoo that is gentle on your dog and won't leave a residue, so the coat is soft and shiny. Don't forget conditioner, Lillian Ruff makes an excellent one with lavender and coconut oils to naturally help repel fleas and ticks.
Many dogs have sensitive skin so it's a good idea to make sure their shampoo is hypo-allergenic. Elly from Towne House observes, "As a dog gets older, his/her coat and skin may require a more gentle shampoo. Oatmeal-based shampoo is soothing and it's a natural de-greaser. If your pet has allergies, a mild shampoo with an antiseptic is best. Stay away from human shampoos! As pets have different pH balances than humans, our shampoo can irritate their skin. Be sure to use a soothing, dog-specific shampoo like ECOS, the first-ever U.S. EPA Safer Choice-certified pet shampoo (we love the Peppermint scent!).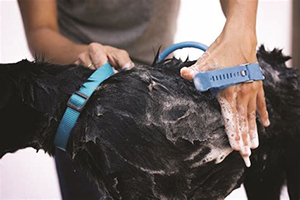 Aquapaw the one handed pet washer.
Find it on Amazon.com
Can you brush a wet dog? Absolutely, says Nancy! "You can brush your wet Lab or Frenchie - and I encourage you to! Suds them up and run a rubber curry brush all over them in a circular pattern. You'll be amazed at how much hair shows up on the brush! (And then not on your couch later!)"
Not every dog is going to let you scrub in the tub. What to do? Wipes can be useful. Baby wipes, or wipes made specifically for dogs (like Bark Logic – we're huge fans of their lavender scent), can help keep your dog clean (good for paws and coat).
Dry shampoos work well too. Fresh Dog Dry Shampoo Powder helps get rid of odor and freshens your pet in between baths. Elly from Towne House agrees, "Dry shampoo is great in between regular shampoos. Shampoo and water wash out dirt; powders absorb grease temporarily. No rinse shampoos are good when a bath is not an option."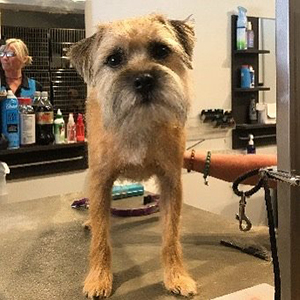 Looking like Sandy from Broadway's ANNIE, this freshly groomed dog is ready for the good life. Grooming by Downtown Doghouse www.downtowndoghouse.com
After they have a good shake from snout to tail, you can dry your dog with a microfiber drying mitt or regular bath towel. Downtown Doghouse's Nancy notes, "If you have a curly coated breed, never dry him off by scrubbing him with a towel - that's sure to cause tangles. Instead, squeeze the water out of the coat. If you are using a human dryer on your dog, please switch it to a cool setting." Or you can let your dog air dry. But be aware, a wet dog can become chilled quickly so keep an eye on their body temperature.
Should you cut your own dog's fur? What about a grooming kit? Nancy says, "Almost everyone I know who tried this abandoned it after one use! Get a good quality brush and comb and use them often!" Household scissors are not grooming shears. Be careful. Elly reveals that she is often called upon to blend her professional work with a DIY trim. A snip here or there can be a good interim solution, but on many breeds, it really is helpful to have the pros step in. Uniformly, groomers say, "it's one thing to cut out gum or a knot, but overall, just remember, safety first!"
If your four-legged family member seems to still have itching or discomfort after a bath, try a soothing balm or spray, like Real Time Pain Relief Pet Formula, with soothing aloe vera. Bag Balm for pets is great for chapped noses and paws.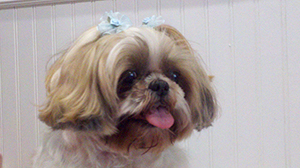 Elly at Towne House Grooming in New York City merges professional styling with DIY trims for her customers.
You can also use a home service in between spa visits. For example, Groomit comes to you to take care of your pet in the comfort of your own home. But the safest bet in between professional grooming trips is to make sure your pup is brushed thoroughly, clean, comfortable, and happy. After all, looks aren't everything!
Thanks so much to Downtown Doghouse and Towne House Grooming for their advice and expertise!
Adrianne Frost is a writer and actor from New York City. Her book, I Hate Other People's Kids was published by Simon & Schuster, and she is featured in the anthologies The Signet Book of American Humor (Signet), and Rejected: Tales of The Failed, Dumped and Cancelled (Villard). She has written for XOJane, Funny Not Slutty, Ask Ejean, McSweeney's, and many others. She has appeared on many television programs and in films, dying in several! She has performed stand up and improv all over the world. Reach her at Adrianne@adriannefrost.net Find her dog @buddy_one_eye on Instagram.