MAKE YOUR DOG THE PERFECT HOUSE GUEST
ETIQUETTE TIPS FROM A TOP TRAINER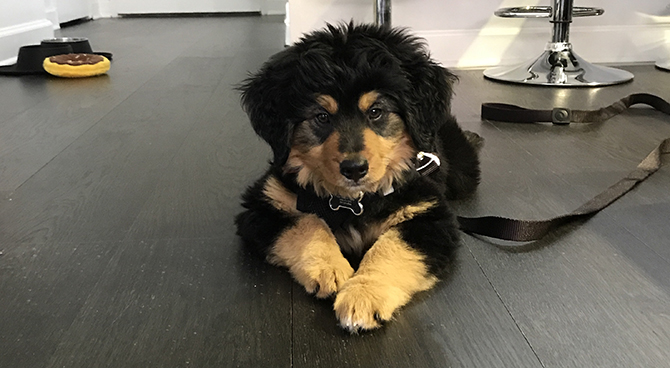 By Casandra Sultanik
Had enough of your dog catapulting into guests as soon as they arrive? Feeling embarrassed at group functions that your dog is barking like a maniac for attention? Let's talk about ways to turn your dog into the perfect house guest, whether you're going to someone else's party or throwing your own.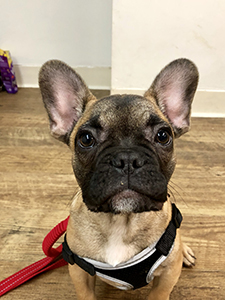 Attentive and responsive thanks to good training.
©Casandra's Canines
MANAGING YOUR PUP
Taking the time to train your dog in basic commands for manners, such as sit, down, stay, and come is a great way of bridging the communication gap between dogs and humans. But, training is a process that takes time and commitment. Even if your dog can sit and stay, that doesn't mean that level of control will be demonstrated when dealing with novel distractions and situations.  In order to achieve consistent and reliable behaviors from your dog, you have to practice and rehearse similar setups dozens of times before you will be able to achieve this effortlessly.  This is especially difficult for owners who have newly adopted a dog or gotten a puppy.
A TIRED DOG IS A GOOD DOG
We've all heard the saying "a tired dog is a good dog" and there's definitely truth to that. When heading to or hosting a function where you're worried your dog's exuberant energy will be a focal point, make sure to expend some of that energy before all the action begins. You can take your dog for a brisk walk or run, play fetch in the backyard, work on some training games or, ideally, a mix of everything. That way your dog has exercised a variety of muscle groups and can now settle more easily during the hustle and bustle of the party.
THE BENEFITS OF CHEW TOYS
Another crucial management tool will be a food stuffed chew toy. Food stuffed chew toys are a great way to enrich your dogs life, as well as help to burn extra mental and physical energy.  The majority of dogs find these toys extremely engaging as long as the right food motivator has been chosen. So make sure to pack an extra yummy Kong filled with your dog's favorite treats (wet dog food, plain yogurt with no additives, peanut butter, boiled chicken, steak, etc).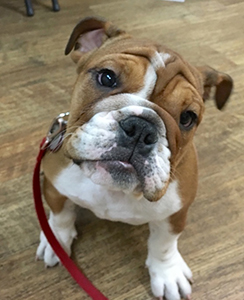 Listening carefully to good behavior lessons. ©Casandra's Canines
READY TO PARTY ON?
Bringing your dog to a party is a great way to enjoy your furry companion and socialize your dog. However, if you feel like you can't or don't want to devote the time necessary to supervising him, then opt to leave your pet at home and hire a dog walker if you're worried about how long you'll be gone for. That way the situation can be enjoyable for everyone. There is no sense in bringing your dog along if you'll be frustrated and worried the entire time. Neither you or your dog will have fun that way.
Hopefully these helpful tips will allow for an enjoyable and fun filled summer with you and your dog. Remember, don't roll the dice and hope it all goes well. Assess the situation, prepare/pack accordingly, and give your dog the best chance to succeed.
Casandra Sultanik is a positive reinforcement trainer who approaches all dogs with patience and affection. Although she works with dogs of all ages and issues, her specialty is preventive puppy care. www.instagram.com/casandrascanines