WHAT A DOG WANTS
THE BEST TOYS FOR YOUR POOCH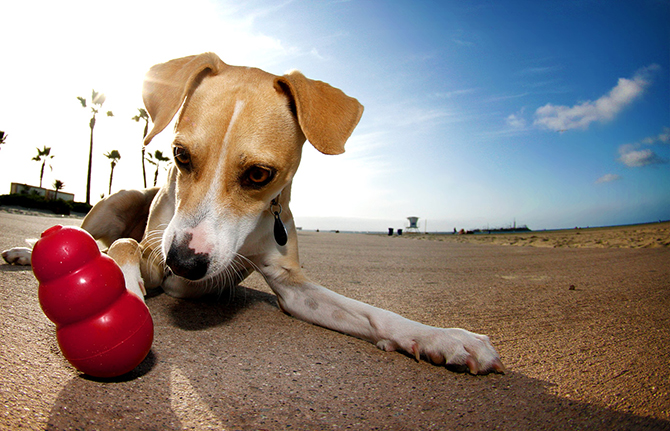 KONG Classic is ultra-durable with an erratic bounce. Ideal for dogs that like to chew - and play!
By Adrianne Frost
Looking to make the most of playtime with your pet? We here are our suggestions for the latest and greatest toys for pups of any size.
My dog, Buddy, loves to play. He has more toys than you can shake a (bully) stick at. Buddy will play with any toy, from tug-a-rope to fetch a frisbee. However, other dogs can be more discerning. Not every toy is suited to every dog. Balls, hide-a-toy, plush squeaker animals; even puzzles for enrichment and training... how to choose?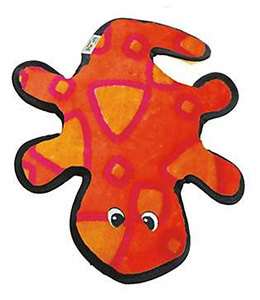 Invicibles are indeed just about invincible making them a popular choice for big dogs or chewers.
MIND OVER MATTER
Not all active dogs like fetch, but how to expel all of that energy? Carmona suggests interactive toys, like this Odin Puzzle Toy. Fill the toy with treats or kibble and your dog chases it around. For the dog that prefers a challenge try the Snoop Treat Toy, it dispenses treats as it provides mental stimulation. Try a hide-and-seek toy, like this one from Outward Hound. Squeak the little furry animals, then challenge your dog to get them out of the hidey holes.
SQUEAK IT UP
Some pups enjoy squeaky toys, but others prefer something more textural and less noisy. Love Thy Beast has 100% wool toys that dogs love. "The smell of the natural wool keeps pups wanting more!" A Watermelon Wool Toy is a perfect example. It will keep the noise to a minimum, and what pet owner doesn't appreciate a little quiet?
PUPPY LOVE
Let's start with puppies. Adriana Carmona, manager at Love Thy Beast in the East Village, recognizes how much puppies love to chew (including your furniture and shoes!). She recommends the Jax & Bones giraffe to start, which can also be wet and frozen to soothe teething and sore gums. It's also small, but not too small, for the littlest guys! Introduce your puppy to toys as soon as possible and let them (hopefully) leave that puppy chewing behind. Toys for puppies can also work as training tools, with their favorite toy as their reward.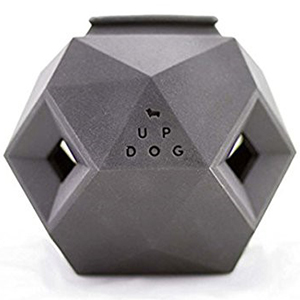 Odin Puzzle Toy provides mental stimulation for your dog.
SOMETHING FOR EVERYONE
Whether they're a Great Dane or Maltese, there is a toy for your pup. Even teeny, tiny dogs have choices. Adriana from Love Thy Beast says that crochet toys are perfect for small pups. "They are small enough for them to carry around and have a squeaker inside!" And, for dog on the larger side, try a "tuff it, toss it, chew it!" toy, like a stick toy.
Big guys are hard to shop for, often, because they tend to destroy their toys. Outward Hound makes the Invincibles line, which are supposed to keep going like the Energizer Bunny! A good, solid colored round toy is good for aggressive chewers. And any thick rubber, non-plush toy (Kongs are good). If your dog likes to chew, substitute a durable chew or bone during down time (which also helps the teeth!).
Decisions, decisions... no worries here there are toys for dogs of every size and temperament. It may take some trial and error (and cleaning up stuffing), but you've got plenty of choices. Be sure to monitor your dog and their new toy for safety and, if they're having fun, try not to steal it for yourself!
Check out Love Thy Beast in the East Village and online for toys, apparel and more!