OPIE & DIXIE
NATURALLY MINDED SKINCARE FOR OUR FURRY FRIENDS
By Todd Neikirk and Dean Eleanor
The devoted, loving and naturally-minded founder and owner of USDA Certified Organic skincare line Opie & Dixie, Debbie Guardian believes deeply in animal rescue and providing the healthiest and safest options for our pets. She has had all kinds of pets, from parakeets to mice to the dogs that inspired her all-natural pet line, Opie & Dixie.
In 2008, while preparing to undergo treatment for breast cancer, Debbie became interested in nutritional and holistic therapies to improve her health. The dogs came along for the ride. "Needless to say, when I went natural, so did the girls. The healthier I became, the more intent I became on keeping Opal and Dixie thriving and healthy as well."
When Opal (Opie) came down with a skin lesion, Debbie chafed at the idea of using a corticosteroid on her and developed her own remedy—a nutritional supplement. The supplement featured flaxseed, which not only helped to heal her wound, but also promotes healthy skin and coat in dogs. This remedy was the genesis for the topical skin remedy, Spotstik.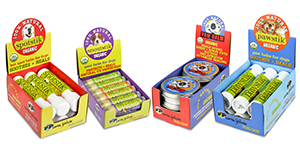 Opie & Dixie USDA Certified Organic Balms soothing for our furry friends
Debbie has branched out into other products as well. Snoutstik is a favorite among pet parents with dogs who have calloused noses, such as bulldogs. Paw Balm, in either a tin, or in a tube known as Pawstik works well for dogs with dry and cracked paws. Since the products are all-natural, Debbie even finds that the Snoutstik and Paw Balm work on her own body.
Debbie speaks from the heart when she says, "We love our pets and organic treatments are a great way to keep them happy and healthy. If you are looking to treat your pets to safe and soothing treatments, check out Opie & Dixie." No question about it, we're right there with her. All natural, all the time for our fur babies.