WHISKERS HOLISTIC PETCARE
NEW YORK CITY'S NATURAL DESTINATION FOR PET CARE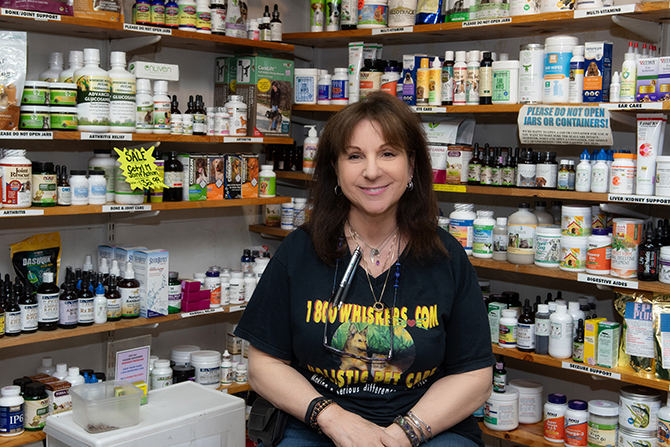 By Lori Zelenko
In 1988 the trend of alternative pet care products was barely born. That's when Whiskers Holistic Petcare opened their East Village location which has become, over the decades, a destination beloved by a community of pet owners who call, order online or text questions and requests for homeopathic medicine and healthy, natural food not only from the heart of New York City but from all corners of the world. With the wellness trend becoming progressively more mainstream, Whiskers may not stand alone but it does lead the pack.
We sat down with owner, Randy Klein who with her husband Phil, started Whiskers out of a need for alternative treatment for their own dog to ask her how the pet world has evolved since she pioneered this holistic wellness destination for our four-legged friends. Here are a few of her observations…
Pets Are Always Our Children
To pet lovers, pets have always been "children" and part of the "family." Pet lovers are not obsessed with their furry family any more than a new mother or father would be with the addition of a child. Do pets "replace" children in a home... definitely sometimes — kids who have grown up and out of the house can easily be replaced with a pet for parents. When a pet dies, the feeling of loss can be helped and eased with the addition of a new pet. We feel the heartbreak the owners go through.
Alternative Therapies Are Valuable
Just ask the thousands of pets Whiskers has helped over the years.
Yes, our business was the direct result of medical needs our own dog had at the time. We found alternative therapies as well as healthier choices and offered what we learned to our customers. We've helped thousands and thousands of pets in our 30 years here. Our adoption efforts evolved as the need for finding homeless cats became clear to us. We've found 100s of cats fur-ever homes.
Whiskers is known for holistic solutions in pet care
It is a destination for pet owners from all corners of the world.
The NYC store is our flagship store. NYC has a personality of its' own. We opened our store in Astoria ten years ago and find it has a quieter, calmer feeling. However, our customers come from Ireland, Asia, Turkey and everywhere. We offer online shopping at www.1800whiskers.com and also have a new TEXT ORDER LINE (646-374-1907) where you can just text us. We offer consultations with our holistic advisors to help pet parents make the right choices. Our expertise comes from years of study and hands on experience. Just give us a call at 1-800-Whiskers, we're here to help you with our humane, natural approach to pet care.