Summertime Goes To The Dogs
Keep Cool and Collected With Tips From The Bonehouse NYC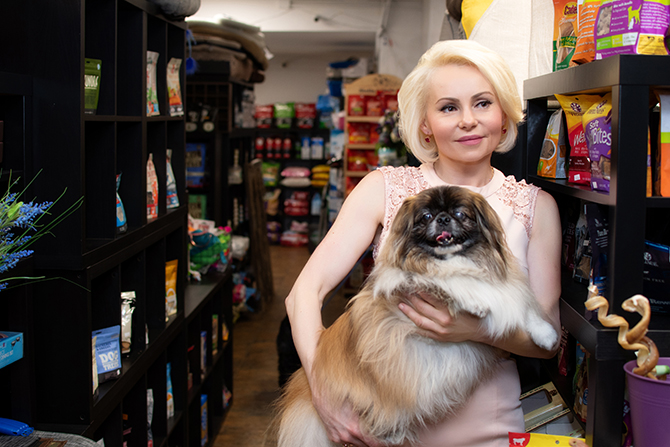 Oksana, owner of The Bonehouse, NYC's holistic pet lifestyle destination with the best toys, treats and more for Summertime fun. Free delivery to the Hamptons. ©Geoff Tischman www.tischmanpets.com
By Adrianne Frost
After the endless winter we had here in New York, the city is more than ready for summer to show up! The warm weather invites more outdoor activities with your dog, so we asked Oksana Vintonyak the owner of The Bonehouse, the holistic lifestyle destination for pets on Sutton Place, for some helpful tips to keep your pup cool and collected—and secure as the temperature heats up.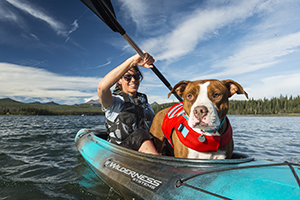 For water safety, try Ruffwear's Float Coat for dogs www.ruffwear.com
STAY COOL
Some like it hot: But most dogs don't. Your pet's paws are sensitive, especially on paved walkways. Test surfaces to see if they are tolerable. Place the back of your hand onto the sidewalk or street. If you can't hold it there for five seconds or less, it's too hot for a walk. Make sure to have a collapsible water bowl with you and be near shady spots for a break. Bring along a frozen treat or chilled toy; it will help them cool down. Oksana reminds us that just like people, dogs can get sunburned too. She recommends protecting them with Epi-Pet sunscreen.
TRAVELING ALONG
Are we there yet? (plane and car travel): Until you arrive at your destination, it's best to keep your pet in their carrier. In the car, a good car seat is key. PupSaver makes the only crash test approved car seat, a favorite of the clientele who frequent The Bonehouse, New York's holistic pet lifestyle destination. Oksana reminds us that strapping your dog in is essential to guarantee a safe ride.
Talk to your pet while you drive to soothe nerves and create a positive vibe. NEVER leave your pet unattended for any amount of time in the car. Cars heat up very quickly.

Don't overlook Summer sun protection for your pet. www.epi-pet.com
GETAWAY GUIDELINES
Vacation, all I ever wanted: Once you arrive, it is important to make sure there are no toxic items within reach. Bring or pick up your own natural cleaning supplies, Skouts Honor is a must for Bonehouse clients heading away for Summer homes out East.
DOWN BY THE SEA
Surprisingly, not all dogs can swim, so if you're planning on boating, chilling poolside, or breaking out your surfboard, try a solid flotation vest, Ruffwear makes a good one. Do not assume your dog can swim or that your dog is smart enough to stay out of the pool much less the ocean (you can be proactive and use the Hedz UP Pets Watercollar even if you're just walking near the waves.) Motion detectors work IF you are home but if not, beware. To keep your dog fresh after a swim, use a deodorizing shampoo, Oksana suggests Burt's Bees with Apple and Rosemary. No one wants a stinky dog in a fresh vacation space. If washing your dog is just not an option, try Opie and Dixie's Organic Rosehips Dry Shampoo it detangles and conditions without water.
SUMMER OF LOVE
Pets like summer as much as their parents do, and it's the perfect season to get outside and bond. If you travel, no matter how you get there, bringing your four-legged family member can make your vacation one to remember. With thorough preparation and planning, you can turn June to September this year into a summer of love!