LOVE AND DANGER CO-STAR IN
MABEL, MABEL, TIGER TRAINER
By Lori Zelenko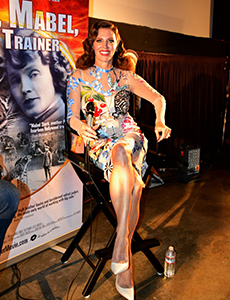 Leslie Zemeckis Award-Winning Creator of Mabel, Mabel Tiger Trainer the extraordinary new film about this superstar of the steel arena
PASSIONATELY DEVOTED TO TIGERS
The death-defying tale of the world's first female tiger trainer, Mabel, Mabel, Tiger Trainer premiered in New York earlier this season at a private screening at The Museum of Modern Art after a star-studded opening in Los Angeles. The empowering story of Mabel Stark, an outcast who was rejected by her family, escaped poverty and abuse in rural Kentucky, and ultimately found her true passion in the eyes of a tiger is vibrantly told in Leslie Zemeckis' feature length documentary narrated by Oscar-winning actress Melissa Leo. Susan Rockefeller hosted the New York premiere of this exceptional film, a poignant, powerful story brought to life authentically, passionately, painfully, and truthfully. On DVD and streaming platforms (Amazon and Vimeo) in time for Summer viewing; pair with popcorn for a memorable night under the big top. For more insights, www.mabeltigermovie.com.
SUPERSTAR IN THE STEEL ARENA
From performing dangerous feats as a stunt double for Mae West during Hollywood's Golden Age, to working in the circus as a sexy blonde cooch dancer, it wasn't until Stark locked eyes with a 400-lb tiger that she found her true calling. In that instant she knew that she wanted to train the big cats, a skill reserved exclusively for men, and something she was told no woman could ever do.
Circumventing the chauvinism of her time, Stark clawed her way up the circus hierarchy. Before long she was a superstar in the steel arena, one of the most famous and highly regarded tiger trainers in the world.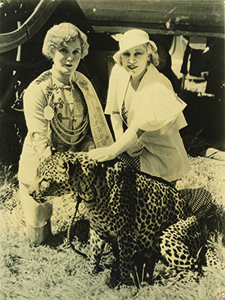 A TRUE LOVE STORY
"When I first started researching Mabel Stark I thought it was going to be a story about courage," explains the film's passionate creator, Leslie Zemeckis. "I discovered however, that her story was really a love story. She loved her tigers so much she would give her life for them." Stark's rise to stardom was not without sacrifices, and after multiple failed marriages she increasingly took solace in the company of her cats. Using only positive reinforcement, she continued training the exotic "stripes," and during her thirty-year career at Jungleland in Thousand Oaks, she transformed the suburban theme park into a world-famous Southern California attraction. Although her body was broken and scarred from numerous attacks by her beloved tigers, it was the scars from her childhood that never healed.
UNDER THE BIG TOP
As a historian of American pop culture, Zemeckis continues bringing to life the stories of marginalized women. She wrote, produced, and directed the critically acclaimed documentary "Behind the Burly Q," a Showtime documentary revealing never-before told stories of women from the golden age of burlesque, and her most recent hit, the award-winning documentary "Bound by Flesh" about Siamese superstars Daisy and Violet Hilton, chronicles an important part of American entertainment from a bygone era, delving into the world of circus and carnival life in the early part of the 20th Century. Authentic, compelling, powerful, entertaining, and even heartbreaking Mabel, Mabel, Tiger Trainer is not to be missed.