Fuzzy Family Fun
Show Dogs Trots into Theatres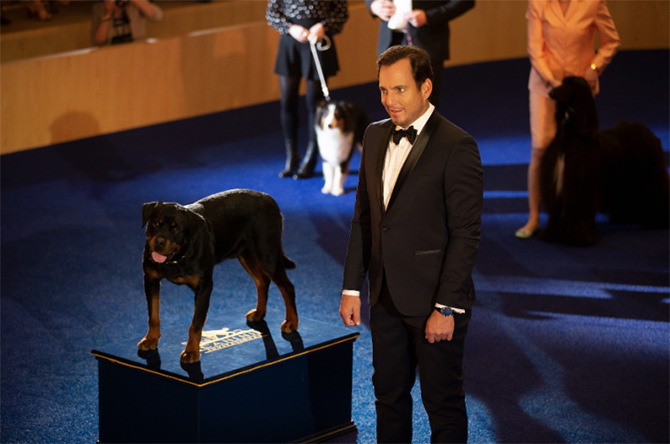 By Dean Eleanor
With all the superhero movies thundering into cineplexes these days, it seems difficult to find family-friendly films that forego fire, fury and fighting for laughs and fun. Summer blockbusters are generally geared towards tweens and Millennials; it can be hard to find something for the kids. Luckily, director Raja Gosnell's "Show Dogs" has thrown its collar into the ring and wins Best In Show for kids and parents alike. A riotous script and slick comic performances puts it at the top of the must-see list for families this summer.
WAG THE DOG
Frothy and hilarious, "Show Dogs" follows Rottweiler and police dog Max (voiced by rapper Ludacris) and his human cop partner Frank (played by Will Arnett). They team up to try to rescue a baby panda named Ling-Li, who, based on insider info provided by Max's dog informants, is being held in Las Vegas. Traveling to Las Vegas they end up in quite the waggish predicament: Pretending to be in a dog show is the only way to find Ling-Li. Max, not exactly a precious pooch, finds himself learning to master the disguise of a pedigreed entry in the elite competition and Frank becomes his "trainer." They immerse themselves in the world of the Canini Invitational dog show. And it's a crazy world, too, full of posing, primping, prancing and judging, where Max has to conquer his dog-out-of-water situation and solve the case!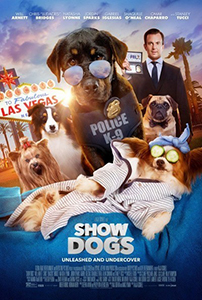 CRIME SOLVERS
Along the way to solving Ling-Li's kidnapping, they encounter lots of doggy friends, including a pampered Papillion (the amazing Stanley Tucci), a beautiful Australian Shepherd (a smooth-voiced Jordin Sparks), and other funny actors like Gabriel Iglasias. Iglasias provides laughs as Sprinkles, a pug who has a problem with… well, you can guess the joke there. A trio of pigeons even joins in on the shenanigans. Add RuPaul as a four-legged fashion expert and Shaquille O'Neal (as a Zen-filled Komondor) to the pack, and it's simply sidesplitting. Human actors include Natasha Lyonne (Orange Is The New Black) as Mattie, Mexican actor Omar Chaparro (How To Be A Latin Lover), and Andy Beckwith (Game of Thrones).
For young viewers, "Show Dogs" is sure to become a canine classic, and parents will glad to be along for the ride, watching their kids crack up at the silliness. It combines lots of sight gags, physical comedy, and lessons about friendship, and isn't afraid to laugh at itself. Plus, who can resist talking dogs?!!? The special effects to move their mouths and their excellent training are amazing to see.
PAWESOME GOOD TIME
Visiting "Show Dogs" at the Cineplex this weekend will give your family a nice break from panthers, hulks, and dead pools. It is highly enjoyable, especially for the little ones. And, let's be honest, it's pretty pawesome to spend your day with your kids, a streetwise Rottweiler, a sprinkling pug and an adorable (albeit haughty) Yorkie.
"Show Dogs" is in theatres now. It is directed by Raja Gosnell and written by Max Botkin and Marc Hyman. It is distributed by Global Road Entertainment.
Dean Eleanor is a freelance writer who hails from the Chicago area and now lives in New York City. She loves animals of all shapes and sizes. She can be reached at sanfordkitty@yahoo.com.