SAVE THE DATE – JUNE 23 - TO HELP PETS IN NEED:
BE THERE FOR ART TO THE RESCUE
Fashion Designer John Bartlett hosts Pet Rescue Event June 23
By Lori Zelenko
DEK: "Rescuing one animal may not change the world but for that one animal – their world will be changed forever," John Bartlett, CFDA Award-winning designer and animal activist, host of Art To The Rescue, June 23 benefit in Washington, Connecticut.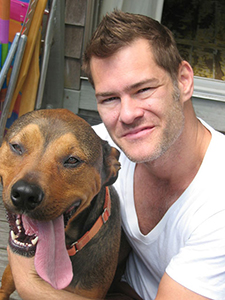 Beg, Sit and Heel for June 23, 2018 Art to The Rescue a fine art auction and benefit for Little Guild Animal Shelter in West Cornwall, CT. Designer John Bartlett along with By Request Home Concierge invite all for a special evening of cocktails, plant-based hors d'oeuvres, and an amazing collection of fine art and luxury items to be auctioned to benefit the Little Guild Animal Shelter. Among the stellar auction items, work by Ted Barkhorn whose images of the natural world transcend traditional perimeters of the imagination.
SPECIAL TREAT: No need to beg, sit or heel but there will be a special guest appearance by Hugh Panaro, a leading man on Broadway and leading voice in animal activism, star of Phantom of the Opera, Les Misérables and Show Boat will be on hand to encourage all to open their hearts to help animals in need. Let's applaud this wonderful, caring role! Reserve your place in the audience now for this extraordinary special event.
2. The Mission of the Little Guild is to shelter and care for homeless cats and dogs, finding them loving new families, and supporting their transition into homes through education for both animals and adopters. Little Guild also serves the broader community of Northwestern Connecticut through reduced-cost spay/neuter and vaccination clinics, a free pet food pantry, and pet-related education events. https://www.littleguild.org/