HE'S GOT THE RIGHT STUFF
From New Kids On The Block To New York City's Favorite Cop Show Donnie Wahlberg Gets It Right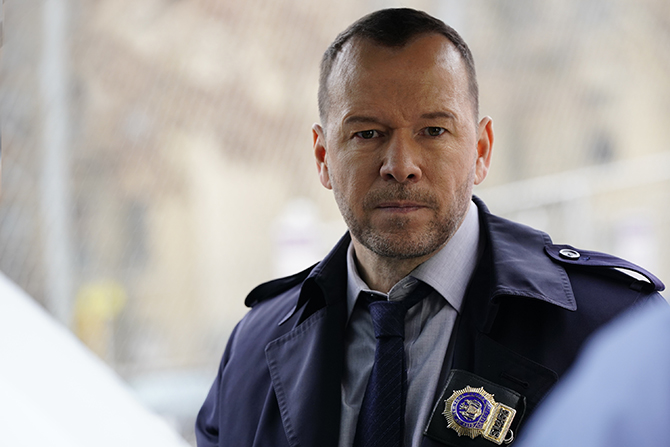 By Lori Simmons Zelenko
Everybody loves Donnie. And I mean everybody. From the over 40s who loved him in his, as Shakespeare puts it, "salad days," as a teen-aged member of New Kids On The Block, the 80s boy band that's stood the test of time (80 Million+ records sold are testimony to that claim) to newer recruits who've just discovered the NKOTB tunes. Add to the list, those who've grown to love him as salt-of-the-earth detective Danny Reagan on CBS-TV's Blue Bloods over the past eight years. There's probably not a guy who didn't groove on his badass attitude then in NKOTB or who doesn't see something of this edge in Danny Reagan today. And there's probably not too many girls who didn't crave a kiss from this lovable bad boy back in the day.
These days kindness and understanding rule his world, he speaks of the loves of his life with joy and advocates listening, communicating with all creatures great and small, meaning people and animals too. Born in Dorchester, Massachusetts, the eighth of nine kids he grew up with a band of brothers and what do boys want? Dogs. So his family was always taking in strays. These days, since Blue Bloods started in the Summer of 2010, his constant companion is Lumpy, a French bulldog he calls his right-hand man.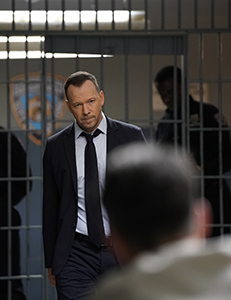 CBS-TV's Blue Bloods.
SO HAPPY TOGETHER
Donnie and Lumpy travel through life together, accompanied by Jenny McCarthy, Donnie's wife since 2014 whom he calls "the perfect mate" and their two teacup Shih-Tzus, Gunner and DJ. Busy defines Donnie, between shooting Blue Bloods in Brooklyn, touring and making music with NKOTB, his schedule is packed. As if it weren't full enough, add to that the family business and accompanying reality show, A&E's Wahlburgers which tapes on his only days off. Throw in walking the dog too, and you've got a schedule that would overload the average guy. But even though he radiates everyman approachability, he's intensely focused, passionately dedicated to family and madly in love with his wife, comedian, actress, host (formerly of The View), best-selling author and influential activist. He's known too for helping out those who are on his team in life, rewarding loyalty with generosity.
His perfect teammate, Lumpy however is with him just about everywhere. They have been just about inseparable for the past eight years since his son Elijah insisted Donnie get a dog. "Elijah had been with me for the Summer and he was heading back to school soon. He knew I'd be lonely when he left, so he said 'Dad, you need a dog.' He literally did Dogs 101 on You Tube until he found the right dog for me. He did the research and came up with what he felt was the right match: A French Bulldog."
Finding one to rescue wasn't easy. They looked high and low, calling breeders for retired Frenchies or scouting rescue groups in hopes of finding an owner surrender, but disappointed after a thorough search they were nearly ready to give up when friends in Boston realized they could not keep their puppy. And so Donnie and Elijah went to Boston to take a look at the dog. Donnie's first response, "He just looks like a lump!" And Elijah's answer, "That's it Dad, we'll call him Lumpy." And so the little creature, the baby lump of six months came into Donnie's life eight years ago. The name stuck and the two are stuck on each other.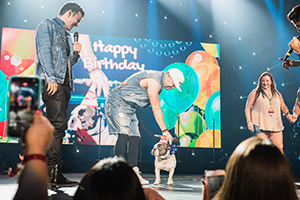 Mark and Donnie celebrate Lumpy's Birthday
PROUD PAPA
Holding Lumpy for the first time, Donnie was awed. With three boys between them, Donnie and Jenny felt the time for a human baby had passed. But that didn't rule out fur babies. Lumpy soon had siblings, Gunner and DJ (for Donnie and Jenny) tea cup ShihTzus. DJ, Donnie says is like his daughter, precious, tiny and with Gunner, requiring great mindfulness. But together they are entertaining, climbing all over Donnie and Jennie in the mornings, protecting their treasures from their big brother, Lumpy, just generally being adorably funny.
But a watchful eye on these two is critical as Donnie says, "a hawk could eat them in a heartbeat." Lumpy was a bit dubious at first but now they all get along, napping together curled up in a ball on a beanbag chair while Donnie and Jenny work out. One sweet vision, Donnie says like a proud papa. For DJ and Gunner life at home is bliss, except when Lumpy comes hunting for the Greenies they've buried on the bed - their favorite place to be. Lumpy's generally well-mannered, he won't just jump on the bed. He quietly waits for an offer to come on up. DJ loves Lumpy and Lumpy, well, he's getting used to the affection. She licks the folds on his face, caring for him. Donnie speaking of his fur children, says Lumpy secretly loves it though he seems to say "Oh, come on!" maybe just a little impatiently.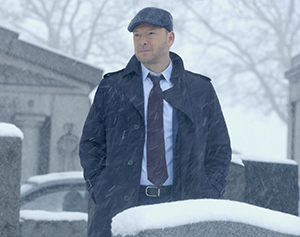 A somber moment for Danny Reagan on Blue Bloods. New season starts this Fall on CBS-TV.
ONE DOG THAT'S A COOL CAT
Lumpy however is no homebody, although he does love to chill on the porch and sunbathe. Donnie's given up on getting his stubborn buddy to come inside on his human timeline, there's no coercing Lumpy to move if he has another agenda. Sunbathing, Donnie says, is a newly discovered way for Lumpy to relax so taking a cue from his BFF, Donnie settles in for a siesta on the porch until Lumpy decides it is time to retreat from the sun's warming rays.
This dog is so cool, says Donnie, he just gets it. When he comes on the set of Blue Bloods, i.e. "work," he knows who to hustle for treats and who will play with him endlessly. One quick scan and he's got it nailed. Just like when he is in the recording studio, Lumpy heads for the console and settles in for a nap right under the focal point of the room. Lumpy's not musical but like another member of the band, he makes the rounds: Checking in with the drum tech, posing for fans. Arenas are his special place to be, he loves being on stage. A natural born star? Yes agrees Donnie but cautions, he's humble. According to Donnie, Lumpy flies private, he flies commercial too (like Donnie says he's humble.) He travels everywhere with Donnie just as Gunner and DJ travel everywhere with Jenny.
Lumpy's surprisingly not jaded even though he's got the layout of the Red Sox locker room down pat, and of course, he's a regular at the Celtics games too so he knows his favorite team's locker room inside and out. "Me and Lumpy, we're all Boston all the way!" But anyone who loves Donnie and it seems like a large percentage of the world does, knows how crazy he is for Boston's teams.
STRAY MEMORIES
Lumpy is far from Donnie's first dog. "Growing up we always took in strays," he recalls warming up to the topic as favorite companions come to mind. "I had a German Shepherd growing up called Lightning. But the dog that was the best was Scooter - a golden retriever mix - he looked like Old Yeller - in fact, he was my Old Yeller. He was the first pet who went everywhere with me. When I was in 7th Grade, my mom and dad split up. So I'd take the subway to my Dad's house and every Friday at 3:30 pm the dog would go crazy. So my dad would open the door and the dog would run a ¼ mile to greet me. He was such a good buddy. Have some great memories of Scooter. I was lying in the street with a compound fracture in my ankle and all I could think about was get Scooter home safe, don't let him get hit by a car too."
Memories are important to Donnie and he has great ones of Lumpy too. The moment he first held the puppy just a few months old, "he was this little life in my hands. Little but a big responsibility. It took me a minute and I felt the responsibility keenly but I took him on, I cared for him carrying him when he was too little to go down the stairs, training him, nurturing him, I felt well, like a parent." So many great times shared together; in reminiscing, Donnie faces the realization that eight years have flown by.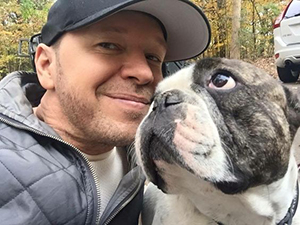 Donnie and Lumpy
What were the milestones? "The way the kids love how he greets them. The first time I took him home to meet my wife. Sharing the first snowstorm." Dogs never do last long enough but there's no need for sadness or disappointment now. Says Donnie, "I can't look at him like an old man." There is room though for the best times ever with this perfect pup at their vacation home in Massachusetts that is Lumpy and his family's favorite place to be. Lumpy has a ball, playing in the surf, running, chasing, wearing himself out, finding joy and peace in total exhaustion.
Lumpy on the loose answers to Lumpy mostly, though since arriving he has acquired about ten other names. One in particular came from Donnie's uncle, a formal gentleman of few words who spent a week with Lumpy quietly at his feet while he read The New York Times. On departing, he grandly proclaimed "that dog should be called Frances." So Donnie humorously has dubbed the dog Frances Von Lumpy.
WahLBURGERS FOR ALL….EXCEPT LUMPY
No Wahlburgers for Lumpy. Apparently, we hear he's not a ground beef kind of guy. Donnie lets us know that Lumpy eats organic food and he and Jenny do cook for him. Chicken and rice with carrots Lumpy loves, especially soothing for this gallivanting Frenchie.
Talking about the A&E reality show with his brother's Mark and Paul, Donnie admits there are challenges, "Wahlburgers shoots on my only time off from NKOTB and Blue Bloods so I am often a little tired, maybe not so patient. But it's easy and it is real. This year we let the viewers behind the curtain and shared more of our business dynamic, it's more personal in some ways to show the business side of our lives. It's family stuff, we all work together so it's intense." You could say it's a parallel to Blue Bloods, the characters argue as families do, they have fundamental differences and opposing points of view but there is still the bond of love to hold them together.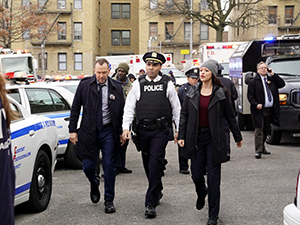 Detective Danny Reagan ready for action on Blue Bloods. This Fall on CBS-TV.
NO SHARK TO JUMP
So the question everyone who loves Donnie has to ask will the Reagans get a dog? So what's the answer? "Some of the producers were thinking yes early on," he says. "But then there was the point of view that getting a dog was like saying the show needed a boost. Jumping the shark. On The Brady Bunch they got a dog during the final stages of the show so that's just something that at the end of the day, the producers opted not to do."
So why does Blue Bloods continue to captivate? Donnie Wahlberg explains it all, "back in the 70s and 80s the family element was big on TV. So many shows were about families, remember The Brady Bunch, Full House, The Waltons…But in the 90s this theme became uncool. Blue Bloods is a throwback you could say, it reinvents a category that was seen as boring on TV."
Blue Bloods is a look at a traditional family, one Donnie says reminds him of his own life. If you come from a big family you will recognize the dynamic. If not, you'll live vicariously through the Reagans and be part of that big family you never had."
Maybe you'd never guess it, but for Donnie, family is a sweet spot. Ripped dad bod or not (watch the NKOTB Thankful video for a closer look at the abs and the loving families that ground the band), he is all about connecting and communicating with the people and the pets that make a difference in his life. "Listening," he says, "is communicating."
And as for Danny Reagan, well, he's healing after losing Linda, his wife on the show. He's grown a lot in the eight years on Blue Bloods and he'll grow in different ways this season. His son will head off to college. And it seems that without the support systems he's depended on, he'll have to adjust, or as Donnie puts it, "just be more diplomatic."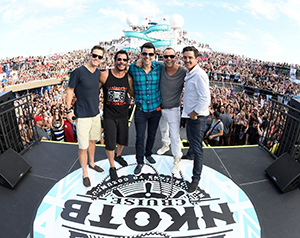 Donnie with his New Kids on the Block bandmates, on their annual cruise. ©Brian Babineau
NKOTB STANDING THE TEST OF TIME
Thirty years is a lifetime. Imagine starting out as a boy band, manufactured, micro-managed, over-merchandised, packaged so completely that controlling your own destiny was nearly unimaginable. Then after breaking up, getting the band back together fifteen years later (2008), self-financing a rebirth that's still leading to hit videos and chart-climbing pop tunes, if that's not a one in a million success story I don't know what is. NKOTB defies the odds to be true to their fans, to themselves, to their music. The bond with those who love them is unbreakable. Like their hit song, #3 on the charts from their second album in 1988 but still rockin' today, NKOTB and naturally Donnie has "You Got It (The Right Stuff)."
For Donnie, performing in NKOTB is not about "putting across an expression of our art. Rather it's about reaching the community the fans represent, showing them how NKOTB listens to them and respects them and is there to give them what they want." Massive success in the music biz for Donnie is "not waking up every day and saying hey, I've made it, I'm #1 on the Billboard charts. The music biz evolves constantly, nothing stays the same. That's why you can't fight to stay in control of everything. Control what you can control and let the rest take care of itself."
No wonder everybody loves Donnie.