A KINSHIP WITH ALL ANIMALS
Blue Bloods' Will Estes Shares Love and Heartbreak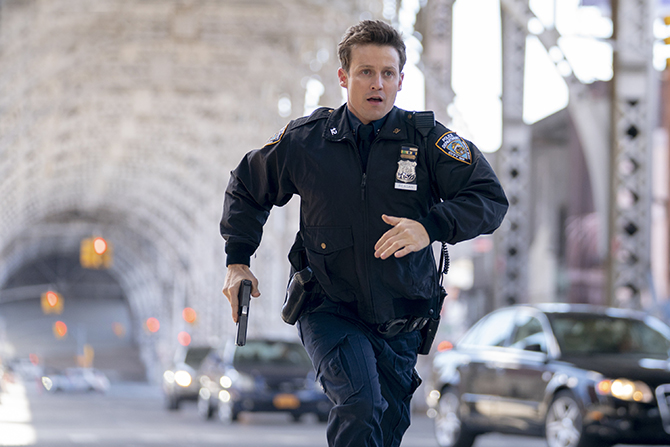 Will Estes in Blue Bloods CBS TV
By Lori Zelenko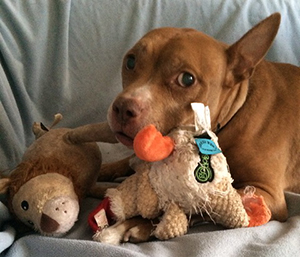 Will Estes' beloved Lola with all her toys.
I confess, I think maybe I have a secret crush on Jamie on Blue Bloods. How can anyone resist his integrity, his compassion and his dedication to his family and the career that comes with being one of the Reagans, in his case choosing to be a beat cop. Jamie seems like a good guy, the kind of guy who'd be kind to animals and any vulnerable living creature.
A MAN AND HIS DOG
Will Estes aka Jamie on Blue Bloods may not have forgone law school to patrol our city's streets but this LA-born actor (who has even been in a Jon Bon Jovi music video) is no less passionate than Jamie about doing the right thing. In Will's case, it's not enforcing law and order but saving the planet (Mars is just a dream away so why trash planet earth?) and the living creatures on it. And dogs are a top priority, just look at his tweets for Best Friends. He admits to "a kinship" with all animals.
Will loved his dog Lola, a mini-pit he called her, 39 pounds of non-stop energy, a dog who was ready to fight or play at one sniff of another four-legged compatriot. He found her at a time when he had room in his life for a dog. And where did he find her? In sick bay at the roughest shelter in NYC, ACC in Harlem maybe an hour before she would have been put down. "Rescuing Lola was an emotional moment for me. Profound," he shares from his grieving heart. Going on to add, "They find us you know. It's not the other way around." Can't help but agree; dogs somehow pick their owners, especially rescue dogs whose lives are ones of desperation, they sense who will have compassion and who they want to go home with.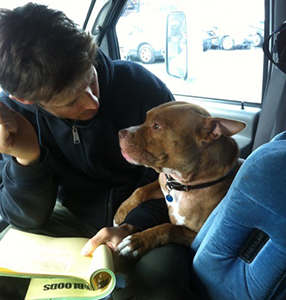 Will and Lola
FROM LASSIE TO BLUE BLOODS
It's a funny thing then that of all shows, Will got his start on the New Lassie series. How did he beat out 700 other kids? He got the part he says because "most of the other boys auditioning were afraid of dogs and since I knew dogs so well and been around them so long, it was a natural for me."
Lola and Will had nine great years together, he brought her to work - there are lots of dogs on the Blue Bloods set from Lumpy (Donnie Wahlberg's Frenchie) to Sami Gayle's four-pound Yorkie, Lic (short for Licorice). He went skateboarding with her, traveling on jet planes, wherever they could go together they went. No one ever wants to leave their BFF behind, especially Will.
Lola wasn't Will's first dog "relationship," He wants us to remember that "everyone who loves dogs knows they are your best friends." Dogs have been a lifelong commitment for him. Why? "They have your back. They live in the moment. They have a lot to teach us."
And looking at the next season of Blue Bloods, Jamie will surely have a lot to teach us too, Will says Jamie's going to hit some new plateaus, so watch for a change coming. And who knows, Will may find space in his life again soon for another four-legged friend.