HERE, THERE, AND EVERYWHERE
BLUE BLOODS SAMI GAYLE AND HER YORKIE LICORICE TRAVEL THE WORLD TOGETHER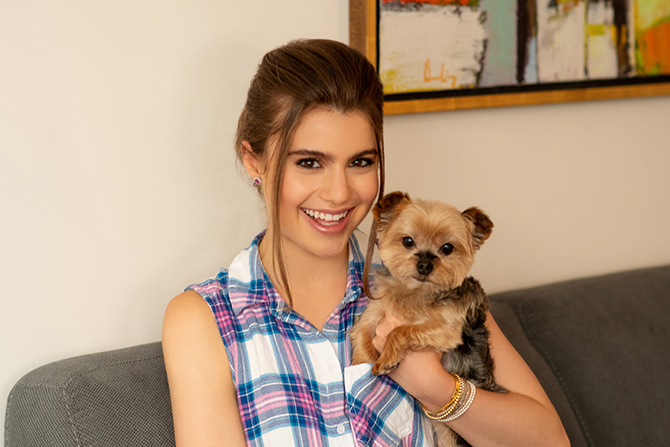 By Lori Zelenko
You could call Sami Gayle a Broadway Baby, after all she started out as Baby June in GYPSY starring Patti Lupone. But that was just a launching pad for this poised, accomplished young actress who is Nicky, one of the youngest of the Reagan clan, in CBS-TV's Blue Bloods.
She's so young and of course, lovely, smart, and kind, that having a dog as old as her time on the show seems improbable but it's true. In fact, she says she got Lics (short for Licorice) when she decided to stay in New York and not return home to Florida. Why Licorice for this Yorkie who corners the market on adorableness? "My grandmother actually came up with it. Lics' fur was shiny, almost blue-black, a gorgeous contrast to the strawberry blonde; it looked like licorice. Her nose too was so cute, like a licorice button."
Lics is a world-traveler, in fact, Lics holds a British passport. Sami loves to travel, not simply out of necessity, but for pleasure as well. A Columbia University graduate with political science and art history degrees, she enjoys immersing herself in the cultural framework she discovers abroad.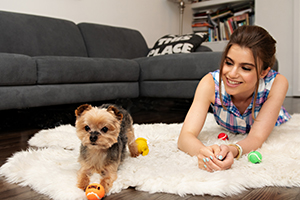 Lics is not home alone while Sami is on the Blue Bloods set. She visits, joining Sami in her dressing room and high-fiving everyone in the makeup trailer. Since it's a veritable dog park there, Lics enjoys seeing her buddies on the job. This tiny Yorkie does not walk the city streets much less romp on well-trimmed lawns, she prefers to relax in Sami's lap or play indoors. She is in great shape as Sami and family, including her brother who just graduated law school but, is also a writer (they collaborated on Candy Jar for Netflix) are disciplined about never feeding her treats or table snacks. As Sami says, "Lics may be little but she has a BIG presence."
Naturally we all want to know where Sami's going next, not just where she will travel. Jerusalem by the way is the place she's most enjoyed visiting but Tokyo and London are also destinations she loves. But career-wise being in front of the camera is where she wants to be right now although she's thinking if there's time in the future she'd like to gain the business know-how to become a producer.
If we're curious about Sami, then naturally we'd like to know about Nicky, the voice of dissent in the Reagan clan. "You could say that the Reagan family or even the success of Blue Bloods is somewhat predicated upon conflict. They all love each other even though they don't play by the same rules. It's the differences that make for a great story."
Sami has only just begun to tell her story. Stay tuned to Blue Bloods to see how Nicky will shape the Reagan family legacy with a vision that's all her own.