FOR THE LOVE OF DOGS, CATS AND SHARKS
PRETTY WOMAN STAR ORFEH WOULD RESCUE THEM ALL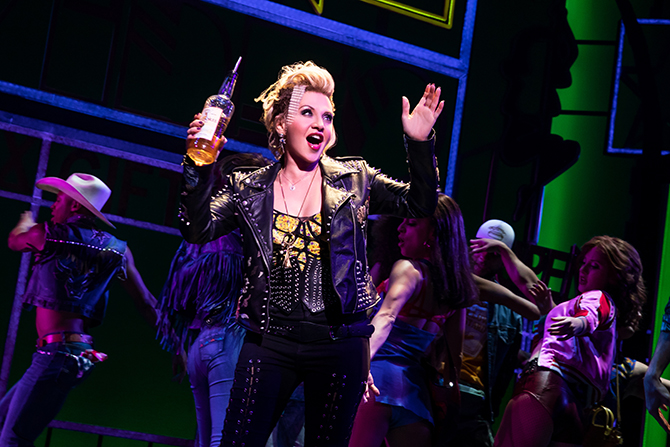 By Todd Neikirk with Lori Zelenko
Who didn't laugh at Kit De Luca's wisecracking, irreverent attitude in the film Pretty Woman? Sassy and brash, she was memorable. Now Orfeh has created her own bold interpretation of this character on Broadway in the new hit show that's got audiences dancing in their seats thanks to the terrific tunes of Bryan Adams.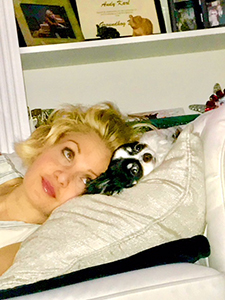 DOGS, CATS, AND SHARKS
She's rocked the Broadway stage before entertaining us all, earning Tony nominations and praise from the toughest critics. We've enjoyed Orfeh in the stage versions of hit films, Footloose and Saturday Night Fever (where she met her husband and now Pretty Woman co-star, Andy Karl). She rocked in Love Janis (Janis Joplin tribute) and charmed as Paulette (the manicurist who finds love with the UPS guy coincidentally Orfeh' s husband) in Legally Blonde.
But off-stage, what warms her heart? Her love for all animals as she says with the unexpected wit you'd expect from Kit De Luca, "dogs, cats and sharks." Though dogs may rule her life now, "cats have been there all along as well... our Marshmallow just went to heaven last year."
Andy and Orfeh, co-starring in Pretty Woman on Broadway right now, divide their time between New York and Los Angeles, sharing their lives with two rescued Chihuahuas, Samson (8) and Loosh (4). "Samson was from a Miami shelter," Orfeh recalls. "The pet store did not feel he met the requirements of teacup Chihuahua (6 pounds was too big). Their loss was our gain." How did they find this fur baby? "The glorious and extremely gifted fashion photographer Richard Phibbs has an Instagram page where he posts extraordinary portraits of homeless animals (mostly of the Humane Society of New York). I saw Loosh on his Instagram page and immediately contacted my dear friends Bill Berloni (the Broadway animal trainer profiled in June/July Pet Lifestyles) and Sandra DeFeo, Executive Director, The Humane Society of New York. Thankfully with their help it wasn't a long wait at all before we were able to adopt little Loosh."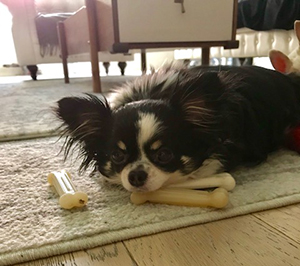 SAILING AWAY
The pampered pups love hanging out with their pet parents. Trotting up and down the streets of New York is as almost as much fun for them as their favorite thing, "eating.... anything involving food...but seriously," Orfeh says with a laugh, "They're constantly begging to go outside with us whether it's one time a day or 50 times a day. They think they're going everywhere (and obviously that's not always possible) but if we have to go anywhere on the Eastside ferry... that's non-negotiable they love that darn boat."
LOVING LIFE ON STAGE AND OFF
When she's not with her pups, Orfeh is "having the best time playing Kit. She's a really cool character, she has a great wardrobe, she's warm and big-hearted. I love this cast and my co-stars a whole lot and…one in particular." Her husband, obviously. "There's nothing better than getting the opportunity to work together. We love it and it makes the entire experience so much better. #seewhatididthere." Now if only Orfeh' s Chihuahuas could have a walk-on!