BITING OFF JUST ENOUGH TO CHEW
The Poodle Behind Chew Entertainment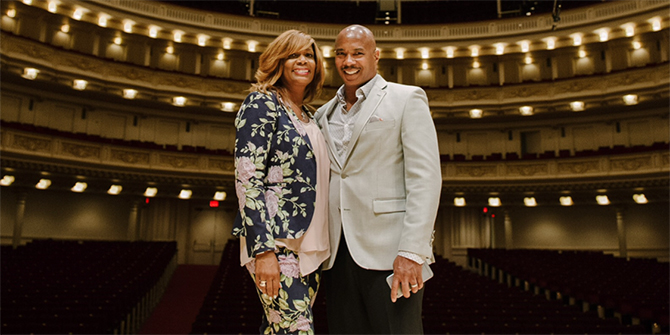 By Jaclyn Waller
As a trailblazing unit, Ray Chew and Vivian Scott Chew rule the global entertainment industry. The acclaimed couple presents live productions notably A Night of Inspiration, at Carnegie Hall, an uplifting evening of music from diverse traditions performed by outstanding soloists and a 64-piece orchestra, along with a 200-voice choir. And while Vivian sets the worldwide stage as the founder and visionary of TimeZone International an international music marketing company, which is, she explains, focused on "helping American artists take their products worldwide." As a Music Director, Ray can be credited with delivering some of the world's most popular productions to our television screens.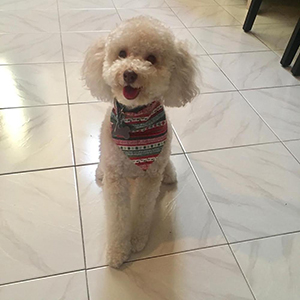 Through his association with hits such as Dancing With The Stars, American Idol ShowTime at the Apollo, Miss Universe and Macy's Thanksgiving Day Parade, Ray plays a major role in shaping the world's consumption of quality programming. Together, Ray and Vivian make up Chew Entertainment, never ceasing to dazzle and delight their global audience. And at home, the couple has a support system to propel their inspirations and motivations. For Ray and Vivian, their family is a manifestation of God's love. This pure love extends to the smallest member of the crew, a Poodle named Jake Chew. The curly critter is described as Vivian's best friend and a loyal mascot to Chew Entertainment. Charming his way into their hearts and home, he never ceases to bring joy and comfort for a couple masterminding an entertainment empire.
Success is enjoyed best when shared. For Vivian and Ray, success was never completely fulfilling until a certain curly Poodle caught Vivian's attention, "I spotted him in the pen in the corner away from all the other dogs who weren't paying attention to him, so my heart naturally gravitated to him. I asked if I could hold him, as he looked lonely. That led to a FaceTime with my husband, Ray who was working on Dancing With The Stars in LA to ask if we could get him. He immediately knew there was no convincing me not to…." Since then, Jake has become a source of affection and companionship for the industrious couple. Jake, Vivian believes, continuously emits authentic love, "Since we both work from home, he is always with us in both our office/studio space and our home. Jake is a cuddler and his favorite spot to be while we are working is behind our backs, while we are sitting in our work chairs. He is such a comfort." With a natural devotion to the Chews and a set of light brown puppy eyes, Jake is rightfully deserving of the pampered pooch lifestyle.