A New Lease on Leashes
Double Dutch changes the shape of walking with your dog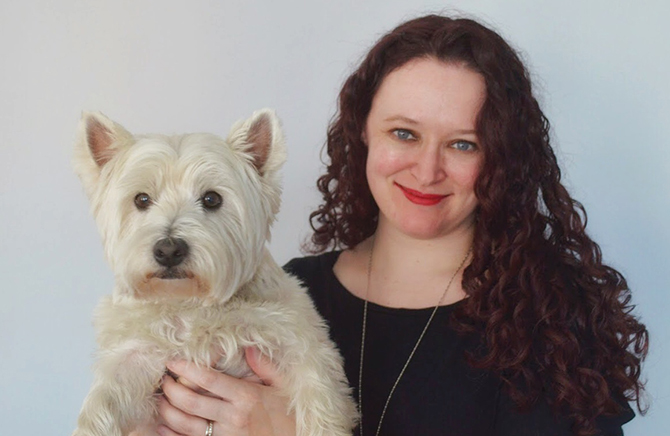 Amanda O'Connell founder and creator of Double Dutch with her Westie Dutch.
By Adrianne Frost
There's nothing more terrifying than your dog getting off leash while out for a walk. So, when Dutch the Westie wore out his leash clip on several occasions, Amanda O'Connell took matters into her own hands and created a double clip leash/harness combo to provide a safety net and give all dog owners peace of mind.
"We live on a main street in a very busy city and I used to have nightmares about what would happen if he were to get off his leash and into the street," says Double Dutch creator Amanda O'Connell. "I scoured the Internet for leashes with two clips but was unable to find anything that met our needs." And so out of this need to protect her fur baby, the Double Dutch dual clip leash was created.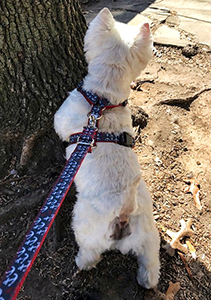 Double Dutch Harness on
Dutch himself.
Being a devoted pet parent to her own two dogs, Dutch and Columbo, Amanda O'Connell understands the concerns of pet parents of dogs large and small. "We appreciate that all dogs are different sizes and shapes and aim to create products with a wide range of adjustment," Amanda explains. Double Dutch leashes provide extra security, utilizing a thick nylon material, welded stainless steel rings, and locking lobster claw clips. This allows two clips to handle the job equally, so they are less likely to break. She has seen the leash in action, saying, "Our products have prevented my dogs from getting away from me more than 10 times!"
Double Dutch also has a harness and collar collection. "When we added harnesses to our collection we wanted a design that could accommodate our double clip leash but would also be safe and comfortable for the dog as well," explains Amanda.
The harness is adjustable along the collarbone so there is no pulling on the throat. "And," she describes "(it) has just one piece of nylon that connects the chest and belly straps so it reduces underarm irritation." Their pieces are designed with the dog's comfort in mind.
Amanda loves animals of all kinds. Her favorite times with her pups, she says, are "probably a tie between snuggling on the sofa and taking our pups for long walks in some of our local parks." As for the namesake of the company, Dutch, he is appreciative of his owner's ingenuity. "When I get excited, I don't always look before crossing the street so my family created this leash to keep me safe on our walks," he told Pet Lifestyles. Truer words were never barked.
You can find out more about Double Dutch at www.doubledutchpets.com.