It's Their Party!
And They'll Play If They Want To!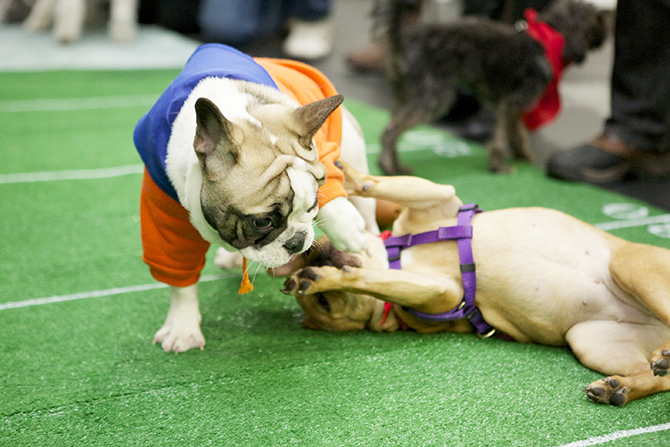 Dog day afternoon. Pups play at a Pawtie. ©Puppy Parties NYC
By Adrianne Frost
The balloons are bright and colorful, the cupcakes are glittering with rainbow-hued frosting, and the birthday guests are… barking? Yup! Put the candles in the pup cake, because dog "pawties" are high on the to-do list for devoted pet parents.
"Our pets are part of the family and they deserve to be spoiled and have a special celebration too!" says Haley Mehalco, owner of Puppy Parties NYC, a doggy party planning service. Not surprisingly, puppy party planners are popping up left and right. Make sure you give the pawty planning some time, though. Mehalco estimates planning the right party it takes "a good month".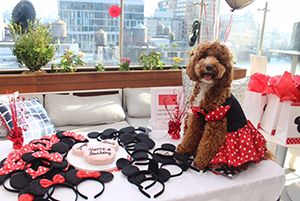 There's always a reason to celebrate your pup. DIY is easy but there are pawty planners too. ©Puppy Parties NYC
DIY PAWTY TIPS AND TRICKS
You can arrange your own celebration, too, if you want to be more hands-on. Here are some practical pawty tips:
Here are some ideas for a DIY shindig for your pup and their pals:
Invitations and Locations: Your dog's play date, daycare and dog run buddies should be at the top of the invite list (don't forget to invite the owners, too!). Make sure you have enough humans to oversee the fuzzy guests and ask that owners stay to supervise their charges. A local dog run or favorite park are great locations to look into for a fun get together.
Outdoors is probably a good idea for a pup pawty but make sure you have a place for the pups to relax comfortably (and if the day is sunny, let them chill in the shade - direct sun for a prolonged period is not a healthy option.) If your dog attends daycare, ask if renting space there is an option. Outdoors may be great fun but indoors can work just as well with no weather restrictions.
Décor: Just because it's a dog party doesn't mean the motif has to be paw prints, paw prints, and more paw prints. If you've seen it done at a human birthday party, it can translate to canine. There's no shame in turning things up a notch for your best four-legged friend. You can DIY your own decorations (banners, balloons, streamers), just check out Party City. Options are endless. Get bandanas and tiny hats for a Western theme, go couture with a dress-up event, or put an inflatable pool in your yard and have a nude beach-party! After all, as the adage goes it's not just blondes who have more fun - dogs corner the market on good times!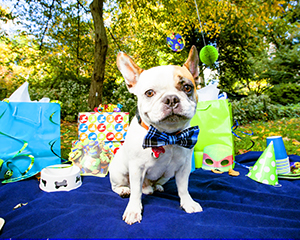 Fun for all at this dog's B-Day Bash.
©Puppy Parties NYC
Food and Drink: Since dog parties have increased in popularity, so, too, has the demand for cookies and cakes. There's even doggy ice cream! Places like Chewy and Bark Box have food and fun ideas for treats. You can make your dog's desserts from scratch or buy a doggy cake mix. In fact, if you are looking for expert advice on DIY parties for the furbaby (dog that is), call Sue at The Scottish Dog Pet Shoppe in Metuchen, NJ - Sue has everything you can imagine for a pup pawty, just call her at 848-260-0212 and she'll set you up with every DIY option imaginable - and she'll make sure it gets to you fast wherever you are. Remember to check your guest list for any pups with allergies. And don't forget to clearly separate dog food from human food (they can look and taste alike - I've seen humans munching happily on Leela Ryan's banana pudding dog biscuits). Offer natural choices like apple, carrots, and watermelon. Make sure you have plenty of water, of course.
DOGGONE CRAZY
Your party can be as subdued or as wild as you want it to be. You can also find ideas and inspiration from Pinterest and Instagram. Trying using #dogparty. Mehalco adds, "Honestly nothing seems crazy to me anymore!"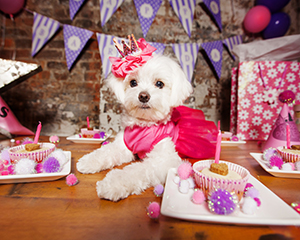 One precious pooch celebrates in style. ©Puppy Parties NYC
There is no limit to what you can celebrate…birthdays, of course, but also obedience school graduation, welcoming a new adoptee, or just a gathering of furry friends! Even if it's just an "I Love My Dog Pawty", the point is to have fun with friends - both two and four-legged. So party on pups! And pet parents, don't forget to have fun too - it's not always a dog's life!
Share your dog pawties on our Instagram. We'd love to learn your tips and tricks for a great time with your four-legged BFF.