REME'S OGGI PETS THE DARLINGS OF DAY CARE
THE SUTTON PLACE DESTINATION FOR PAMPERED PETS
By Lori Zelenko
The boulevards of Sutton Place are long and wide, tree-lined, townhouse filled, white-gloved doormen at every canopy heading down toward the East River, perfect for strolling slowly with pampered pooches. Ahh, but where to? As pet parents head off to work or even on a short trip, their fur babies are not left home alone, rather they are dropped off where everybody knows their name, at Reme's Oggi Pets Daycare just a block from this posh neighborhood enclave.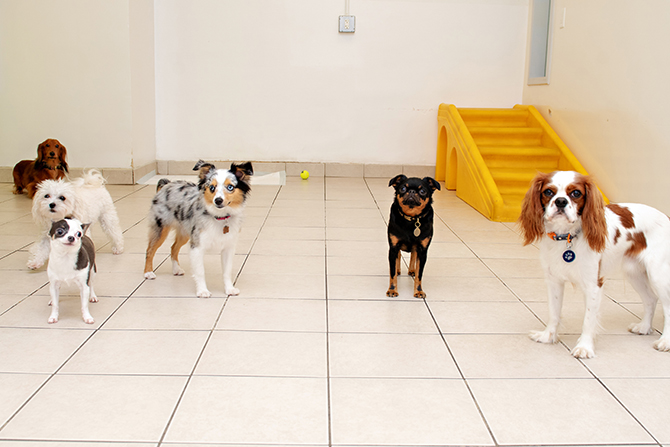 Reme's Oggi Pets Daycare ©Geoff Tischman
WHERE EVERYBODY KNOWS THEIR NAME
From frisky Shih-Tzus to laid back Cavaliers with a dachshund or pug in the mix, the crowd at Reme's is like the denizens of Cheers (the 80s TV show voted the best comedy of all time), they all know each other and indeed, the select few who watch over them are genuinely on a first name basis.
In a world now where doggie daycare is dominated by chains and conglomerates, the personal touch is often missing. But not at Reme's. There's no membership fee but attendance is limited. On any given weekday attendance tops out at about 30 guests over a full day, averaging 15 per session. Some rotate for a half a day of play with their pals and half a day at home, others stay all day joyfully romping with their best buddies or even in the case of one elderly fellow, napping in a comfy bed in his own private space.
CLIMATE CONTROL FOR COOLER PETS
Each area of Reme's Oggi Pets is individually climate controlled and has an air filtration system to remove fur and dander from the environment, the system cools and cleans the air all year round, it's not just a Summer time thing. No closed-circuit TVs need to monitor the playful pups; people do, quite a few keep an eye on the dogs. Indeed Reme reveals she is a tough sergeant when it comes to making sure the daycare visitors are well looked after. While one hears rumors of tragic incidents at some of the doggie day care chains, there's never been the slightest skirmish at Reme's. Nice neighborhood, nice dogs, nice behavior. Boarding is offered too, on a limited basis of course. Reme is known for her grooming services; daycare is a newer addition in their 3,000 square foot space.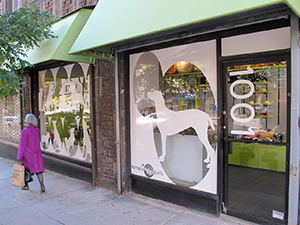 Reme's Oggi Pets offers a unqiuely personal approach to doggy daycare.
FOR THE FASHION-FORWARD PET
Even for the pooch who has everything, there's always a need for something new especially for a Yorkie or a Miniature Poodle or any other small dogs that fit in the chic made-in-Spain larger-than a-tote-bag c two-tone carrier with coordinated leash and collar sets. And to complete the ensemble, soft and cozy fleece lined coats, well-tailored to flatter a fuller frame with a back belt and silver buttons. Can't wait for the weather to change to see Annabelle and Bikini strut down Sutton Place in these polished ensembles, sadly my two are too substantial for the totes but with enough exercise in daycare and a stringent diet... maybe, just maybe they'd fit.
---
Reme's Oggi Pets is located at
1001 First Avenue, the corner of 55th Street.
For daycare inquiries, call 212-838-2250.
www.remesoggipets.com.