FETCH - IT'S NOT JUST A GAME FOR DOGS
By Arielle Bennett and Dr. Eric Dougherty, DVM
Fetch isn't just a game for dogs. As a kitten, our cat Boney started bringing us his toy rats. We soon got the hint to throw these toys for him until he told us it was time for treats. As parents of four kitties and owners of a feline-specialty vet practice in Manhattan (www.thecatpractice.com), we've learned every cat has different needs, different ways of communicating, and certainly different tastes in toys!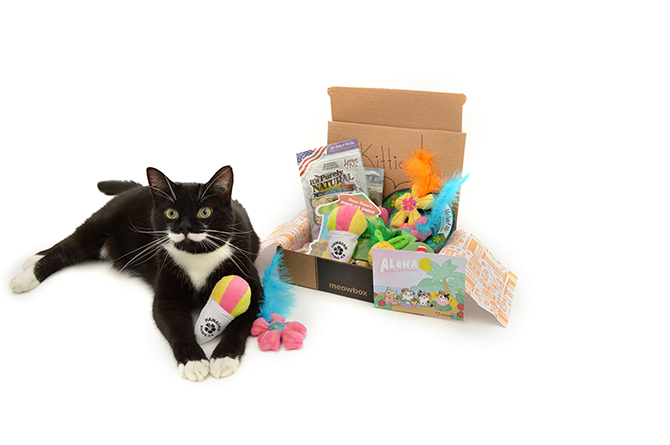 Meowbox delivers to your home
GAME ON: FUN, FUN, FUN
Our newest addition, a street cat from Brooklyn named Mint, took 2 years to figure out how she wanted to play with us. She loved the occasional laser pointer, but she's timid and easily spooked (or she really does see ghosts in our apartment!) so it was a challenge to reach her full-play zone. One day we picked up a foam ball popper "gun", thinking that might be a fun cat toy. This literally revolutionized Mint's life! We had to buy refills of these little orange balls because she demanded dozens of throws a night! At age 4, Mint found her own distinctive way of playing! She used to be shy with her dad, and now she smothers him with this game. Success!
'NIP IT UP: THE JOYS OF CATNIP
However unique each kitty is – they all need to play with their family! One day our older cat, Terrance, suddenly ran across the kitchen full speed with a loofah in his mouth! Apparently, he unpacked our shopping bags and decided, "This toy is mine!" He's a mellow, snuggly cat and is one of the few that doesn't react strongly to catnip (other than spooning catnip toys to sleep). Our other three love catnip. Boney, being very hyper, really needs to expend his energy daily (unless we don't want to sleep that night) – a great way to do this is to sprinkle fresh catnip on a large cat scratcher. He fiercely scratches and hoards the entire scratcher... and occasionally the other cats get their turn. Ultimately, whether it's being hugged, bit, chased, scratched, or kicked, catnip's many forms can make quite the versatile toy!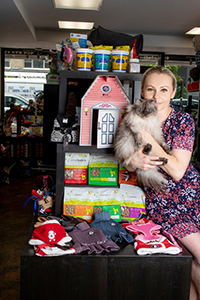 Oksana shows us the latest in cat toys at The Bonehouse with one of her best feline friends Mr. Lex. Call The Bonehouse at 212-872-1300 for the fun new cat spin-off of favorite dog brand, Puppia. ©Geoff Tischman.
DO THE LOCOMOTION: PLAY DAYS, NOT NIGHTS
Cats should express their energy in constructive ways, and it's probably better to "work out" with them while you're awake, unless you'd prefer them to start their games at 4:00 a.m. with a toy rat on your pillow. When you learn to give your cat the playtime they truly need, geared toward them as an individual, it will open up avenues in your relationship that you never knew could exist. Remember, cats are tiny predators living in your home.
They're attuned to fast motion and chase, so try and incorporate this into their play (along with some perches for them to hunt from). In the wild they'd be hunting for a living, so playtime and stimulation are crucial to their wellbeing. Not only will they bond with you more, but finding a way to bring a bit of the wild back for them will bring you laughter and certainly keep them from lounging on the couch all night and binge-watching TV!
Arielle Bennett and Dr. Eric Dougherty, DVM are The Cat Practice, veterinarians just for cats. For more information, go to www.thecatpractice.com.