Happy Tails: The Essential Rules Of Tailgating With Your Pets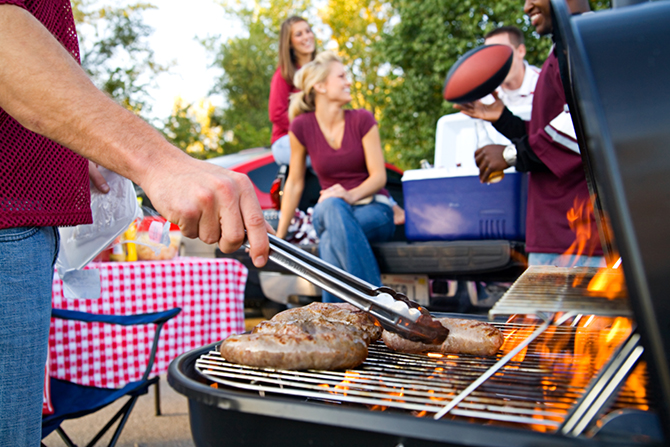 By Maggie Finney
September marks the official end of summer. The air slowly starts to cool down, sunny days grow shorter and the anticipation of Autumn brings on excitement for tailgating season. Football, baseball, concerts, and maybe even Fall sample sales bring people together to carry on their barbecues post Labor Day. These friends and family fun parties hold no excuse to leave your dogs at home. Pet Lifestyles asked about tips for bringing your pets tailgating, learning that with the best products, treats, and safety measures your companions can be happy participants in all your tailgating festivities.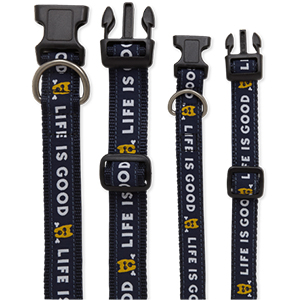 Rule #1 Score A Safety
In an ideal world no pet would ever get lost, but unfortunately it happens frequently. One loud horn honk or the sight of a flying football toss could send your dog sprinting off. Make certain your pet has proper identification tags on their collars and good quality, secure leash.
If you want to go the "overbearing parent" route, there are several GPS tracking collars such as Whistle GPS that attach to collars and directly link to an app on your smartphone. Most importantly, consider having your pet microchipped. It's the easiest and most effective way to assure your pet's location if they are to ever get lost. "Double check that your pet's microchip is registered and contains the correct name and your current phone number and address, otherwise there's no easy way to reach you if they're found!" Sydney Hannum expressed on behalf of the Michelson Found Animals Foundation.
Rule #2 Cool 'Em Down
September is cooler, but it can still be very hot for our fur friends. It is essential is to make sure they have plenty of fresh water.
Have a good quality water bottle that provides easy on the go hydration. The bübi bottle is a perfect collapsible BPA-free silicone water bottle that is microwave and dishwasher safe, and puncture resistant against canine teeth. Bübi is easy to wash and can be used by any member of the family (hairy or not) for all future tailgates.
Most tailgating events take place in the venue parking lot and we must keep in mind if our bare feet can't take hot concrete than neither can our dog's paws. By now Musher's Secret is no longer a secret. This topical protection wax has become a common pet supply essential and is key to preventing hot and burnt paws.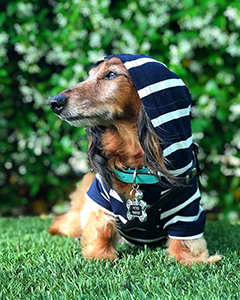 Dachshund Django (@djangothegent) in the Classic Hoodie - Navy and White Stripe $29
Rule #3: Distraction. Attention. Ready, Break!
In the chaos of tailgating, it's important to keep your pet's attention from all their distractions. A tailgate is already filled with hyped fans and noise pollution, so the last thing you want to worry about is a hyper pup who has more energy to outlast you in the rally. Make sure your pet has had a lot of exercise before bringing them to your tailgate. In case they bounce back with the energy of a crowd, bring classics like a frisbee or tennis ball to get them running.
Avoid your dogs from sneaking a lick or running off with any of the food from the grill by supplying tasty and healthy treats like Pup-Peroni®'s Jerky Bites. These pork and beef flavored real meat treats are inspired by jerky, containing no fillers, meat by-products, or artificial flavors. Omaha Steaks has also introduced pet treats with the same high-quality ingredients that they use throughout their products so everyone can "eat from the grill."
However, if you do feed your pets human food try to avoid bones, hotdogs, and fatty burgers as they are bad for the dog's digestive system. Lean-meat hamburgers, chicken breast, and small portions of cheese are all safe bets. Help yourself out with a food and treat dispenser such as Aquapaw's Slow Treater to keep your pooch occupied for hours. Their eye will remain on the prize as the rubber nubs of this tool are meant to keep them nibbling.
Rule #4: Give Them Some Swag Attire
You dress for the weather and dress for who you're rooting for. As tailgating drifts into October provide your dog with the proper attire. Django brand provides well-made products to stylishly carry dogs from season to season. One of their reversible dog coats or classic dog hoodies are fun accessories to keep your dog comfortable as the temperature begins to drop. In regard to sports, Chewy and Doggie Nation have an abundant supply of pet jerseys for nearly every sport and team. If you're wearing your teams colors why shouldn't they?
As important as it is to grab a YETI of your favorite beer, also remember the necessities that your dog needs in order to equally be part of your tailgating fun!