How to Throw the Purr-fect Kitten Shower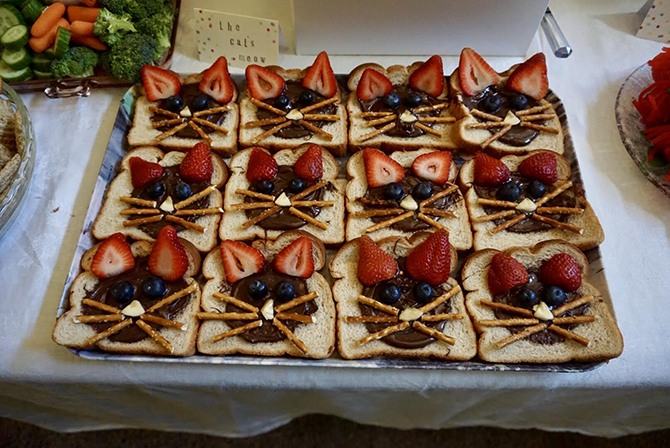 By Alyssa Huckleberry
Remember the days when pets were family animals who largely fended for themselves, making themselves useful by working the fields and catching unwanted rodents? Yeah, me neither. I'm sure most of you would instead identify with the lot who adore, love, and CHERISH their animal to the point that the title "pet" seems slightly blasphemous—are you calling my precious fur baby a mere animal? This member of the family? How dare you!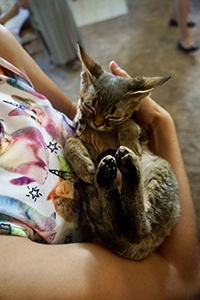 For those of you who recognize yourselves in that latter descriptor, you might consider following my silly example and throw a shower to welcome your new pet. Or, you can just amuse yourself reading this article written by a self-proclaimed crazy cat lady.
You may be wondering how (and why) I decided to throw a kitten shower. As I settled into my third decade of life, I'd been to (or hosted) my fair share of bridal and baby showers. All happy; meant to celebrate a life-changing occasion. And while I cheered my friends' momentous events, it was hard not to feel a little forgotten at times. I wanted to be married, and I wanted babies, too! But it just hadn't happened yet.
One day in February, when I was mourning the unexpected loss of our beloved family dog, I was struck by the idea of getting a kitten. I knew it wouldn't be fair to adopt a dog (the pet of choice in my family growing up) as I didn't have the time or space to invest. But I could get a kitten. I latched onto the idea immediately and spent the next 72 hours obsessively researching cat breeds. After settling on what I believed would be the perfect kitty for me, a Devon Rex, I began "nesting" as I waited for a kitten to become available.
And that's when it hit me: why not throw a kitten shower? I was finally preparing for my very own life-changing, exciting event…couldn't I celebrate that with my community? As it turned out, I had a bevy of friends jump at the chance to celebrate the sweet addition of my kitty to my life. If you find yourself so inclined to throw just such a party, consider these tips:
DO:
Include puns: the good, the bad, the ugly (when else can you get away with this??)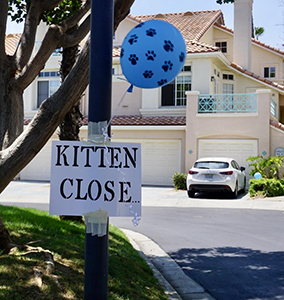 Start a registry! (myregistry.com) allows you to pull from all sorts of different websites. Make sure to include an item or two just for you—things that celebrate the addition of your new pet!
Be creative—this isn't a typical event, so you don't have the pressure of living up to Pinterest expectations (phew!!). It also means you get to make the rules and set the standard…so have fun! Food presentation and signage are one way you can be particularly imaginative.
Consider the safety of your pet (and whether they will be overwhelmed). Make accommodations accordingly.
Include a special "treat" for your pet, too! (specialty pet bakeries are happy to create something specific; or you can celebrate with your pet's favorite treat). Felix LOVES beef baby food…the equivalent of kitty ice cream!
Include customizable treats for your guests to take with them at the conclusion of the party: this NY-based artist can create a cookie cutter specifically of your pet's face—the perfect parting treat! (https://makecookies.store/index.php?route=common/home)
Dress for the occasion (themed prints or gender-specific coloring is festive and fun! Affordable headbands, scarves, pins, etc. can be found on Amazon.)
Go all-out with your theme: it's an unusual—and super fun!—way to celebrate with your friends. Check bargain bins at Target or K-Mart and even scour your local Dollar Store for themed décor.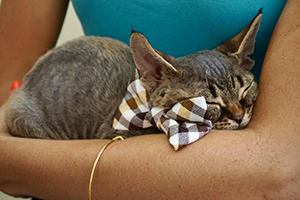 Appoint someone to take pictures (you'll have your hands full—literally!)
Customize your games: "Guess the Famous Cat," "Pin the Tail on Felix," and "Guess Felix's Weight" were all hits! Make sure you have festive, themed prizes: cat-picture face masks, kitten pencils, wine named after cats…you'll be surprised what you can find!).
Ask your local bakery if they can customize your cake to look like your pet. Most will accommodate. Mine was not only affordable and delicious, but they nailed his coloring perfectly with the chocolate shavings!
Don't:
Assume your pet will respond favorably to a large crowd of strangers—make sure you are the one holding your pet.
Include party food that is poisonous or dangerous to your pet…you never know what they might get their paws on!
Put your pet in an elaborate costume that he/she hates. This party may be for humans, but it shouldn't be at the expense of your pet!