DOGGEDLY SURFING FOR A PET
By Todd Neikirk
Apps have changed the way that we live and as technology moves forward faster than ever, they can also help the way our pets live better, healthier, fuller lives. Reach for your phone and with one tap, you can access a myriad of different services for your pet. Veterinarians virtual or real, dog walkers, nutrition counseling even pet-pet parent matchmaking, there is something for everyone today.
Pet Lifestyles takes a look at some of the coolest new pet apps sure to improve life with your furry friend: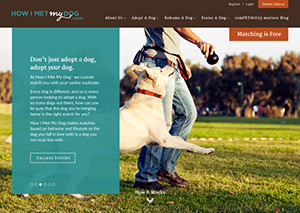 How I Met My Dog
www.howimetmydog.com
Thinking of adopting a dog? What's important to consider? Looks? Temperament? Size? Shedding? Friendliness? Or is protective instinct at the top of the list? For some getting a pet may be based on personal needs, well thought out and planned with family input. Others may opt to adopt on a whim. How I Met My Dog is here to help prospective dog parents find the perfect dog for them. The site works by having you fill out an in-depth questionnaire about your lifestyle and what you are looking for in a pet. The site then matches you up with a dog ready to be adopted, basically functioning like a dating site.
---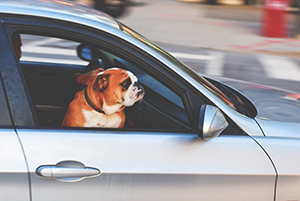 Spot On
www.spoton.pet
Ride sharing is incredibly popular in New York City. Unfortunately, pets are not often welcome to come along for the ride. While smaller dogs can ride on the subway, this isn't an option for owners with larger dogs. The Spot-On app has all dog owners covered. The dog friendly service works like an Uber or Lyft and accommodates pets from Yorkies to Great Danes. So, the next time you are looking to take in all the joys the city has to offer, you can rest assured that your best friend can come along for the ride.
---
Well Informed Pet
wellinformedpet.com
Traveling or dealing with an emergency much less taking the dog to day care or verifying the vaccination records at the groomer are the times you need vet records at your fingertips. What if you could save yourself the hassle of searching for all the paperwork? What if you could have it all in your phone in an easy access app? The Well-Informed Pet is here to help. Not only does the app store all the information on a smart phone, but you are also able to send that information to whomever needs it with just the push of a button, saving time and avoiding any additional stress.
---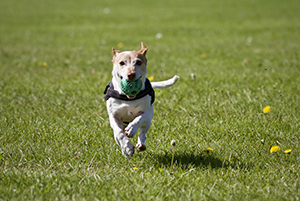 Pawscout
www.pawscout.com
Terrified of losing Fido? Or Fifi? Pawscout is a new app that helps to give pet parents peace of mind. The app works by providing you with a tech-enabled pet tag that can be used to track your four-legged friend. Pawscout also provides what they call a virtual outdoor pet leash. You designate an area and if the dog goes outside of that area, you get a notification on your phone. Finally, in the event that your dog does go missing, the app will notify all other users within the surrounding area.
---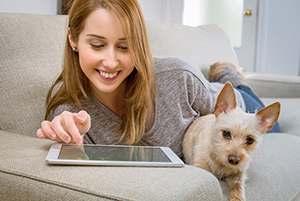 Fuzzy
www.yourfuzzy.com
A trip to the vet can be a difficult and anxious time for your pet. Fuzzy wants to save you the hassle of crates, waiting rooms and paperwork by allowing you to consult with a vet via your smart phone. Not every pet issue is serious enough to necessitate a vet visit, but until now, that has been the only option. Fuzzy also offers the convenience of 24-hour access as problems don't always occur during office hours. Telemedicine can bring peace of mind if the issue is manageable and if not, it lets you know how to handle an emergency quickly and intelligently.
---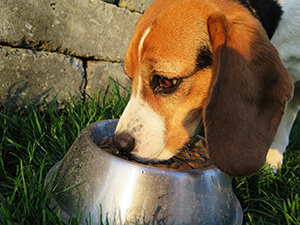 Petrics
www.petrics.com
Obesity is not only a growing problem in the human community but in the animal community as well. Over 53% of cats and dogs are considered overweight, a health issue that can have a profound effect on their life expectancy. Petrics wants to help pet owners keep their animals healthy and happy by analyzing their health and nutrition needs. The app considers the pet's health history and breed-based risks to tailor a customized diet. Petrics also shares ingredient lists of major pet food brands and notifies you of any food recalls.
---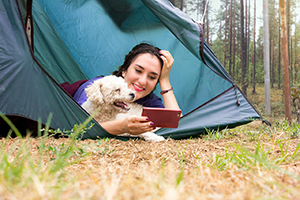 Petzbe
www.petzbe.com
Social networks have changed the way that humans interact with each other and Petzbe wants to see if they can do the same for pets. The app has a strict rule: No humans allowed. You essentially become your pet as you create an online presence for your furry BFF. You talk for your pet, share their pictures, and tell their stories. The app not only creates a platform for you to store and catalog your favorite pictures of your fur baby, but also a way to connect with like-minded pet owners.
---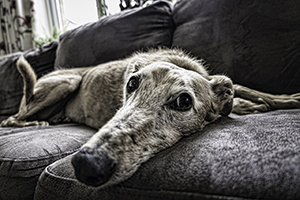 Dog Vacay
www.rover.com
While all humans need to take a vacation from time to time, our dogs aren't always allowed to come with us. Dog Vacay wants you to feel comfortable on vacation or a business trip knowing that your pet is happy and well taken care of. The app works by connecting pet parents with the highest rated pet sitters in the local area. The sitters will then either come and take of the animal in your house or being them to theirs. With time frames ranging from daily to multiple weeks, you can rest assured that there is a qualified sitter to stay with your pooch.
No matter what your pet lifestyle concern, there's an app for it. So, check out the app store or Google Play or just do a quick search, there's no doubt you're likely to turn up a new way to be a better pet parent.