COZY AND COMFY PET BEDS FOR OUR FURRY FRIENDS
By Lori Zelenko
It's funny, even though I have a bed practically every square foot in my home, my dogs, Annabelle (the shapely ShihTzu) and Bikini (the very royal Pekingese) still like to sleep on the floor or for some reason, in the most awkward spot where I pray I don't trip over them. But that doesn't stop me from bed shopping and teasing, tempting them into a new one that I am sure will be the one they really don't want to climb out of. After all they sleep 14 hours (or more!) a day. With their comfort - and the comfort of their feline friends in mind as well - we road-tested an assortment of pet beds sure to suit the pickiest among our four-legged BFF's.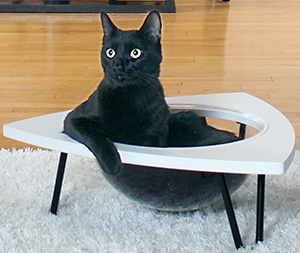 Primetime Petz
• Get ready for primetime, let your cat indulge their inner Hauspanther as Primetime Petz dubs their sleek Tripod lounge pod. Angle it so they can keep an eye on the action but it's low to the floor so they can jump out if they crave a moment of human companionship. Of course, if you cat does get bored with it, use it to store your feline friend's toys or better yet, grow a catnip garden! primetimepetz.com/tripod
Ace ecoFLEX Murphy Pillow Dog
• What do New Yorker's complain about most? Space, rather the lack of it. Chances are you and Fido would love a little more room. Wayfair has a solution: a stylish Murphy bed (dog-sized) easy to fold and hide away, blends in with your furniture too. It's made of EcoFlex which doesn't splinter, so that's one less thing to worry about, plus it doesn't retain odor or moisture. wayfair.com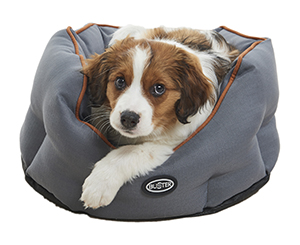 Buster Bed
• Kruuse Buster Cocoon bed is a must for smaller dogs. Practical, washable, cozy, and comfy. Easy to burrow in as winter weather descends upon us. We love the durability and the color story, everything from neutrals to brights. amazon.com
• Shag is trending now in pet beds. And we all know cats like to stay ahead of trends. So what better choice for a fussy kitty than Sentiments home combo bed and cat tree with the added bonus of a built-in toy. Purrfect for the cat who craves comfort - and for the kitten who just wants to have fun. sentimentsinc.us/pet-products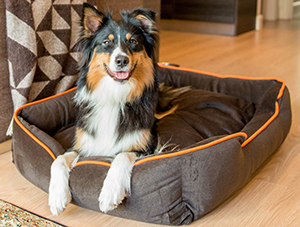 P.L.A.Y.
• P.L.A.Y. is the gold standard when it comes to pet beds (not just for dogs, plenty of options for cats too). Of course that's my opinion based on the fashion-forward look, but they have been Gold Certified by Green America's Green Business Certification program for their environmental efforts. My dogs think P.L.A.Y. beds are pawsome! And so do I, proud that for every pet bed purchased they donate one to a shelter in need through their Warm Bellies initiative. petplay.com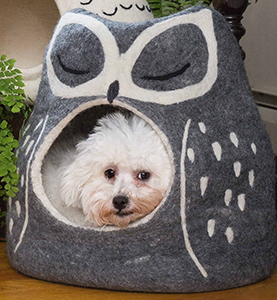 Owl Comp
• Just couldn't resist these Owl "nests" from Dharma Dog and Karma Cats. So playful the concepts of their beds, full of imagination yes but functional too. Made from Himalayan sheep wool and loaded with lanolin to condition the pet's paws and help keep their fur healthy and shiny. 50 whimsical choices for dogs and cats. Sustainably handcrafted in Nepal. dharmadogkarmacat.com