KEEPING YOUR PETS SAFE AND HEALTHY THIS HOLIDAY
Advice From NYC'S Top Vet DR. Brett Shorenstein VMD
By Lori Simmons Zelenko
Pet Lifestyles sat down with Dr. Brett Shorenstein, Partner and Medical Director, Abingdon Square Veterinary Clinic to talk about his philosophy of caring for animals - specifically fear free/gentle handling - and how pet parents can consider critical do's and don'ts this Holiday.
For Dr. Brett Shorenstein, VMD every day as vet is a day doing what he loves, nurturing pets (and pet parents too because they are a critical part of the equation.)  Devoted to caring for animals since childhood, he has followed his heart to become one of NYC's top vets. Interestingly enough, he started out in investment banking, but it took barely a year before he realized veterinary medicine was truly his calling. Presently, an owner at Abingdon Square Veterinary Clinic, Dr. Shorenstein leads a team that is dedicated to compassionate care. Joining forces with Dr. Dianne DeLorenzo was a natural fit, as the esteemed veterinarian has devoted much of her career to stress free handling and gold standard medicine.
Dr. Shorenstein's goal for the practice is to make Abingdon Square even more accessible. An app allowing pet parents to confirm appointments, monitor vaccine reminders, refill medications, and receive an update on Fido or Fifi's health will be launching by early 2019 exclusively for Abingdon Square.
HOLIDAY DO'S AND DON'TS FOR YOUR PETS
Do establish clear expectations for guests and children. Ideally, your pets will not be fed any items without asking your permission first. Guests should avoid leaving food unattended. The trash should always be hard to access!
Don't feed your pet anything and everything. As a general rule, introducing too many new foods at once creates a higher risk for gastrointestinal upset.
Do keep your pet away from the oven and other hot surfaces. Remember that strings, foil, and other packaging items can be harmful if swallowed.
Don't feed your pet raisins or grapes - these have been shown to cause kidney failure in dogs.
Don't let your pet eat Turkey or Ham bones - they can become lodged in your pet's esophagus and can splinter, leading to perforations of the intestinal tract.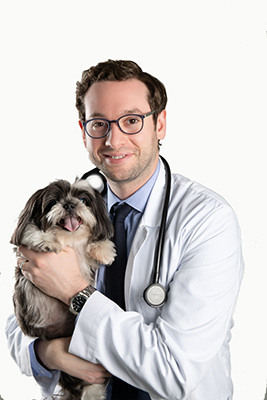 Also avoid:
Fruit pits (including avocados) - can cause intestinal blockage; some contain cyanide, a potent toxin.
Onions or garlic - in large amounts, alliums can cause toxic anemia.
Nutmeg - can cause seizures in large amounts.
Nuts (especially walnuts and macadamia nuts) - can cause neurological and cardiovascular deficits.
Alcohol - pets are highly susceptible to alcohol poisoning.
Desserts - even very small amounts of dark, semi-sweet, or baker's chocolate can be toxic to your pets. Chocolate contains theobromine, a toxic stimulant. Additionally, artificial sweeteners such as xylitol can cause acute hypoglycemia.
Do keep decorative plants or flowers out of reach. Remember that countless numbers of plants can be toxic to dogs and cats. Especially lilies, which cause acute kidney failure in cats.
Don't let your pet drink Christmas Tree water - it may contain toxins from pesticides sprayed on the tree itself or bacteria.
Abingdon Square Veterinary Clinic is located at 130 West 10th Street, New York City 10014. For appointments, call (212) 242-9169.