ICE-T AND COCO
JOIN THEM AT BASH FOR THE BULLDOGS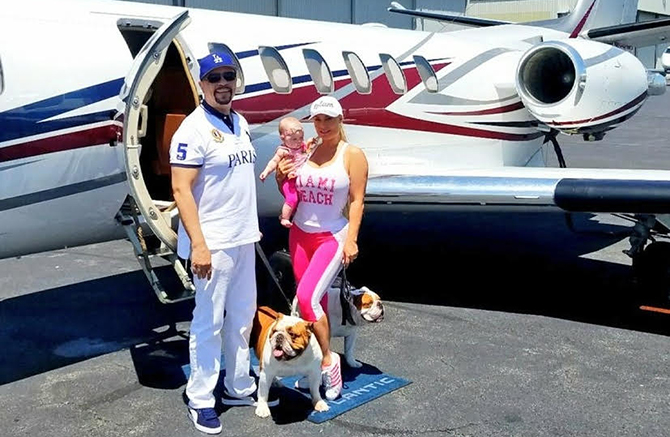 By Adrianne Frost
Bulldogs are a funny breed; altogether adorable, dignified, cuddly and friendly. Their wrinkled faces and hefty bodies make them an entertaining dog to have around. Unfortunately, too many bulldogs are surrendered each year to shelters across the country. And that is just not acceptable to actor, rapper, musician and author Ice-T and his wife Nicole "Coco" Austin (simply Coco to her millions of Instagram and Facebook fans) who are passionate about rescuing their favorite breed. How to help? Join them at Long Island Bulldog Rescue's "Bash For The Bulldogs," a December 7 NYC fundraiser that's an outpouring of love for bulldogs who desperately need devoted pet parents. Get your tickets for this celebrity-packed event at longislandbulldogrescue.org.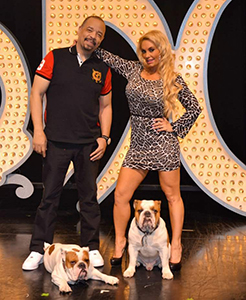 THE FAMILY DOG
Though pit bulls and bulldogs have always been favorites of Ice-T known for his role as Detective Tutuola on NBC's Law and Order: Special Victims Unit, not to mention a host of other accomplishments, Coco is a newer convert to the breed. But for her having dogs is second nature, "I have loved animals my whole life; adored them since I was born," she recalls, joyfully. "At one point when I was growing up, we had 21 Shelties (Shetland Sheepdogs) in the house."
For Coco, the jury was out on bulldogs until Spartacus became part of the family. It didn't take long for Coco to fall in love with the breed. "English Bulldogs are in between dogs and humans," she says. "Until you own one you would never believe how special they are and how amazing the relationship with them is." And so, Spartacus was joined by Maximus, both living up to what Coco calls "stout" Roman names, full of dignity and authority that belies the humor inherent in these roly-poly pups. Though sadly Spartacus has passed on now, Max stands guard over the family.
BREED IN CRISIS
With a skyrocketing number of loving bulldogs urgently needing forever families, Ice-T and Coco want you to help Long Island Bulldog Rescue raise money to heal and home these abandoned dogs. As many as 400 are up for adoption on the East Coast alone and that number peaks during the Holidays. It breaks Coco's heart to learn of a bulldog lost and wandering the streets. Her love for the breed is so strong, it's easy to imagine she'd adopt an army if she could. But instead she works for the greater good, trying to make sure that families are found for bulldogs surrendered because there is no one to care for them. For Ice-T and Coco, "Rescuing bulldogs has become our passion."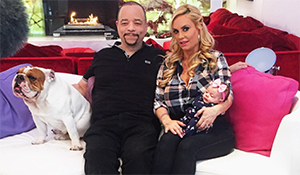 PUPPY LOVE
Coco wants us all to realize that if you don't have a bulldog in your life, you're missing out. "Bulldogs are stubborn that is true, but they meshed with our family seamlessly. They are endlessly engaging, I love their smushed in faces; they are so human. Their eyes move, their eyebrows go up and down, they are so full of love and they just give all of themselves. Of course, they fart a lot and they snore but you get used to it." Containing themselves to just one dog right now isn't going to last too much longer for Coco and family, a puppy, she says, would be perfect for Chanel. Woof!