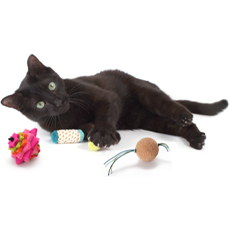 Hauspanther Cat Toys
This new collection of cat toys is designed to delight both cats and their people. Each toy is designed to appeal to a different instinct, from chasing and tossing to grabbing and kicking. Kitty can get her extra holiday energy out while you enjoy the fun shapes and colors that look more like modern art than cat toys. Available from shop.hauspanther.com.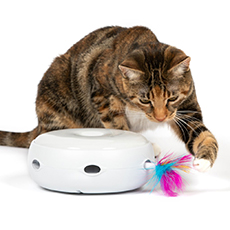 PetFusion Ambush Interactive Electronic Cat Toy
This little electronic toy will keep kitty busy during the holidays.
A colorful feather toy randomly pops out of six different side openings, creating an interactive hunting experience.
Batteries included!
Available from
pet-fusion.com.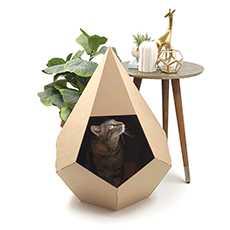 Water Gem Eco-friendly Cat Hideout from Boba&Vespa
This elegant cardboard cat house provides kitty with a refuge during the busy holiday season. The perfect size to hide, sleep and play. Made with no toxic dyes or glues, just 100% recyclable cardboard that cats love.
Available from
bobaandvespa.com.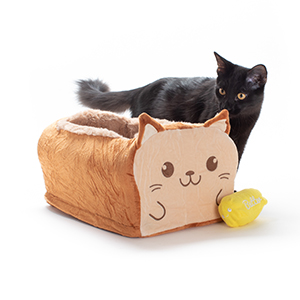 ToastyCat Bread Loaf Cat Bed
We all know cats love to loaf around, well now they can be extra cozy in the ToastyCat Bread Loaf Cat Bed. This plush bed is the size of a typical shoebox and it comes with a soft butter toy for added fun. Every cat needs a ToastyCat bed! Available from toastycat.com.

A portion of every sale donated to Meow Parlour Cat Adoption Center in NYC.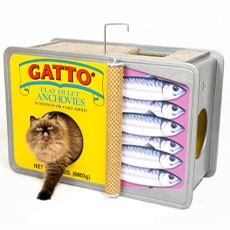 Hauspanther TriPod Cat Lounge
Cats love to sit in sinks, so the Hauspanther TriPod was designed to create the same feeling. A clear plastic lounge pod makes the perfect place for kitty to curl up and metal hairpin legs give the TriPod a sleek mid-century modern look. The plastic pod can accommodate a variety of other uses including toy storage, cat grass planter, beverage server, ice bucket, or candy dish! Available from shop.hauspanther.com.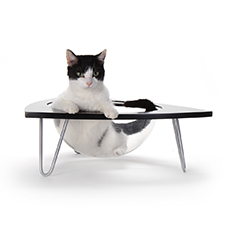 Square Paws Sardine Kitty Cando
Go all out this holiday and treat your cat to the ultimate gift with a Sardine Kitty Cando from Square Paws! This original creation is handcrafted with places for kitty to climb and nap, plus a replaceable sisal-wrapped scratcher on the outside. It's sure to be a conversation piece when friends and family come to visit!
Available from
squarepaws.com.