FAMILY TIES
It's a plaid, plaid, plaid world on Christmas Morning when the family's all together in the Whitaker plaid flannel pjs for mom, dad, kids and yes, the dog as well. All from The Company Store. And Fido is quite content, snug in his matching jammies. Cozy cotton flannel that's been brushed inside and out for extra softness and warmth makes this one happy family. Charitable Component: For every pair of family holiday pajamas sold, The Company Store donates $1 to The Ronald McDonald House New York. Available from thecompanystore.com/home.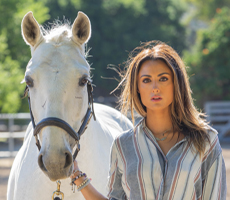 A PIONEER AMONG WOMEN
Using fashion for good, Kut from the Kloth has teamed up with animal activist and former top model Katie Cleary to launch two exclusive denim styles inspired by her animal welfare organization Peace 4 Animals. Filmmaker and philanthropist, Katie is the newest face in their Heroes & Heritage initiative focused on "pioneering women" able to create social change. Says Katie of her commitment to helping our four-legged friends, "This is a mission. And a gift. A higher power comes through me. I'm being used to bring a message." Available from kutfromthekloth.com.
FIT FOR A QUEEN
She has sat next to Anna Wintour at London Fashion Week and awarded Stella McCartney the Order of the British Empire and now Queen Elizabeth II is building on her fashion-forward reputation: The 93-year-old monarch will stop buying clothing made with real fur. It's good to know that faux furrier N'ONAT has styles perfectly fitting for a queen. Istanbul-born New Yorker Nihan Onat Petree, the Founder and Creative Director of N'ONAT, supports PETA in fighting animal cruelty as she designs the ultimate in socially responsible fashion. Available from nihanonat.com.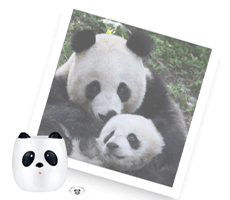 SAVING PUPS, KITTENS AND PANDAS
Fragrant Jewels creates bath bombs, candles, and body scrubs, each item contains a ring inside plus a code that could potentially be worth another ring valued at $10,000. Every purchase from their Love Of Pets Collection benefits Best Friends Animal Sanctuary and helps provide a pawsome home for every pet. Sales of their Wildlife Collection will go towards bottle-feeding cubs when their mothers are unable to care for them. Why is this so important? There are less than 2,000 Giant Pandas remaining in the wild! Available from fragrantjewels.com.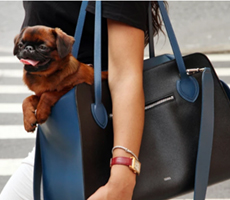 THE WORTHIEST GIFT
The first line of luxury handbags created for people and their pets — Shaya the name derives from the ancient Persian word for "worthy" and the Biblical name meaning "gift from God" — is founded on the principle that pets improve the lives of all humans they touch, and that the more chances they have to connect, the better. That's why the brand has partnered with Disco Dogs, a non-profit that gives inmate volunteers the opportunity to train service dogs for underprivileged and special-needs children. Available from shayapets.com.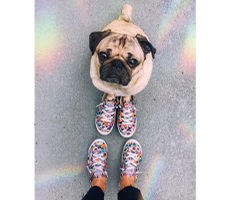 PUGS & KISSES
He's a pug that's known as "King of Pop Culture." And his fans — 13 Million of them — include Shakira, Katy Perry, & Ed Sheeran. Now Instagram's favorite pug is collaborating with the charitable BOBS from Skechers footwear line to launch of a limited-edition pair of DOUG THE PUG x BOBS FROM SKECHERS sneakers printed with snapshots of some of Doug the Pug's most iconic looks. Every purchase warrants a donation to the Petco Foundation to help save shelter animals lives nationwide. Available from skechers.com.