TRAVELING WITH FIDO OR FIFI? WE HAVE THE CASE FOR YOU!
By Zoe Zorka
In a time when travel is more affordable and accessible than ever and pets are considered family, many travelers are choosing to bring their pets along for the "family vacation." Whether it's by air, road, rail, or sea, pets need to be secure and comfortable for their journey. While there is no shortage of pet carriers on the market, choosing the right one for your pet can be difficult.
When shopping for pet carrier, it's important to keep a few factors in mind including the type and size of pet, the pet's temperament, the type of trip, your mode of transportation, and what you plan on doing with your pet during your trip.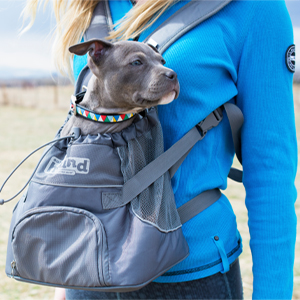 HIKING WITH FIDO
The Outward Hound Front Carrier is perfect if you're looking to take your pet on a hike or outdoor adventure. Worn on your chest, the straps adjust for comfort while the lightweight, mesh siding and waterproof material help keep your pet cool and dry. An interior safety harness provides added security and comfortably clips to your pet's collar. The carrier fits pets up to 20 lbs.
---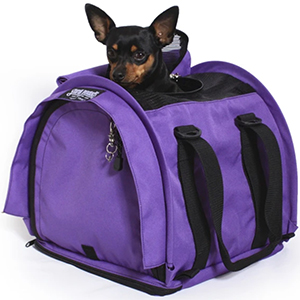 EYES ON FIDO OR FIFI
For a short flight, the Sturdi line of Pet Carriers are one of the more popular carriers for air travel. It's flexibility allows it to easily squeeze down to fit under airline seats while its mesh siding lets your pet see what's going on around them. The carriers come in a variety of colors and sizes - perfect for all types of pets. (They also have a line of pet tents for owners who want to take their pets camping.)
---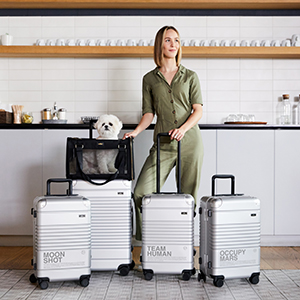 CARRY ON AND EASY OFF
The Arlo Skye pet carrier comes in handy for a longer flights or trips where you might find yourself trekking through several airports or train stations. The lightweight carrier secures to your carry on handles and can easily come off when it is time to board. While you're hoofing it from Terminal A to Terminal C, your pet can take in all the sights in comfort. The carrier offers your pet a 360 degree view as well as a memory foam mattress. It can be easily folded for convenient storage. The carrier fits pets up to 25 pounds and is the approved size for United, American Airlines, and Delta airlines.
---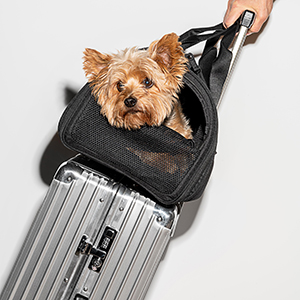 MULTI-PURPOSE PRACTICALITY
The Wild One Air Travel Carrier is similar to the Arlo Skye carrier in that it can be attached to most roller suitcases, but is designed for smaller pets (up to 15 pounds). One of the added features of this carrier is that it comes in handy once you've reached your destination as the interior cushion folds out to become a comfortable bed and the shoulder strap serves as dual purpose as a leash. The carrier is currently available in black and tan.
---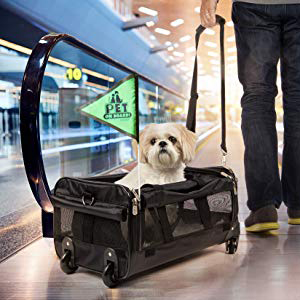 EASY-GLIDE EASY ON YOUR BACK
If you don't have a roller bag and the mere idea of carrying your pet on your shoulder is giving you back pain, the Sherpa on Wheels Pet Carrier is the perfect travel solution. The recessed wheels provide easy-glide motion for walking while the adjustable shoulder strap converts to a padded pull handle when it's time to pick up and board. The mesh panels allow your pet an unobstructed view while the privacy flaps can be lowered if they'd prefer to sleep. The carrier fits pets 19" in length x 9.5" in height and up to 22 pounds.
---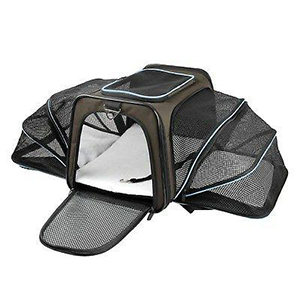 MINI-TENT MAXI-SPACE
For the social pet that also enjoys its personal space, the X-Zone Expandable Pet Carrier can be expanded or retracted through the use of fold-out mesh panels, turning into a mini-tent of sorts. The wire frames keep the design sturdy, but also easily collapse for convenient storage. The small carrier is suitable for pets up to 15 lbs., the large carrier 18 lbs.
---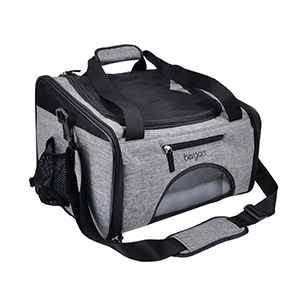 WINDOW VIEW
The Coastal Pet is the perfect carrier for a long road trip. The Comfort Hanging Booster is easy to install and is adjustable for different sizes of dogs (up to 30 pounds) thanks to its adjustable tether strap, allowing them to look out the window while also providing the option to relax on the comfortable (and washable) pad. Its front zipper storage pockets are perfect for storing road treats!
---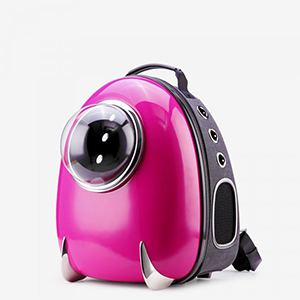 ROCKET SCIENCE
While space travel isn't available for most pets just yet, you can give your pet an out-of-this world experience with the CLOVERPET Fashion Bubble Pet Travel Carrier line. The backpack features a semi-sphere window design and comes in a variety of shapes and sizes and carrying options. Most can be worn on your back or over the shoulder, used as a car seat, and fit under most airline seats. Despite its solid casing, it features mesh panels and ventilation holes, making it perfect for the introvert pet who just wants a window to the outside world with the comfort of a secure resting spot.
For larger pets that can't travel with their owners in the cabin, the Great Choice pet carrier is compliant with most airlines and offers a sturdy casing with breathable sides and a gated front, allowing pets to still see outside of the carrier. Great Choice also offers several bedding options specifically designed to fit inside the carrier.
---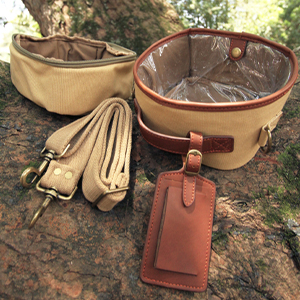 DOGGONE HUNGRY
Another thing that many pet owners forget about is transporting their pet's food on long trips. Thankfully, Mara & Meru's Woof-Meow Dog Bowl Bag (available in both large and small) allows you to pack your pet's food separately for hikes, picnics, or trips without mixing it in with your own food or luggage.