PETS HAVE GLUTEN ALLERGIES TOO
Grain-Free Food Choices For Your Furry Friends
By Dara Hall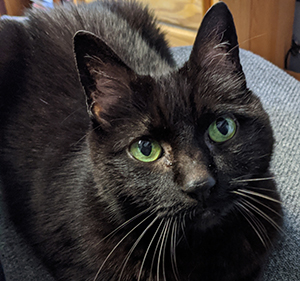 As a family, we always had pets. I loved every single one of them, and I'm not afraid to admit I have a favorite, our black cat, Michelin (we found him on a tire, so the name was just too fitting). He's one of those cats who doesn't fight for your attention; he's content just being in the same room as you are. When we started noticing these sores and scabs on his body, especially his ears, we were unsettled.
We took Michelin to see the veterinarian. The vet did recognize that it was some type of food allergy but without doing extensive and expensive blood work for allergies, they did not feel they could give an accurate diagnosis. Given a limited family budget for pet care, the veterinarian offered a plan B: steroids for 10-days and an antibiotic. During the ten days of treatment, Michelin's symptoms cleared up. Then after a week off the steroids, we noticed the sores and scabs on his ears again. My parents didn't want to put him back on the steroid because they knew there would be side-effects. So, they begin the journey of making our cats' diet more limited (our other cat is a Maine Coon mix and is solid health-wise).
A local pet food supply store was opening down the street. A conversation with the owner about what was happening led to an informal diagnosis: it was likely a gluten allergy. But here's the thing, we already figured that out. The food we were feeding our cats was gluten and grain-free. Yet, Michelin still had little sores and scabs on his ears. They weren't as bad as before but we were at a loss, what was going on? It couldn't be gluten. Then we checked the litter we were using, one of the first ingredients, wheat. Once we changed the litter, he completely cleared up.
Parallel to our cat's journey with gluten, we had a Pitbull mix that was getting hot spots. This time the veterinarian said it was most likely a gluten allergy. Once we became aware of this, we became diligent in assuring that his food and treats were gluten and grain-free. Now and then he still gets hot spots. We do have a no table scraps rule in our house… but sometimes it's easy to forget there is gluten in a piece of food when the soulful, plaintive eyes of your pet are looking deep into your soul.
It's terrible when your pet is in pain, and you're not entirely sure how to help. I've shared my experience with navigating gluten allergies so you can understand how this allergy affects pets, how to recognize the symptoms and appreciate the rewards of keeping your allergic pet gluten-free for life. If you are recognizing the pattern here, the manifestation of a gluten allergy, check out the gluten-free food options we've found successful at keeping our pets healthy.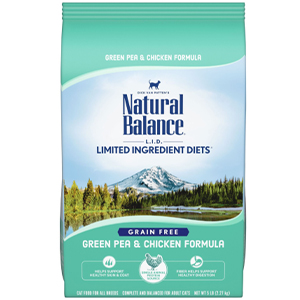 Dry cat food – Natural Balance
To keep our cat free of sores and scabs, we were on the hunt for dry food that had limited ingredients. We were so lucky to find Natural Balance and their grain-free L.I.D. Limited Ingredient Diets® formula!! Our cats' favorite is the "Green pea and Chicken." Natural Balance has other formulas that can be tailored to your pet's needs like Fat Cats® or Fat Dogs® to help with weight and Delectable Delights® for fussy eaters. If you don't know which one to choose, the website has a simple survey that helps you determine which option would work best for your pet. Info: naturalbalanceinc.com.
---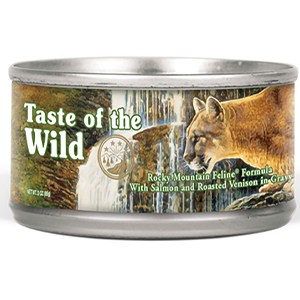 Wet cat food – Taste of the Wild
For the wet food options for our feline friends, we found favorites in a few brands but we wanted to keep exploring different options. After some experimentation, we found Taste of the Wild. Our cats are fans of their grain-free "Rocky Mountain Feline Formula." Taste of the Wild offers a grain-free limited diet formula as well called "Prey" and their formulas cover life stages from kitten to even pregnant and nursing. Info: tasteofthewildpetfood.com.
---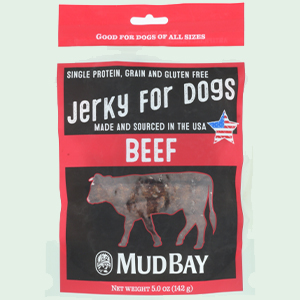 Mud Bay Treats
The easiest thing for us to find for our dogs was grain-free treats. We went to Mud Bay, an awesome pet-everything store with a bulk area of various grain-free biscuits in a variety of shapes, flavors, and sizes! To keep it interesting for our dogs, we looked into jerky options. Mud Bay offers a single protein, grain and gluten-free jerky. Mud Bay's actual stores are only in Washington State and Oregon, but there is always the internet. Mud Bay offers a good deal on shipping, $5.99 flat rate on all orders over $50. Info: mudbay.com.
---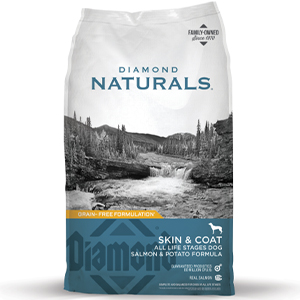 Diamond Pet Dry Dog Food
Diamond Naturals grain-free offering, Salmon and Sweet Potato, is a big hit in our household. Our dogs can't get enough! Like all their other formulas, meat is the first ingredient, either cage-free or pasture-raised, and their dry dog food has superfoods like blueberries and chia seeds. So grateful to have discovered this. Our dogs coats are healthy and no more gluten-allergy issues. It is great to see them chow down on this kibble. Info: diamondpet.com.
---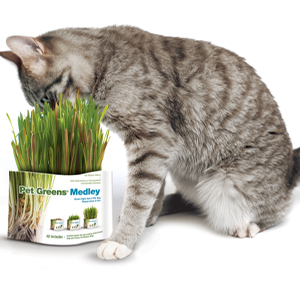 Cat Grass - Pet Greens Blurb
Something we thought for sure we were going to have to get rid of was grass for our cats. We saw that it was wheatgrass or rye and barley blend, so we assumed it has to contain gluten. But we noticed the packaging says gluten-free! Well, according to the Pet Green FAQ page, "Wheatgrass is a leafy green vegetable harvested before it develops the gluten-forming grain." Interesting! Their website is full of helpful information. Our cats definitely like all the grasses they offer but they really enjoyed the oat, rye and barley blend. Info: bellrockgrowers.com.
---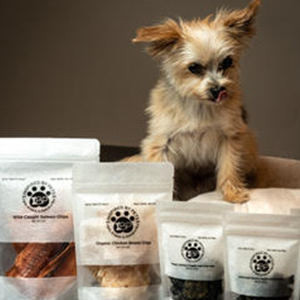 Inspired by Pet (The Well Healed Pet)
If you are looking for a limited ingredient jerky treat for your dog, Inspired by Pet chips fit the bill! There are no chemicals or fillers, all their products are organic. This is a new company and it came about as the owner of Inspired by Pet, Sabrina Ali a Yorkie parent herself, became concerned with the health and wellbeing of dogs after seeing friends' dogs pass away from cancer. Sabrina tells us she is passionate about making sure her treats and new supplements are 100% natural and deliver nothing but healthy benefits to each dog. I have to say I wish we got more bags when we first tried these treats; our dogs gobbled up the salmon chips in what seemed like 30 seconds. Right now, our dogs only have Inspired by Pet salmon and chicken chips but they are looking forward to trying the new organic crunchy treats, made of dehydrated organic seasonal vegetables, fruits, cooked quinoa and choice of protein or just simply vegetarian.  Not that our dogs are picky eaters, but I need to be very conscientious about what I give them. For sure they'd eat unlimited amounts of the salmon and chicken chips if I let them, but for now, they've tasted, they've approved and they've had enough Inspired by Pet treats for awhile, although I bet they disagree. Info: inspiredbypet.com.
---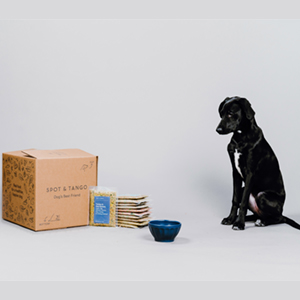 Spot & Tango
If you're looking for human grade food that's customizable to your dog's needs, Spot and Tango is a good option. Take a simple survey on their website asking about your dog's activity level and any health conditions they might have. We took the survey and were presented with a choice of three formulas (Lamb & Brown Rice, Beef & Millet, and Turkey & Red Quinoa) to pick from for a two-week supply. It was not long before we noticed a difference with our lab mix, Katie (who isn't gluten-intolerant). When we started feeding her Spot and Tango, she got leaner and her coat got silkier! If you're on a budget, they have topper plans that you mix with your dog's food. Or if you don't think you have the space for wet food, they recently released a dry food, UnKibble. They remind us on their site that their food helps build immunity, improve digestion and boost energy not to mention a host of other benefits that can help your dog live longer and spend less time at the vet; a goal whether your dog needs to be gluten-free or not. Info: spotandtango.com.