PETS AND COVID-19: DEBUNKING THE MYTHS
By Ann Hohenhaus, DVM, Diplomate, American College of Veterinary Internal Medicine (Small Animal Internal Medicine, Oncology) Staff Doctor, Animal Medical Center-NYC
We are a pet-loving nation, and these past few months have only re-enforced our need for the companionship of furry, feathery, and scaly animals.
As the largest non-profit veterinary hospital in the world, Animal Medical Center in NYC continually monitors the coronavirus's impact on pet health, and our 100+ veterinarians are committed to providing pet owners with the most trustworthy pet health information in a timely manner.
Let's debunk some of the information currently trending across social media about ways to keep our pets safe during the pandemic:
PETS ARE AT RISK FOR GETTING -OR SPREADING COVID-19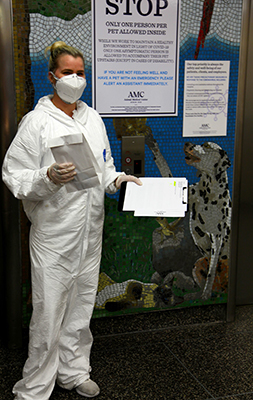 Photo courtesy of Dr. Philip Fox
FACT: Dogs and cats rarely get infected with the virus. Globally, there are only 9 confirmed cases in animals (2 dogs and 7 cats) -while more than 5 million people have been confirmed with COVID-19.
FACT: Among all known dog and cat cases, the source of the virus appears to be a human family member with COVID-19.
FACT: The Centers for Disease Control, the World Organization for Animal Health, and the American Veterinary Medical Association all agree that at this time, there is no evidence that animals, including pets, can spread SARS-CoV-2 to humans.
Note: COVID-19 is the name of the disease in humans. SARS-CoV-2 is the name of the virus and the name of the disease in animals.
DISINFECTING PETS' PAWS WITH BLEACH IS ONE WAY TO STOP THE SPREAD OF COVID-19
FACT: Exposure to bleach -through ingestion, inhalation or even contact, is extremely toxic for dogs and cats. Never -ever, use bleach or any bleach product to disinfect your pet's paws. Contact with bleach can lead to severe lesions of the skin, and if ingested, damage the esophagus and stomach.
Always keep pets out of the area when you are cleaning with bleach. Pets could experience bleach poisoning if they walk on a bleach spill and lick their paws afterward, according to the Pet Poison Hotline -which has experienced a 100 percent increase in calls about cleaning products since the onset of the pandemic.
To clean your pet's feet, use only products listed as pet or skin safe. For homemade foot cleaner, mix a drop of dog shampoo with water on a paper towel or washcloth to clean the paws, then rinse and dry thoroughly. If your pet has dirty or muddy paws, consider a sink bath (for smaller dogs), use a sprayer in the bathtub.
HAND SANITIZERS ARE HARMFUL TO PETS
FACT: If used directly on pets, hand sanitizers can pose a health risk. The hand sanitizers effective against coronavirus contain greater than 60 percent ethanol – that's the same type of alcohol contained in beer and wine. If enough is ingested, pets can become extremely intoxicated and the results can be lethal, including a severe drop in blood sugar, decreased body temperature, neurological issues, coma, and seizures.
FACT: Hand sanitizers keep people safe from the virus, but no need to worry about petting or hugging your dog or cat once the sanitizer is dry.
For more detailed information about Pets and COVID-19, please visit AMC's website: www.amcny.org/COVID-19-and-Pets.