Amanda O'Connell's lifelong love of dogs began at childhood, growing up with a Westie. She fell in love with their oversized personalities, high energy, and intelligence—and it was only a matter of time before she adopted one of her own.
Before the ink was dry on the lease for her first pet-friendly apartment, Amanda had already started the process of making Dutch part of her family. Dutch is a firecracker—often seen chasing squirrels, skateboards, and motorcycles. Keeping him safe on the streets of a bustling city became a full-time job as Amanda quickly found that none of the leashes and harnesses she bought were up to the task.
"When Dutch was a puppy he was able to break off a lot of the leashes," Amanda explains. "He would break the clip, not the leash. I went to the internet to try to find leashes with two clips that met our needs but found nothing. So, I designed my own." Amanda got to work drawing up some ideas and her sister, Caitlin Beards, a talented costume designer, who helped to sew the earliest leashes and harnesses. Dutch, the namesake of the company, did his part too by patiently testing each prototype.
Amanda quickly realized that she also needed to create a harness that could accommodate the double clip leash. "Knowing that dogs come in all shapes and sizes, we made our harnesses adjustable in four spots. It can fit a wide range of sizes and breeds and sits along the collarbone so it won't pull directly on the dog's neck." She wanted it to be comfortable and safe so even a clever dog won't be able to slip out.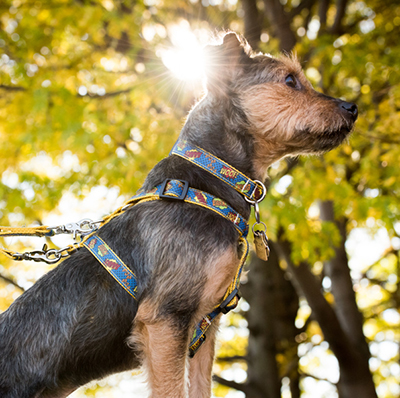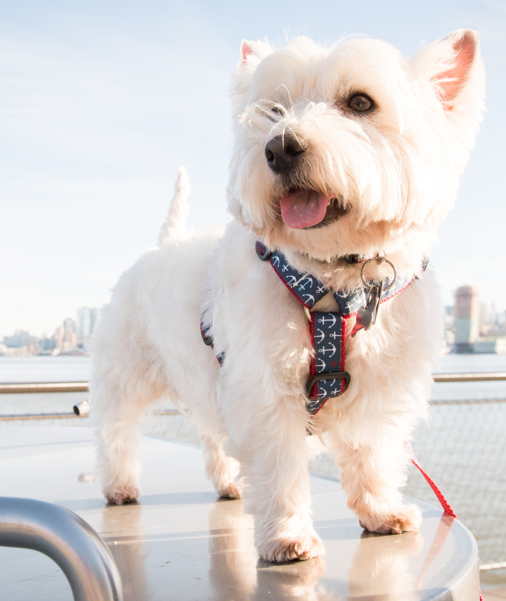 "Keeping him safe is everything," Amanda says. "Once I figured out the design, I thought that it was something that other people could benefit from as well." A New Jersey native, it was important to Amanda to keep production local to her home state and partnered with a manufacturer in Passaic, NJ — even though that often means squeezing in early morning visits to the factory before heading into the city for her day job.
Safety is the number one concern at Double Dutch Pets, but they also want to make sure that their products reflect unique personalities as well. "I try to find patterns that you don't typically find in stores and ones that are a little bit more fun," Amanda says. "One of our most popular is the comic book themed Super Dog but customers also love our black and white checkerboard design, camo prints, and fun skull patterns."
That second clip does a lot to ease the mind of a dog owner when their intrepid companion decides to make a beeline for a squirrel on the other side of a busy street, and that's exactly why Amanda created Double Dutch Pet Products.
"The thing that scares me the most is the idea of my dog being able to get away from me," Amanda says. "We want to make products that are interesting looking with fun patterns, but at the end of the day, it's most important that we keep our dogs a little bit safer."
For more information about Double Dutch Pets leashes, collars, and harnesses visit www.doubledutchpets.com. And don't forget to follow them on Instagram (@doubledutchpets) to see plenty of pictures of Dutch, his friend Columbo, a blind Jack Russell their family adopted from The Eleventh Hour Rescue, and all of the latest products and designs.