By Crystal C. Long
Brothers Vlad and Niki Vashketov might look like your average eight and five-year-olds: Vlad is the adventurous and active older brother who loves playing sports like soccer, kickboxing, and water sports, while Niki is the younger brother who loves anything creative, namely arts and crafts, and cooking & baking – but at eight and five, these young brothers are already huge stars in the YouTube community, starring in their very own, award-winning, YouTube channel: "Vlad & Niki". The live-action series features the hilarious everyday antics of the two brothers – and this is all before they even turn 10.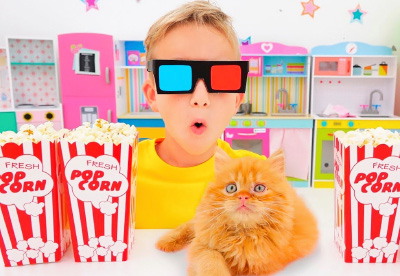 With the help of their mom Victoria, the boys produce content jam-packed with non-stop fun and adventures to entertain their young audience with topics such as family, discovery play, home adventures, indoor and outdoor games, singing and dancing. The inspiration for creating videos came when Vlad became deeply interested in other video content greats and wanted to try his hand at creating his own – what started out as a side weekend project quickly turned into a full-fledged video channel with millions of subscribers worldwide. "Vlad & Niki" is also a family affair, with the boy's dad Sergey Vashketov (and of course the help of his wife) being responsible for the production side of things: the creation, writing, and ultimately, production. The boys' one-year-old brother Christian also frequently guest-stars in the videos.
Other than performing in front of the camera or playing sports, eight-year-old Vlad is also obsessed with animals, and he just adores the newest addition to their family. Meet Darwin, the Vashketovs' five-month-old kitten. Darwin, an adorable Persian kitten, was adopted a few months ago, and needless to say, has become a well-loved member of the family. Darwin returns the love, as mom Victoria tells us, "Darwin is very playful. He has a very cute purr and enjoys cuddling on everyone's lap."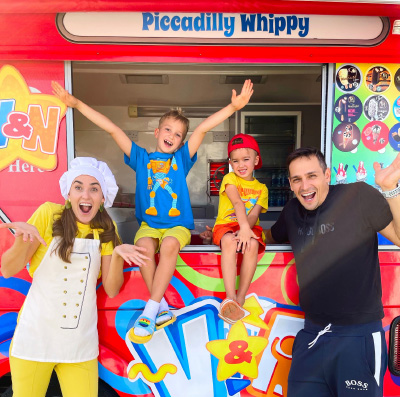 Victoria also sees this as a good opportunity to teach her young boys about core values. "Vlad really wanted to get a pet and of course, once Vlad wanted a cat, so did his little brother Niki. They love animals and always wanted their own pet. As parents, we thought it would teach them about responsibility. He (Darwin) makes us all happy and during current times, having something new to love makes life even better."
Darwin has also instantly become an integral part of the family business. He's been featured in a few "Vlad & Niki" videos. A welcome feline addition to YouTube, Victoria emphasizes it's incredibly important they all create content together as a family. "Darwin likes performing for the camera and helps us create funny stories to tell, like eating all the fish I was making."
One thing is for sure, Darwin is one well-loved kitty. Along with his own purr-fect comfy bed, he's also poised to be the purr-fect companion for the active boys. "He likes following all the boys around the house. Darwin likes to hide in their toys and the boys run around trying to find him," Victoria reveals.
If there was one word to describe Vlad and Niki's videos, it would be fun. The mix of bright colors, animation, live action, and now, Darwin, makes the Vashketovs' comedic videos a joy to watch for their 152+ million subscribers worldwide.
See the boys in action on their YouTube channel: www.youtube.com/c/vladandniki.