STARSTRUCK
Meet Social Media's Newest Influencer
By AP Connolly
If you're lucky to be in the borough of Brooklyn, New York, you might bump into the latest celebrity—four-legged Franki. Of course, everyone stops to greet this amazing dog, and considered The King.
From buff bodybuilders to tiny toddlers, they all agree that Franki—an English bulldog—is as cute as they come. In less than a year, Franki, the Bully, has gone from obscurity to celebrity. Not just in New York. He's also got millions of social media fans around the country. 
A NATURAL-BORN CHARMER
Franki began pawing his way to fame when he was just a puppy during the pandemic. His dad, Isaac Horowitz, wanted a dog to keep him company during the lockdown. That's how Franki, a Louisiana native born on Valentine's Day 2020, officially became a New Yorker.
"I started Franki's Instagram, and TikTok accounts out of boredom, and he soon had more than 50,000 followers," recalls Horowitz, a merchandise importer who was amazed that Franki was becoming a neighborhood and national celebrity.
One of the first things people notice is his distinctive good looks. "Franki has rare blue and tan tri-coloring. He's also got eyebrows and a lot of white in his eyes that makes them look almost human."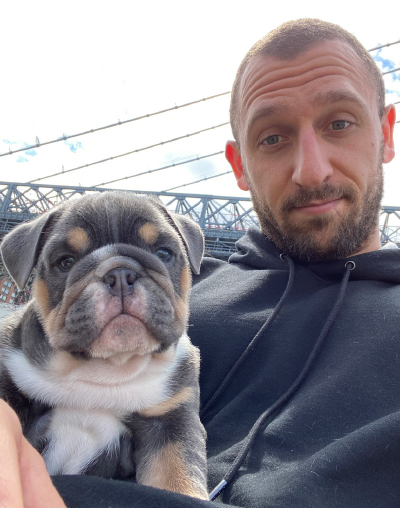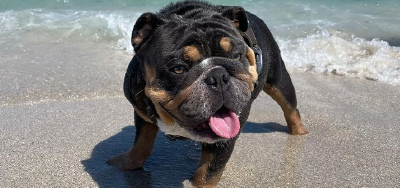 FUNNY & SWEET
Then there's his sweet, funny personality. "He's super friendly and playful. He's not afraid of anything," says his dad, who now serves as his official spokesperson. "Franki will do anything for food, especially turkey, including spinning around and sticking out his tongue on command."
Wherever Franki goes, he's the center of attention. "When I'm out running errands by myself, no one notices me. But when I'm with Franki, I'm the most famous person in the world. He manipulates me all the time, and there's nothing I can do about it. No one says no to Franki." 
The adorable pooch's videos and photos have earned him 4.4 million likes on TikTok, and he's up to more than 52,000 Instagram followers. 
And now that he's signed with a talent agency, Franki hopes his dad will let him say yes to all those offers he's been getting for everything from modeling for marketing shoots to acting in movies. He's already practicing his paw signature.
YOU CAN DO IT!

Franki has given his dad permission to reveal their secrets to his rise to celebrity status.
• Wear your brand proudly "Franki wears a vest with his @FrankitheBully Instagram/TikTok handle on it. Naturally, people stop to take pictures of it. It's hilarious. His new fans go on Franki's Instagram page right in front of us."
• Practice being a good celebrity "Franki wants his fans to know that he's studied hard to be good at basic commands. He knows how to sit, hold something in his mouth, and has other talents that will make him a great ambassadog. He's also well socialized around people and environments, so he's comfortable in a variety of settings."
• Make it easy for fans to follow you "I post QR codes in my office windows for Franki's social media accounts."
• Make public appearances. "Franki loves going with me everywhere, including restaurants. What's fun is that those businesses will often re-post that he was there."
• Always be ready for your close-up "I always have my camera handy, and I constantly post. Just make sure that it's consistently quality content. You won't gain fans with blurry photos, for example. Short videos of Franki being cute get the most engagement. I just posted a video on TikTok of him barking at a chair that got three million views."
And, of course, we couldn't end this report without a few words from the star himself:
"I am looking to continue my dog modeling and influencer marketing career. I am friendly—almost too friendly. I do, however, have cool tricks up my harness. Be sure to contact my dad and me.
I am looking forward to playing fetch with you one day. --Franki