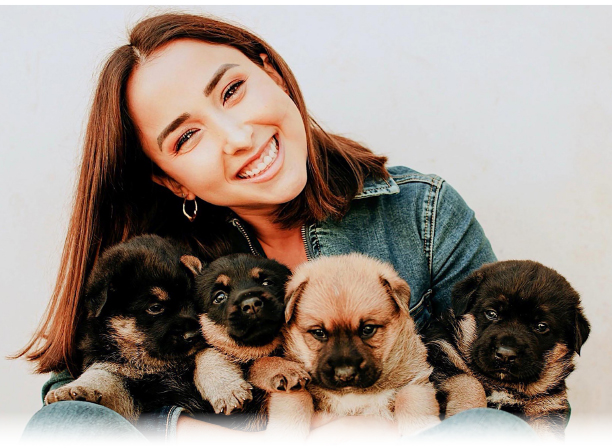 LIFE, LOVE & BEING A FIRST-TIME AUTHOR
Everything Good In My Life Is Because Of Dogs
By Victoria Lily Shaffer | Photography by Meg Meyer
Isn't it strange how everything can get worse by the minute, and then suddenly, when you least expect it, things seem to fall into place perfectly? This applies to dog rescue, love, and life in general. 
I was born and raised in New York. I lived there all my life until three years ago when I moved to Los Angeles. Though I was inspired to do more after seeing the emotional and physical trauma my first puppy, Rue had endured, and the positive impact I had on her life, moving west is when my passion for rescue truly exploded.
THE WAY IT IS
I had fostered puppies since college, but once I got involved in the administration side of rescue— pulling dogs off the streets and out of shelters, working with fosters, and finding them their forever homes— there was no turning back. 
During the pandemic alone, I fostered over one hundred dogs and puppies. Some days I would have upwards of twenty dogs in my home while I waited for them to go to permanent foster homes. My garage was converted into its mini-pet supply store with everything a foster could need. There was no type of dog I wasn't willing to take into my home. While I was known for having large litters of newborn puppies, I never turned down the challenge of a special needs dog or one misunderstood either.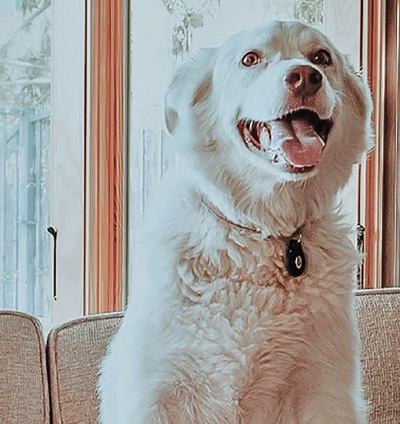 My present-day dogs, Rue (a Boston Terrier/Chihuahua mix), Echo (a Great Pyrenees/Aussie mix), and Alfie (a Terrier/Boxer mix with a cleft paw), are used to the revolving door of fosters in our home. But, to the surprise of many, it wasn't until this past summer that I foster-failed and adopted my fourth puppy, Callaway (Cal, for short), a stunning, sweet, and undeniably unique Golden Retriever mix. Cal, his mom, and siblings had all come down with distemper—the evil, highly contagious, and aggressive viral disease. I had just witnessed a litter of Husky puppies suffer from it and just kept wishing I would wake up from this nightmare of having to relive the never-ending fevers, seizures, night terrors, paralysis, and more. I was hoping for a miracle, but not surprisingly, distemper took Callaway like it did the huskies.
The next day, I sat on the couch wrapped in a blanket surrounded by my family and three dogs, comforting me over the loss of Callaway. My rescue community sent their condolences through flowers and baked goods. As I tried to digest how an innocent creature could endure so much pain in such a short life, the phone rang. I picked up more sad news. A dog-centric, lighthearted show I had pitched to a major network, which seemed like a done-deal, was no longer in the cards after a merger. I sobbed. How could my puppy pass away and my dreams of hosting a TV show be dissolved all in twelve hours? I was dating a guy I hadn't heard from in weeks, to make matters worse. He ghosted me just as Callaway was getting sick, from fear of getting in touch with his own emotions.
THE PUP CULTURE RESCUE
I continued to power through, attempting to push away the sadness. Months went by, and things slowly began to get easier. I founded my own Los Angeles foster-based dog rescue called Pup Culture Rescue with a group of bad-ass women who, like me, live for the well-being of dogs. I am confident it will continue to grow, saving thousands of dogs and educating the community on the need for animal rescue and adoption.
Then, my book came out! It's called Pup Culture: Stories, Tips, and the Importance of Adopting a Dog. It's a compilation of foster and adoption stories, money-saving tips and DIY crafts, and inspiring tails from celebrities like Dan Levy, David Letterman, Glenn Close, Vanessa Williams, and Tony Bennett.
Before driving across the country with my canine crew for my book tour, I met someone. This guy was thoughtful, intelligent, and nurtured dogs. Mr. Thoughtful sent me a gorgeous flower arrangement when my book was published. As my aunt said, "He is doing everything right!" I agreed. This thoughtful gesture made the day a little more manageable.
NYC & CELEBRITY WORLD
I practically grew up on the set of Late Show, having spent every Thanksgiving touching the Macy's Day Parade balloons from my dad, Paul Shaffer's, office window and having David Letterman serve me turkey. Because of bizarre childhood experiences like these, it conditioned me to the celebrity world. But the idea of my book being published with my stories and thoughts was daunting. I wanted to write more than an informational book about dogs. I wanted my book to be personable and funny and to inspire people. Being a first-time author? I am still processing it. I never thought I would be an author. English wasn't my best subject. The opportunity to author a book fell into the category of "things that seem to fall into place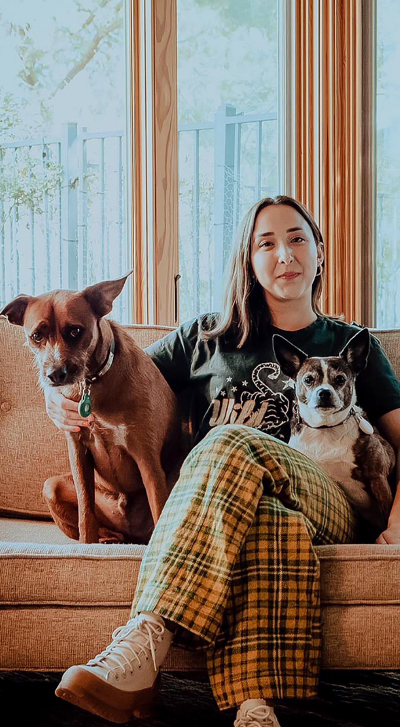 perfectly." Ironically, the person who delivered the unwelcome news about my show pitch is the same person who helped me get a book deal. If a chance to influence someone to adopt a dog instead of supporting a puppy mill or inhumane breeder is presented to me, I will take it because dog rescue has genuinely changed my life for the better.
Everything good in my life is because of dogs, and I am so fortunate to have put it all into writing. The constant companionship and community of people who adopt a dog are incomparable. Every day is a new adventure, and every dog, a new story. Each time my dad looks over and sees me surrounded by my dogs, he jokes and says, "I feel like I am looking at another book cover."
To be determined!