By Rod McCann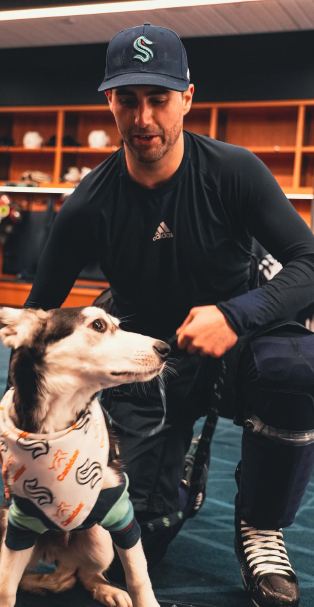 It's game day for the NHL's Seattle Kraken. They are at home and ready to rock the ice at Climate Pledge Arena, the first net-zero carbon arena in the world! The place buzzes with activity as they get closer to game time. Then, finally, the lights go down, and in concert, strobe lights and stereophonics take Kraken fans into the depths of the untamed waters as the legend of the sea urchin Kraken appears before their very eyes.
In amongst the ocean wild, pre-game theatrics, you will find the newest, hardest working, and cutest member of the Seattle Kraken organization, their team pup, husky-mix, Davy Jones. While this adorable dog has quickly adapted and settled into living a life of love and excitement, his story began with more modest beginnings. He was a homeless pup in Texas with an uncertain future when he caught the break of a lifetime and took a freedom flight to Dog Gone Seattle, a foster-based rescue organization in the Seattle area. They say timing is everything, and fortunately for Davy Jones, the doggy gods were looking favorably on him as he was about to catch his second big break.
A PUP TO THE RESCUE
Enter Chris Scarborough, the Kraken's lead Arena Developer. Not only were he and his wife Emily an animal-loving family whose household consisted of two cats, Buddy and Mirri, and their dog Doug, they, like the Kraken, were shopping around animal shelters for a new pup. According to Chris, "the foster host at Dog Gone Seattle, Emilie, was very kind and flexible and allowed us to have play dates with Davy to make sure he had the right temperament for the job. Then, of course, the fact that he was a husky was the icing on the cake."
Chris and the Kraken organization were not looking for just any dog. They were looking for a dog with a calmer temperament that would be good with people, especially children. On game nights, Davy works just as hard as any two-legged employee. He can be found working his puppy charm in the hallways between interviews and meetups. "He gets a lot of requests for appearances in various parts of the arena, and he finds himself bouncing all over the place," Chris said with a smile.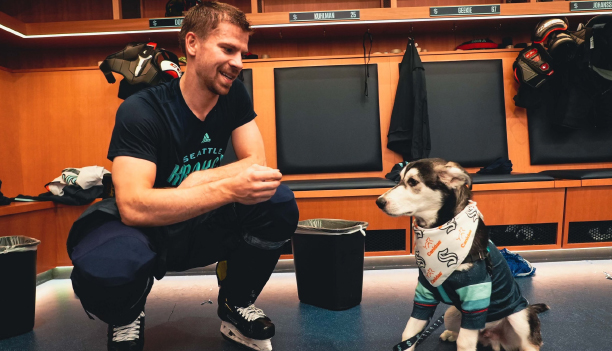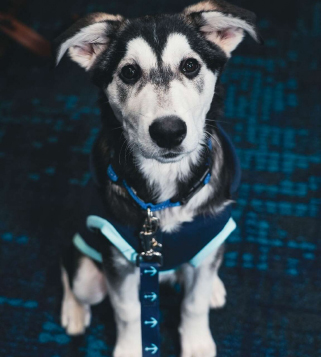 A STAR IS BORN
Not surprisingly, Davy has been a massive hit with Kraken fans. Like a proud parent, Chris boasts about Davy, "Everywhere we go, he's got a crowd lining up for pictures, and he handles the attention like a champ!" Around the arena and the city of Seattle, fans have been seen in their homemade T-shirts, proudly flaunting their love for Davy.
Before Davy, the Kraken had been on a nine-game losing streak. However, that curse was broken the night he arrived at the arena. According to Chris, "When players are getting ready, Davy likes to run around the locker room, sniffing each player's gear and getting treats from them." And while Davy has taken to all the players, the miniature Husky has forged a special bond with the Kraken's puck stopper, former Vezina trophy finalist Philipp Grubauer, or Grubi as he is known to his Kraken teammates. Considering the veteran goalie is on a six-year deal, he and Davy will have plenty of time to solidify and nurture their special bond.
It won't all be fun and games for young Davy. As an essential representative of the Kraken organization, he is part of the team dog program, an initiative aimed at helping people in need. When Davy is a little older, he will be trained as a therapy dog. This will connect the young pup to the broader community, especially folks in hospital settings who are doing it tough and need their spirits lifted.  
The team dog program is proudly partnered with Canidae Pet Foods. Canidae is the official sustainable pet food partner of the Seattle Kraken and sends Davy's family his favorite food, which is Canidae's Goodness Turkey and Barley. Canidae will also help with Davy's dog therapy training in the future.
It has been a fantastic turnaround for Davy, from the doghouse to the penthouse, a genuinely American, rags to riches story.