How a Dog From Tennessee
Stole Our Hearts
This Is Brioreo's Adoption Journey
By Sean-Patrick M. Hillman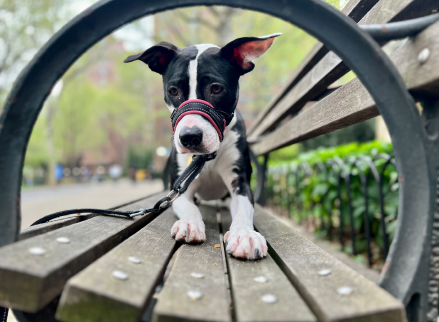 In March of 2022, nine months had passed since my wife Kylie and I lost our dog, Rolo, to a sarcoma. Nine months prior to that, we lost our other dog, Snickers, to lymphoma. And while we have both had animals our entire lives, losing those two took a serious toll on both of us. Historically, I have always been more adaptable to this situation than Kylie. That is not to say that she is more emotional than me. I would say we are equally emotional about our furrever ones. It is to say that I seem to bounce-back a little faster than Kylie with respect to this kind of situation. And having had multi-pet homes my entire life, getting a new pet when one has passed was a common occurrence as a child. You don't love them any less. You just want to fill that void that becomes so difficult to endure after the passing of a furrever friend.
We had discussed getting another dog across the nine months after Rolo had died. It had not been the right time for Kylie. You see, on top of losing Snickers and Rolo, Kylie had also lost her Nana as well as her best friend, Ali, to colorectal cancer that year, and was faced with helping a horrific multiple canine abuse situation on Long Island that left her traumatized. Yet the Sisters of Fate seemed to have a different path in store for us…
A few short weeks after our last conversation, a dog named Briana found me. Actually, stole my heart while hugging me would be a more apropos statement – I was in StuyTown where we live, talking with a neighbor and my friend Natella outside. Next thing I know, I feel this dog holding on to me. I look down and see this incredibly sweet, loving, beautiful dog giving me a hug as if she knew I was still mourning Rolo. I look at the pet parent, and immediately recognize her as a foster Mom I had met in the Fall (you can read Bri's Foster family story on page 26). Catherine and Andrew were her foster parents' names. They told me that Briana was with Social Tees rescue, an organization I had worked with many times over the years, and that she was rescued from Tennessee.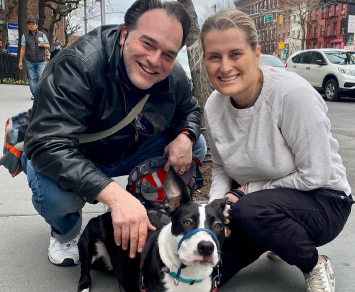 Natella pulled me aside after Briana left and said to me that I would be crazy to not adopt her…especially knowing how much I missed having a dog at that time. "I have never seen a dog and a human look at each other that way in my entire life. You have to adopt her," said Natella. She was right. We both knew Briana had chosen me as her Dad. Now I needed to figure out how to make Kylie comfortable with this. While I knew she would eventually want to have another dog, Kylie was still in mourning. Yet I knew that Briana choosing me would be the linchpin I needed to get Kylie to meet this puppy.
Over the next few days, I saw Briana several times as she dragged her foster parents across the quad in our community to see me each time. When I explained this to Kylie, she started to become excited to meet her. A day later, it happened. While initially hesitant, as soon as they met, Kylie fell in love with Briana. We filed her adoption paperwork the next morning.
Once our application was approved, Kylie and I tackled the big question…were we going to change her name? Yes and no. Kylie and I have always named our pets after foods we love. I had a Siamese named Peanut and another named Butter growing up. Kylie and I named our dogs Snickers and Rolo. And with Briana's coloring, we wanted to call her Oreo. But we also didn't want to have to put her through retraining her name given that she was just moving into her new furrever home. So we compromised. Her nickname was Bri, so we added Oreo, hence Brioreo. And, yes, we still call her Bri.

Over the course of the next 18 months, Bri quickly became an integral part of our lives. She gets walked miles every day; I cook her meals for her every day using fresh ingredients. As I work from home often, Bri basically lives in my home office during the day (when she isn't being walked or played with). Now, this beautiful, sweet Southern girl from Tennessee who stole my heart is the Official Spokesdog for Pet Lifestyles Magazine! Yes, she is spoiled. But what furrever one doesn't deserve to be?