My First Rescue
How A Six Year Old Became A Lifelong Rescuer
By Sean-Patrick M. Hillman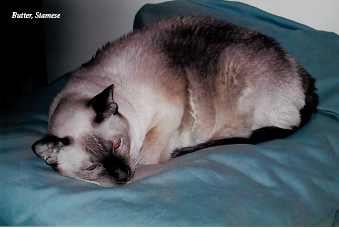 Legendary Australian wildlife expert Steve Irwin once said, "If we can teach people about wildlife, they will be touched. Share my wildlife with me. Because humans want to save things that they love." This quote is one of my all-time favorites with respect to animals, primarily because I have lived my entire life this way…saving the things that I love.
It should come as no surprise to anyone that I grew up in a Manhattan apartment with a menagerie at home. When I was born, my mother already had a Siamese cat named Peanut. I, of course, wanted to have my own cat – so I made my first "save" when I was six. It was the summer of '82 in a cornfield in a little town called Clermont in New York's Hudson Valley. My parents had taken a house for the summer and it was surrounded by a massive, beautiful cornfield. In it was a family of kittens, just born. One by one across the summer, kittens began disappearing as people kept taking them. I, of course, fell in love with the smallest kitten who also had a major wound in his neck from a small animal. My parents knew I wanted him, so they acquiesced. But they were VERY clear that it had to be the injured kitten I had already bonded with because they feared he would not survive.
Unbeknownst to me (cut me some slack since I was only six), my parents hid a series of events from me involving this rescue that otherwise might have changed my outlook on animals and the world. I believe it was my Father who chose the name Clermont for what would become my best friend; obviously named after the town we rescued him in. Once my parents and I agreed on taking him in, we took him to the vet to have his neck injury looked at, have him neutered, give him his shots and make sure that he was healthy. Once that happened, he wasn't allowed back outside to be with his family in any real way. This made me so sad. But my Father made it clear that because of his medical issue, and the bandage around his neck, he had to remain dry and safe in the house.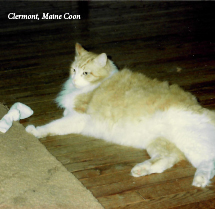 What I didn't know was that he was the last kitten in the cornfield and his Mother was looking for him. She clung to the screen door of the front of the house, multiple times, howling for her kitten to be returned. Less than a week later, on the day we were packing the house up for the season, she sat on the hood of our car, again howling for her baby. My parents went out of their way to hide this from me because they knew if I saw this, I would have insisted on Clermont staying with his Mother. That would have been a death sentence for him. I didn't learn of this until decades later, and cried my heart out at the very thought. But I also knew Clermont had an incredible life.
In the ensuing years, Clermont spent his winters in Manhattan, living on Central Park West. For his summers, he resided in one more summer rental before spending the rest of his warm months on the property my family acquired in 1986 in a town called Germantown, not far from Clermont's hometown. After Peanut passed away, my Mother got another Siamese who I named Butter. Clermont became her Father figure, cuddling together all the time. Then we took in two Pug siblings. That was after endless fish, mice, hamsters, and so on. Clermont would also cuddle with the Pugs when he felt like it. Of course he preferred hanging out on the kitchen counter, watching as my Mother would make Shrimp Cocktail, praying she would drop a morsel. When in fact he knew she always set some aside for him as it was his favorite food.
Clermont was the kindest, most loving cat I had ever met. He lived to be almost 21 years old, having survived a few serious illnesses, but always kept a cool head. The day he died, a part of me went with him…only to return to my heart every single time I helped save another furrever friend.

Clermont is just one reason why I have been rescuing since I was six. He was my best friend. He was my little brother. He also taught me more about being a loving human being than anything on Earth possibly could. And this was a sentiment I would keep for the rest of my life. All thanks to my first rescue. And, yes, rescuing is addictive.

What is your first rescue story? Why do you rescue? We want to hear it!
Send your first rescue story to Sean-Patrick@petlifestylesmagazine.com for consideration.