TIPS & TRICKS
TO KEEP YOUR PET SAFE DURING HOME ENTERTAINING
That wonderful time of year is upon us with homes filled with laughter, joy and the pitter patter of little paws running amok amongst a sea of gifts and guests to fill the house. Every holiday season, we get asked for advice on how to keep pets entertained, or how to keep them well-behaved, as people have family and friend gatherings throughout November and December.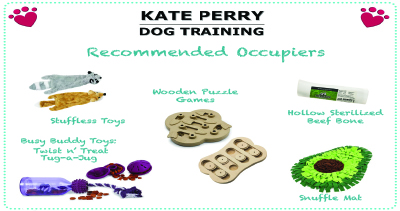 Typically, cats leave most house guests alone and are fairly well-behaved during the holidays. That is unless you are making a traditional Italian Christmas dinner, in which case when you start to make the seafood dish, make sure to keep any felines out of the kitchen or you may find one or two less servings will be available for your guests! But, when it comes to canines, it can be tricky depending on the size of your home, how many guests you have over, or how well behaved those guests are!
Make sure you contain your pooch in a safe area while unattended, either in a crate, playpen, or gated-off area. Supply safe toys and chew bones to keep them distracted. My recommendations include: Busy Buddy Twist and Treat or 3" hollow, sterilized bones, filled with yummy treats (cream cheese, peanut butter, cottage cheese, yogurt). We also recommend stuff-less skinny soft toys.
For cats, if you have a concern about them interacting with your guests, then contain them in a bedroom where they will be safe and comfortable. As long as it is only for a couple of hours at most, you won't even have to move their litter box!
If your dog is a social butterfly, make sure that you are keeping a close watch on them. Let them enjoy brief moments of interaction and then put them in a safe area so that you too can enjoy the festivities.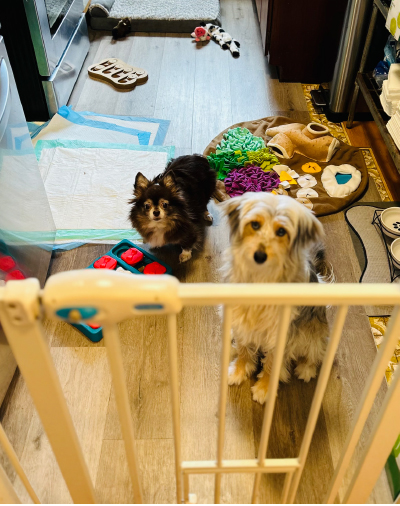 Decorations, plants and Christmas trees are beautiful and make the home smell welcoming, but they are not necessarily pet-friendly. Here are some issues to look out for:
∙ Tree ornaments, tinsel, candles, dreidels, wrapping paper and ribbons.
Dangers: choking, burns, intestinal blockage, stomach infections.
Symptoms: vomiting, diarrhea, lethargy, pain, fever.
∙ Mistletoe, Poinsettia, Xmas tree pine needles, holly.
Dangers: gastric distress, mouth irritation/allergies and death.
Symptoms: drooling, stomach pain, shock, difficulty breathing, vomiting.
∙ Cords & Lights
Dangers: electric shock, death, burns.
Symptoms: abnormal breathing and heartbeat, loss of consciousness.
∙ When it comes to food and drinks, watch out for tainted water (someone always "spills" into Fido's water bowl), chocolate (especially dark chocolate), fat trimmings, nuts (especially macadamia, almonds, walnuts, pistachios). You also want to be mindful of sap in Christmas tree water, and the satin stand cover. Dangers: Pancreatitis with fatty foods. Gastric and respiratory distress from sap water can also cause seizures, coma. Symptoms: Vomiting, tremors, difficulty in breathing.
∙ If you are serving alcohol, or have guests that are partaking in recreational marijuana, be mindful of where your pets are. While we may all enjoy imbibing, it can be lethal to pets, especially in larger quantities.
When it comes to Christmas day, or throughout Hanukah, remember that wrapping paper can act as prey to our furrever friends. For cats particularly, they love reflective wrapping paper. For dogs, any kind of wrapping paper can be considered their nemesis of the moment! The best method to avoid any issues is to ball up the paper and then toss it down a hallway or across the room for your pets to play with for a moment...but only a moment as they can swallow the paper and those dyes can make them sick. This allows them momentary play to satisfy their prey drive.
Lastly, many people think that pets are a wonderful gift for the season. Please do not purchase a puppy or kitten or "chick" for anyone. Often this results in disaster and a visit to the local animal shelter to surrender that animal. While the gift is intended as well-meaning, there are a lot of factors to consider. In this case, I would recommend a stuffed toy cat or dog.
Kate Perry is the owner of Kate Perry Dog Training and the author of "Training For Both Ends of the Leash"