GROOMIT
THE APP THAT GETS FIDO OR FIFI FLUFFED AT HOME
By Lori Simmons Zelenko
Finding that the time to take your pet to the groomer and then wait to pick them up is scarce? Always late to work on the days you drop off? And always late to get Fido or Fifi when you're facing work deadlines and leaving the office is a struggle? Groomit the new app is here to save you all this stress with on-demand in-home pet grooming services, they are growing operations in New York, New Jersey, Connecticut and Westchester, N.Y.
Groomit connects pet grooming specialists with pet owners, allowing users to select a groomer and a desired time window. Groomers provided on the Groomit app are fully insured and fully qualified professionals. In fact, having them visit is a like a spa day for your pet, they specialize in a pet's comfort and safety, bringing the relaxing aura directly to your home
I can tell you, I tried it not only did I love it but so did Bikini and Annabelle. As Lars Rissmann, COO of Groomit in New York says, "Pet families today will go above and beyond to keep their animal companions happy, healthy and well-pampered." That's me and most of the pet parents I know. I want the most comfortable and safest experience for my two fur babies.
The Groomit app and website allowed me to schedule my in-home grooming appointments with ease - and speed. Not only was appointment booking and payment within app convenient but our groomer was gentle and conscientious with the dogs and highly experienced too. Groomit prides itself on safety conducting extensive background checks on their groomers and makes sure that insurance covers all pets and property. Groomers and customers rate each like a built in Yelp, holding Groomit then to higher community standards. Appointments are in the comfort of your home, especially great for senior dogs who don't need the stress of being caged at the grooming salon.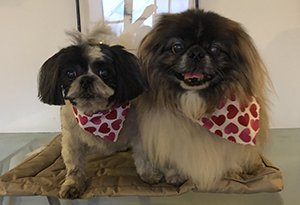 Bikini and Annabelle post GROOMIT session. So fluffy! So proud! So ready to be pampered with this amazing in home grooming concept. Booking our next appointment NOW!
Bikini and Annabelle enjoyed their session with Jennifer who went out of her way to be loving and gentle with them. And they got decked out in the cutest bandanas! Annabelle was one shaggy dog before her session now she's a whole new pup, looking younger and trimmer with her new 'do. Bikini is always a fluff monster indeed he shed monstrous amounts but came out looking glossy and handsome, quite proud of himself too.
The mobile app is available on iOS App Store and Android Play store.