HOWIE MANDEL GOES INSTA-CRAZY
SHARES VIDEOS OF ANIMALS DOING THINGS
NEW SEASON PREMIERES ON NAT GEO WILD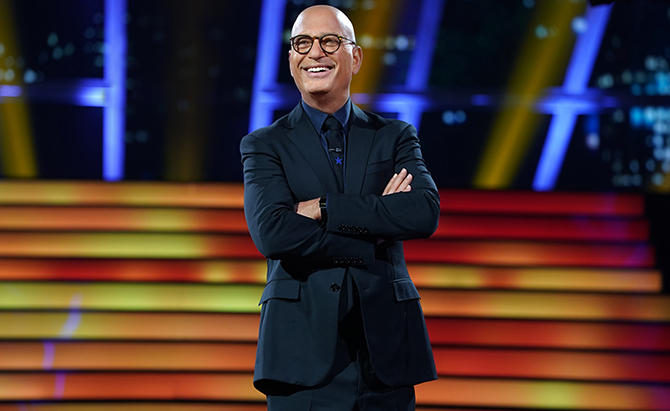 By Lori Zelenko with Samantha Story
Who doesn't love scouring the internet for adorable pet videos? One of America's funniest people, comedian, talent show host and now animal antics commentator, Howie Mandel is a self-confessed addict for these joyful captures of pets among us and into the wild. So crazy is he for such pet performances, that he teamed up with Nat Geo WILD to bring your favorite animal videos to the small screen.
Animals Doing Things an ongoing series on Nat Geo Wild, premieres a new season Saturday, June 8th at 9:00 pm with Mandel at the helm, providing his electric commentary and quips!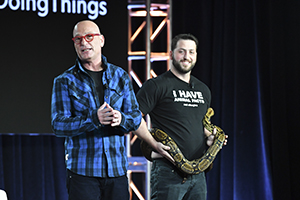 Mandel, known for his work on mega-popular TV shows America's Got Talent and Deal or No Deal, provides his light-hearted comedy, but the show does also deliver some fascinating facts for viewers. "Like the Instagram, the show is pure entertainment, but not without some valuable education," says Mandel. The videos that the show receives are sent in by viewers, adding to the show's extraordinary relatability. "We take what the followers send our way - we take our cues from them." Animals Doing Things is no star trip for Howie, it's actually a family affair.
Mandel's love for funny animals stems from his own family's animal-enthusiasm. Candidly, he says "I can't tell you the number of animals that have been through our household. Name a species, it has been here,'' he says with humorous exasperation. But PLM asks, let's talk about dogs for moment, putting rodents aside even if rodents i.e. rats, hairy we presume, are doing what Howie could call a star turn on AGT this coming season. There are two dogs in his off-camera life, Coco, a Yorkie, and Lola - his wife's dog - a long-haired chihuahua. Though he loves his family pets, sometimes the love isn't always reciprocated. "I love Lola, but Lola does not always love me. Yes, we had Cesar Millan come in and try to fix the relationship. He tried." Says Howie with a sad sigh. If you watch Cesar's session on The Dog Whisperer, it is, well, sad to say painful. This tiny beast, Lola, just about eats Howie alive.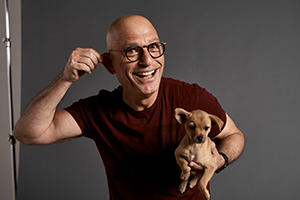 His dog, Coco, on the other hand is another story. "Coco is so calm, if she were a person, she would be a yoga instructor. Namaste. She's very low-key which is surprising as Yorkies can be fussy and energetic."
Mandel admits, though, that the biggest animal lover in his household is his wife, Terry. His wife has a soft spot for rescuing animals, but he has a different word for what she does. "She calls it 'rescuing'. I call it 'taking'. She takes any animal in her path." Comically he mimics a local wildlife rescue center calling to ask for Mrs. Mandel, he answers the phone to offer to take a message. What does he hear, "We have her crow here. You know the one she found by the side of the road? Just advising we are ready to set I free back into the wild now, it's healed."
His wife's passion or animals is a trait passed on to his son, Alex, very much a presence on the Nat Geo show. Says Howie, "Alex is a veritable encyclopedia - he knows every obscure fact about animals. Ask him about a water buffalo, for example, and he will tell you where it is indigenous to, what it eats, how much it weighs - every possible fact." His son also makes appearances on Mandel's show, sharing his animal knowledge and love for furry friends with viewers too.
Mandel's household has been the home of many, many animals over the years. He reflects as he looks forward to a season of America's Got Talent featuring rodents trained into what he equates to a dog act, "We owned a rodent - a rat actually a bald rat. It was my daughter's. We assumed it was always happy. Until the trainer for the AGT act told me her rats were happy, it never occurred to me that they possibly were not happy. My daughter's rat spent less time in the cage than in her hand. She carried it around with her all the time. It was hairless, with crinkly skin and lots of lumps, so we called it 'Lumpy'."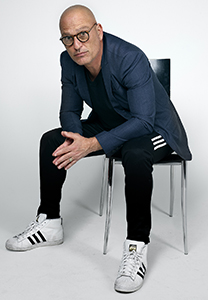 Mandel has in recent years spoken publicly about his OCD and mysophobia (fear of germs). "Though I am a dog-lover, it is a bit of a dichotomy as I am a germaphobe, so I am not a cuddler or a big toucher."
Despite his condition, Mandel expresses the sheer gratitude he has for the pets in his life. "Even if you have had a crappy day you come home and they greet you. Everyone needs a place to escape and immersing yourself in the love of a pet does just that. Just love pure love."
It looks like Mandel's year is only looking up, as AGT returns May 28th and Deal or No Deal premieres Wednesday, June 12th. Howie's first solo stand up special in 20 years "Howie Mandel Presents Howie Mandel at the Howie Mandel Comedy Club" is also currently available on digital platforms.
Need a fix of funny animal videos to get you through your workday? Then be sure to check out @AnimalsDoingThings on Instagram and set your DVR for Nat Geo WILD when Animals Doing Things airs June 8th at 9 p.m.