Dog Friended Me:
How Javicia Leslie found true love and happiness with her rescue dog, Judah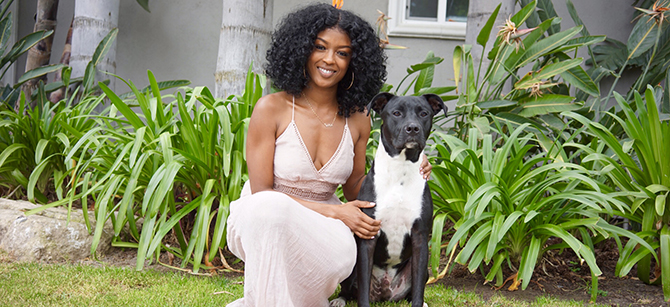 By Adrianne Frost
Currently, Javica Leslie stars in the CBS-TV hit show, "God Friended Me". She came out to New York from Los Angeles. So, before moving to New York City from California, Javicia had to take care of a few things: 1. Find a place to live 2. Pack 3. Adopt a dog. She wanted to bring a new family member with her to "such a foreign place". "Also," she adds, "I was really ready to be a dog mom!"
"I adopted Judah for my birthday in May of 2018," Javicia explains. "Judah is a rescue. The shelter is called Helen Woodward Animal Center in San Diego, CA." She is a big fan of the shelter, and says, "They do such a great job there. I love that every night the dogs go to a foster home, instead of being left in the kennels alone."
Judah is also a Pit Bull. Javicia acknowledges that the breed gets a very bad (and unjustified) rap. "I've always had Pitbulls and Rottweilers in my life, so I personally have never experienced the negative aspect." She knows it's all about the love they get. "I am a strong believer that it's the way they're raised. If you raise them with love and socialize them properly, they can be just as soft and lovable as smaller breeds."
New York can be a scary place to be at first. "Living in NYC alone can be a bit scary at first, but having him with me made the move feel safe." Now, Judah is by her side at all times. "Judah goes EVERYWHERE with me! He comes to work, where he gets to hang with my co stars' pups," she says. "I love taking him to the dog park in the morning. For some reason it's super fulfilling to see him and the other pups run at full speed having the time of their lives."
But being good buddies; they spend plenty of time catching up on TV. "He loves to watch television with me. He sits upright on the couch, kind of like a human, and watches whatever I'm watching. If I have to leave him home alone, I always leave Animal Planet on... he'll watch it for hours." And when the tube is tuned to "God Friended Me", Javicia says Judah is watching! "One day we were watching God Friended Me, when he heard my voice his ears perked up and he walked closer to the TV and started watching!"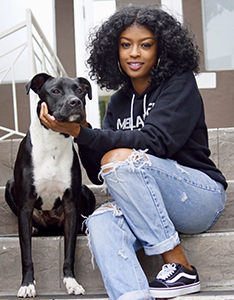 "He is really like my child," Javicia says proudly, "We go everywhere and do everything together." As an actor, travel is a serious part of the job. "We love traveling," Javicia excitedly tells us, "He's a pro at the airport!"
Javicia beams as she talks about Judah, "I love that he wears his feelings on his sleeve, I can always tell when he's emotional about something and he can tell when I'm sad about something. That leads me to his cuddles, and his cuddles are out of this world! To be honest, I knew from the moment I met him that he was special and I had found my fur baby!"
"I love Judah," she says, "but more than anything, I love all animals!!! I feel strongly about doing our part in protecting and enforcing the rights of all animals.  This includes living a vegan lifestyle. As an actress, we work long hours so it's important we constantly maintain clean energy.  Giving up all animal products has helped my health and energy as a whole!"
Coming up, you can see Javica Leslie in the romantic comedy film called 'Always a Bridesmaid', then she returns to New York to film season 2 of 'God Friended Me'. In the fall of 2019, she will also be starring in the hit BET series 'The Family Business'.
Expect to see Judah on set!