The Dog Mom from Down Under
Aussie supermodel Jessica Hart
By Todd Neikirk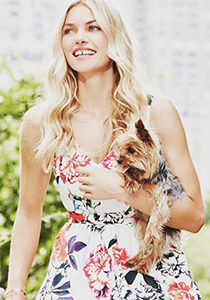 Jessica and Floyd so happy together. The supermodel and her Yorkie travel coast to coast jetting between NY and LA in style.
Australian supermodel, Jessica Hart, and her trademark gap-toothed smile have graced magazine covers of Vogue (multiple editions), Marie Claire, Elle, and GQ. She has also walked for such renowned fashion labels as Louis Vuitton, Dolce Gabbana, Max Mara and Victoria's Secret. The 240,000 fans of Jessica's Instagram page will always come across one constant, her pet Yorkie, Floyd.
Jessica adopted Floyd 8 years ago and they currently live together in New York . How do the Australian stunner and her buddy do the city together. We hit the park, go to brunch, all the usual bestie stuff, says the supermodel. When they have to get out of the city, Hart says, "I love taking him to the Hamptons, he loves being on the beach."
While Jessica is a world-renowned model, she is not the only member of her family with impressive credits. I asked if Floyd likes the limelight? "Yes, Floyd is very photogenic, he's even been features in American Vogue. Check him out at @theadventuresoffloyd." And while he's never walked on the catwalk alongside Mommy, Hart says that is an item on their shared bucket list.
Of course, supermodels must travel all around the world to ply their trade. Does Floyd accompany Jessica on all of her trips? "As much as possible, she says! "In the US, he travels with me between NY & LA, to photo shoots and work. However, it's tricky to take him when I need to travel internationally, luckily my friends love to look after him when I'm away."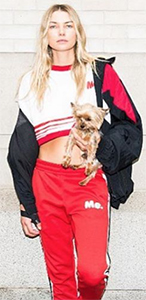 Floyd is no stranger to the camera. He's posed for a fashion mag or two in his career as supermodel Jessica Hart's BFF.
With his adorable appearance and HUGE personality, Floyd doesn't seem like an easy pup to leave at home. I asked Jessica if her Yorkie accompanies her on photoshoots. She told me, "For the most part I can bring him to most photoshoots, especially if it's a client and team I've been working with for a while. However, I've never taken him backstage to a runway show, that would be a little tricky. It's madness backstage, and he is so tiny."
Some dogs love to dress up in outfits and for others, it's a bit of an ordeal. Most dogs, however, aren't globetrotters who have appeared in major fashion magazines. So does Floyd have any couture items that he likes to dress in? "I try to put him in all types of outfits," says Jessica,"but he prefers his birthday suit."
For Hart, who was born in Sydney and discovered in Melbourne, four-legged friends have always been a way of life. She tells Pet Lifestyles Magazine, "I grew up with a dog, a pug named Toto, I've also had a Yorkshire terrier named Charlie. I've always had a dog! Floyd is my only pup now though."
In addition to walking catwalks around the world, Jessica is also an entrepreneur. She is the founder of Luma Beauty which specializes in cosmetics products. You can check out her Instagram page at instagram.com/jesshart and of course, you can check out Floyd's personal page at instagram.com/theadventuresoffloyd.