BIEBER AND GIZELE
From the runways of the world to the dog parks of NYC Where she goes, he goes - and 1 million Instagrammers follow
By Todd Niekirk
Polo Ralph Lauren, Rebecca Minkoff, Tory Burch and of course, Victoria's Secret - are just some of the runways Brazilian beauty Gizele Oliveira has graced. Her lovely looks and her love for Bieber, her three-year old Bichon and Havanese mix, not to mention her swimsuit poses on our favorite beaches, have earned her more than a million devoted Instagram followers.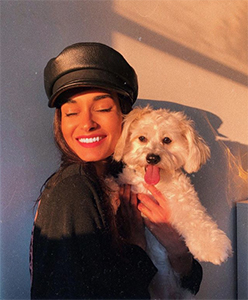 Gizele whose every move is followed by 1 Million instagrammers snuggles up to her beloved Bieber. True love at its finest.
Bieber entered Gizele's life at two months old. Though she genuinely wanted to rescue, it turned out not to be possible given her jet set lifestyle, constantly traveling the globe for shoots and shows. In finding Bieber, Gizele found true love and a travel companion like no other. "I feel like he's been everywhere with me," she says with the glowing look of a proud dog mom who applauds her pup's excellent travel manners. "We've been to LA, Miami, San Francisco, Paris, Monaco, Cannes, Brazil, Morocco...His favorite cities are LA and Miami!"
When in NYC however, they spend quality time together, doing what every dog mom enjoys doing with their fur kid. After all, supermodels are just like us. "I love taking him for long walks, to dog parks and naturally, cuddling with this baby boy is just the best! I just found out about this dog cafe (borisandhorton.com - downtown NYC) and I definitely need to take him! For sure that will be our favorite spot!"
Of course, Bieber's no stranger to backstage or even being on set. Though, Gizelle sas, "it depends of the client." Although Bieber being so very cute is distracting, he's usually welcome when she's working. Of course, his constant presence begs the question, has he ever walked the catwalk alongside her? "No! I actually really hope it happens one day! He was born to be a star, haha!"
Gizele's love of dogs is a life-long passion. Candidly she reveals, "I got my first dog when I was 11, she's still alive but super old. Then she had a daughter that was my second dog. Both mini poodles, that's why I have a poodle tattoo on my arm. They are so important to me!"
Bieber is naturally a rock star in her book so it's to be expected that Gizele shares insights in his personality with the true enthusiasm of a crazy-for-my-fur-baby pet parent, "My favorite thing about Bieber is that he's super sweet to everyone and he loves kids! He gets super excited when he sees a kid, especially a toddler! What else do I love? I love that he is a big fan of cuddling! He's the best cuddle buddy!"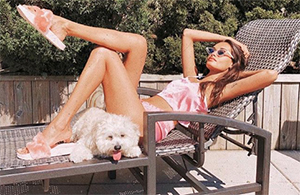 Fun in the sun Supermodel Gizele and her best buddy Bieber chill out together. Rarely apart these two are totally in sync.
With a world-renowned fashionista as a mom, it's no wonder Bieber has a fashion sense all his own. He loves the attention being well dressed gets him. Gizele explains, "Bieber is reluctant to put on his jacket until he gets a lot of compliments. Then he's ok with it." Is there a fashion label he prefers? Apparently, he loves his costume from Lilo & Stitch.
For the latest on Gizele and Bieber's globetrotting, find the scoop on Instagram @giizeleoiliveira. But to learn the beauty secrets of this international runway sensation, go to www.gizeleonthego.com.