Nicole Ryan and Leo: Now On-Air
By Crystal C. Long
Wife, Mom, Co-Host, Radio Personality, Reporter, Keynote Speaker – these are just some of the many identifiers to describe Nicole Ryan. Whether jetting off to Vegas for the Billboard Music Awards or being the keynote speaker at the Moms Rock Expo, dynamic radio personality and Co-Host of SiriusXM Hits 1's The Morning Mash Up Nicole Ryan does it all with an abundance of passion and heart – as well as a sweet little Shih Tzu named Leo by her side on all her adventures (well, when permitting of course).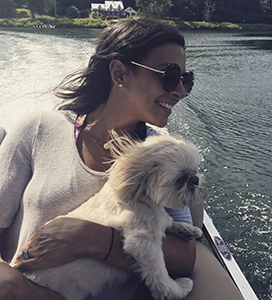 Nicole and Leo out for a good time.
Ryan and Leo's lifelong friendship started when she got one of the best welcome home presents in her life, "When I returned home from a work trip my husband surprised me with him," said Ryan (cue the awwws!). And from then on, a lifetime of love, cuddles, and all the joys from being a pet-parent started. "I love how amazing he is with my children and how I never worry about him running away. He's happiest right by our side! He also is super in tune with my emotions and when I'm stressed or sad he'll come and snuggle or kiss me to comfort me." she told Pet Lifestyles Magazine.
A star in his own right, Leo lives life in the fast lane – going to work with his mommy, taking care of his human brother and sister, and showering his family with love and kisses, yes, it's what a dog was born to do, but Leo has some pretty exciting adventures of his own too. One of the perks of having a star radio personality as his mommy is getting the attention of many celebrities – and boy oh boy has Leo met many. "He's met Miley Cyrus, Chris Hemsworth, Pink, 5 Seconds of Summer and more!" said Ryan. "I couldn't even get Pink to start the interview 'cause she was loving on Leo so much! She honestly just wanted to cuddle and mush him and forget our chat we had scheduled!" exclaimed Ryan. Needless to say, Leo is lapping up the attention, "Leo was a big fan of 5SOS who actually requested we have a dog there for the event we did. He took turns sitting on all of their laps and then cried to go back in the studio when they took him out for their performance. So clearly he felt connected to them!"
But one of Leo's favorite adventures is going to the studio with his mommy, and he is indeed the perfect work companion: easy, well behaved, never yaps, and being small enough to sneak into non-dog-friendly places. Of course brightening up Ryan's days is just another plus, "It's so sad to leave my babies at home so to be able to bring my furbaby makes that a little easier on those days." She said.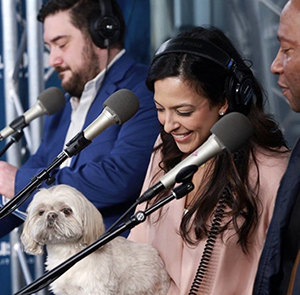 Nicole Ryan and Leo, her furbaby, at work.
However, with all of this stardom stuff aside, Leo is just like any other dog and is happiest when right by his humans' side. As Ryan lovingly stated "Leo loves coming to happy hour with us and sitting outside at restaurants when the weather is nice but his favorite place to be is on the beach laying in the sun!" Yes, Leo is living the dream life, and the love he gives to his human family is fully reciprocated – Ryan and her family's love for Leo goes to no extent: Ryan even brought her furbaby a dog umbrella. "Poor Leo (like so many dogs) hates the rain...he refuses to go outside when the weather is bad so I decided to buy him a dog umbrella," chuckled Ryan, "which is basically a leash that has an umbrella on it to keep him dry. He hated it but I tried!"
Just like Leo, Ryan is living her dream life with her family of five consisting of Ryan and her husband, Matt; their two oh-so-adorable kids, Parker and Keegan; and their sweet and lovable furbaby, who turns six in June! Happy Birthday Leo!
For more of Leo-adorableness, follow his adventures on Instagram @leootterman and Ryan's Instagram at @mashupnicole.