SQUARE PAWS
CREATING COZY CAT QUARTERS ARCHITECT MARIO ARBORE DESIGNS FELINE FANTASIES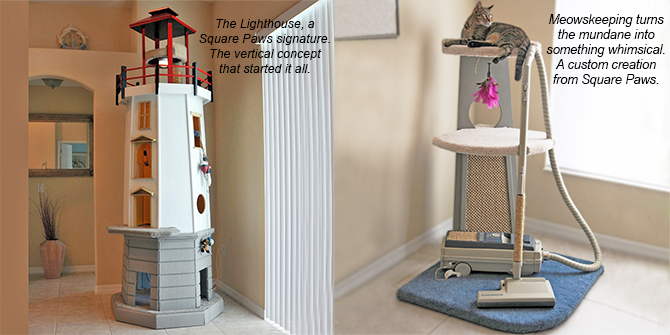 By Lori Zelenko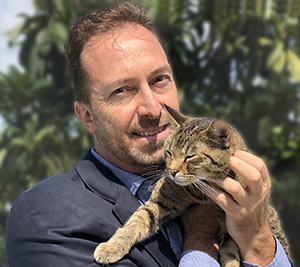 Architect and artisan Mario Arbore with one of his cherished felines, the inspiration for his fanciful cat towers. For more on his crazy-creative work, go to squarepaws.com.
Fish got to swim. Birds got to fly" and forgive us Jerome Kern, but cats got to climb. Architect Mario Arbore understands this only too well. A pet parent to three cats himself, he found himself pondering the idea of creating scalable "cat houses," environments where felines could climb, crawl, or curl up depending on their mood. But no ordinary structure would do for his fine four-legged friends. Before long, his thoughts turned to reality, and a business was born: Square Paws (squarepaws.com), architect-designed, artisan-crafted cat towers and bespoke residential and commercial installations.
He started in 2014 with a vertical orientation. Lighthouses to be precise. From an architectural history standpoint, Arbore delved deep, enjoying himself as he researched the various styles and forms of these structures so prevalent along America's waterways. He soon found the floodgates opening for more extraordinary flights of fancy. As he says, once he started, the ideas, the imagination-powered vision, led to oversized objects, outrageous in more than one instance. Among the creations, a giant Espresso Pot, a tin of Sardines offering a nesting nook, and the Eiffel Tower. Soon he found himself pushing boundaries and creating even more wonderfully whimsical habitats for furry friends:
a Ferris Wheel and a Giraffe with climbable crannies in its neck.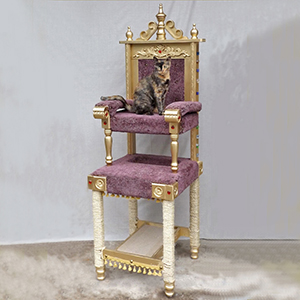 Fit for cats who consider themselves royalty, a Throne that's outrageously beautiful from Square Paws.
His own cats, Bella, Ciccio, and Lana are continuous sources of inspiration, each one unique in their behavior (as all cats are). "They find wonder in so many things," he observes, cherishing the subtle, intimate way they express affection and noting how some like to "cave" while others like to jump immediately to the highest point of a cat tower. Arbore does maintain, however, that designing for creatures whose very nature is to claw and destroy has its challenges. But he takes that into account, providing dedicated spots for scratching and clawing within his sturdy structures.
Though his work may be grounded, he admits to bringing "crazy" to custom cat towers. Naturally, clients with eccentricities of their own gravitate to his aesthetic. Arbore speaks of one client in Santa Barbara, California, who with his partner has 22 cats. What was Mario's mission? He started with a custom wine glass envisioned as a cat tower in his client's signature shades: bright blue, gold, and neon green. A year later came a second request: a cat tower to enable the client's felines to contemplate the great outdoors, have access to an excellent window view, or watch fish swimming in a fish tank oblivious to their predatory companions. No obvious answer would do here.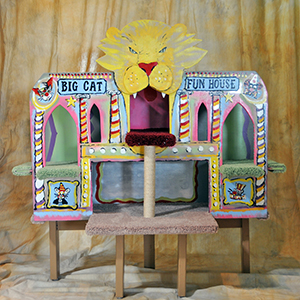 This Fun House from Square Paws is truly a flight of fancy.
Mario and the Square Paws team came up with a concept as fanciful as the demand itself, "pretending that the fish tank was spilling out into the room and that the cats themselves would be underwater. As if they were in this submerged habitat. We built a cat boat that was mounted to the center of the ceiling in the room so the kitties could look out the skylight. Then we added a 'Coral Reef,' a cat tower with hand-carved fish 'swimming' around each elevated cat platform. Unifying the concept was a cat-walk 'wave' sweeping from the boat to the reef." In the scale of things, hard to say who's crazier here, the client wanting a fantastic feline habitat? Or Mario Arbore for having the verve and imagination to make a dream come true?
There are always new projects in the works for Square Paws, each one a joyful exploration leading to unexpected creative and innovative discoveries. Among the cat towers there is no consistent favorite for Arbore. "Each one," he says, "has their moments." So what's next on the horizon for this architect whose own cats must feel like royalty? (After all, he has made a cat tower throne.) Coming soon: a Fun House, a zany kitty play space for sure, and a music-themed sanctuary celebrating an animal-friendly pop artist. All in the name of love for our feline friends.