Cat Climbing in Style
By Kate Benjamin
Cats have a natural instinct to climb. They are hardwired to survey their territory from above, looking for threats as well as opportunities for a meal. Of course, when they live safely inside with us there are no threats and their meals are delivered on a regular basis, but even so, they need to be able to get up high in order to feel safe and secure.
How does it make you feel when I tell you that you need give your cat a place to climb? Is your first reaction "No way! I don't want my house to look like a crazy cat lady lives here!" Well, I'm here to tell you that there's nothing to fear, you can create a fantastic climbing area for your cat that fits beautifully in your home, no matter what your decorating style is.
From cat trees and condos to wall-mounted perches and shelves, there are tons of options available today to give your cat a stylish and secure place to climb. These items won't create an eyesore that needs to be hidden away when company comes over, instead they are beautiful additions to your home that will make your cat happier than she (or he) has ever been.
---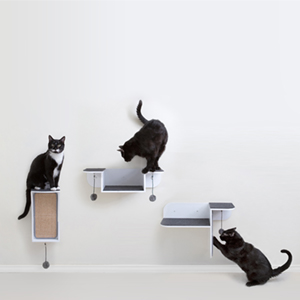 Nest Perch, Step Perch & CATchall from the Hauspanther Collection by Primetime Petz
These three wall-mounted pieces from the Hauspanther Collection by Primetime Petz allow you to create a stylish wall-scape for your cat to climb, perch, scratch and play. Carpet pads prevent cats from slipping and replaceable sisal scratchers add extra enrichment. Available in white and espresso finish.
$59.99 to $69.99
Available from shop.hauspanther.com
---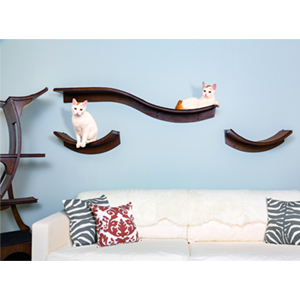 Lotus Cat Tower & Lotus Cat Shelves from The Refined Feline
The Lotus Cat Tower and Lotus Cat Shelves from The Refined Feline coordinate beautifully creating a complete cat climbing system. Contemporary sweeping curves make these pieces standout. Available in espresso, white, smoke and mahogany finishes.
$74.99 to $369.99
Available from therefinedfeline.com
---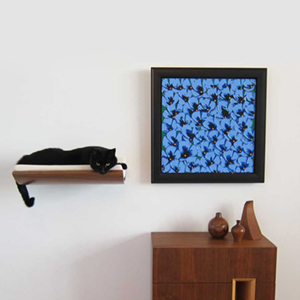 Curve Cat Shelf from Akemi Tanaka
Brooklyn-based designer Akemi Tanaka created the Curve Cat Shelf for her own cats. The slim profile allows you to mount the shelf on any wall or under a window. Available in birch or walnut finishes with your choice of designer cushion covers.
$199
Available from akemitanaka.com
---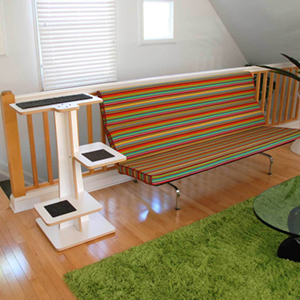 Modern Cat Trees and Cat Shelves from Square Cat Habitat
These sleek modern cat trees and shelves from Square Cat Habitat are not only beautiful, but they are made with eco-friendly materials plus they are built to last like fine furniture. Choose from a wide variety of finishes and different colors for the carpet pads.
$50 to $750
Available from squarecathabitat.com
---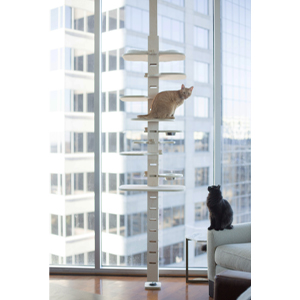 Elevation II Cat Tree from ContempoCat
The Elevation II Cat Tree from ContempoCat is a minimalist cat tree that's tension mounted between the floor and ceiling, no drilling into the walls required. You can position the platforms in any configuration, creating a totally customized climbing tree. Fits ceiling heights from 93" to 120".
$349 to $398
Available from contempocat.com
---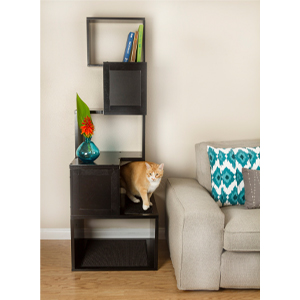 Sebastian Modern Cat Tree from Designer Per Products
This cat tree could double as a piece of modern art. Incorporating multiple levels for climbing, resting and scratching along with spaces for books and décor. Available in black or white finish.
$289.95
Available from designerpetproducts.com
---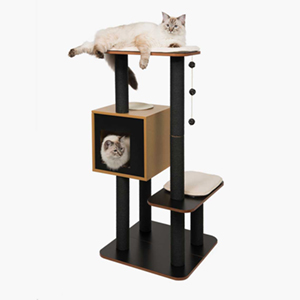 Vesper Modern Cat Furniture
The Vesper modern cat furniture line includes several contemporary cat trees featuring surfaces for climbing and cozy hideaways for resting. Removeable pads allow for easy cleaning and the smooth surface can be easily wiped down. Available in walnut, oak and black laminate finish.
$99.99 to $179.99
Available from usa.catit.com
---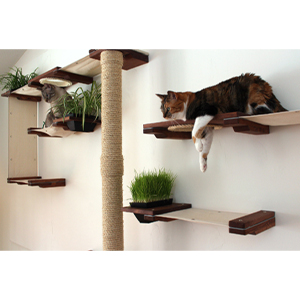 Catastrophic Creations
Create a customized cat climbing wall with this unique line of wall-mounted cat products from Catastrophic Creations. Wooden shelves combine with canvas pieces allowing you to create ramps, perches and walkways. You can even add sisal scratching posts and containers for growing fresh cat grass.
$48 to $575
Available from catastrophicreations.com (note: only one C in the middle of URL)
---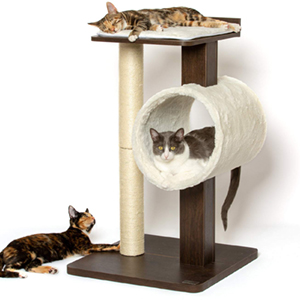 Modern Cat Tree from PetFusion
This compact modern cat tree from PetFusion is perfect for small spaces. Features a generous platform on top for lounging plus a comfy hideaway and a sturdy sisal scratching post. Rich espresso wood finish coordinates beautifully with décor.
$109.95
Available from pet-fusion.com