HIKING WITH YOUR DOG?
MAKE IT AN EXPERIENCE TO REMEMBER
By John Woods
With the season for outdoor sports upon us, Pet Lifestyles offers an easy guide to teach you the basics of how to prepare your dog for hiking, the equipment you'll need and some of the best dog breeds that are a match made in heaven for hiking.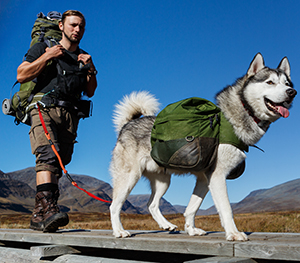 Preparing Your Dog for Hiking
Before you even begin to contemplate hiking with your dog, JohnWoods, owner of All Things Dogs, says that it is vital to ensure that your dog is well leash trained and has a good recall.
If your dog isn't used to long hikes and you're just getting into this hobby, you'll need to pace yourselves; slowly build up and increase the difficulty of each hike you do. Slowly increase your dog's endurance until they're ready to attempt a short hike.
Before you leave for your first hike, you'll need to ensure you have all the appropriate equipment, from the right leash, to a collapsible dog bowl.
What Equipment Will You Need to Hike With Your Dog?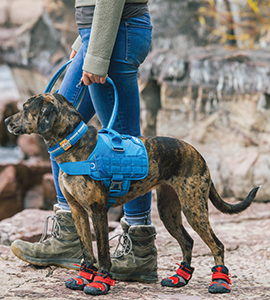 Harness
Start with a harness with a handle. A harness helps so that if leash gets caught or dog gets into trouble, it's not being strangled at the neck. Handle helps if you need to help the dog up and over boulders or tricky terrain.
Leash
You'll need a good quality leash for hiking. There are so many different varieties to choose from: extendable leashes, to slacklines, to leashes that tie around your waste. The type you choose will depend on your dog and the types of hikes you'll be doing. It is good to have an extra leash in your backpack in case of emergency.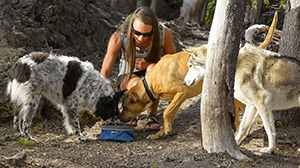 Collapsible Dog Bowl + Water Bottle
Dehydration and potential heat stroke are two risks that dogs face while enjoying the outdoors. Plan ahead to carry not only enough water for you, but for your dog as well. If going on extended day trips, consider purification bottles or tablets to convert water in lakes or streams into safe water sources for you and your pet.
If you're hiking on rugged terrain you might want to consider getting some boots for your dog to protect their delicate paws. Even if the terrain is smooth, sand can burn your dog's paws so don't take their stamina for granted.
Backpack
If you're using a backpack for yourself and for your dog as well, start light. Don't overload yourselves. It's recommended that your dog carry no more than 25% of its body weight in its dog pack. If your dog is new to dog packs, start with a light load and work up to a heavier load as your dog gets accustomed to wearing the pack.
Places in NY to Hike with Your Dog
New York may be a vibrant bustling city, but there are actually quite a few places for you can get away and take your dog for a hike. Avid hiker and professional dog trainer Steffi Trott recommends these popular places where you can hike with your dog in New York.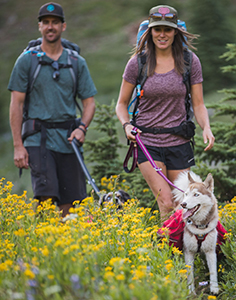 Ward Pound Ridge Reservation
This spacious park is located about 90 minutes from NYC. On over 4,000 acres it offers a variety of terrain and wooded trails to explore. A total of 42 miles of trails wind through the park.
You should not miss the Blue Trail that starts at the Kimberly Picnic Area and takes you to the highest point of the park at 860 ft elevation. If you hike this trail in June, you will see Laurels in full bloom along the way.
If you want to hike a bit longer consider the Red Trail. Starting at the Michigan Road Picnic Area, it winds a 5.6 mile loop through the park across a variety of scenery.
Rockefeller State Park
This beautiful park is located only 30 miles outside of the hustle and bustle of NYC and offers you an oasis of peace and quiet. The park is known to be very dog-friendly, so expect to meet some other hikers and their dogs on the combined 32 miles of trails.
You will be able to experience a variety of scenery: meadows, trickling streams and forests.
Be sure to hike the 13 Bridges Loop Trail that takes you over 13 lovely rivulets while hiking a total of 1.9 miles.
Cornish Estate Trail in Hudson Highlands State Park
This trail sits next to the Hudson River and offers beautiful views of the imposing Mount Beacon. The 1.8 mile out-and-back trail is only open from February-November, so make sure to visit it during these months!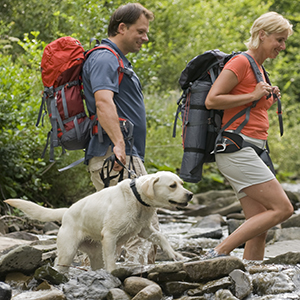 It is the easiest hike in Hudson Highlands State Park. On your path you will pass the ruins of the estate on your left. Take some time to explore the remains of various structures, such as a greenhouse, pump house and swimming pool!
Tips for Hiking With Your Dogs
Keep an eye on their panting. Panting is good, but excessive panting means your dog is overheated and you need to take a break!
Dr Wendy Hauser of Veterinary Relations at Crum & Forster Pet Insurance Group recommends that you prepare a doggy first aid kit including one roll each of: cast padding, gauze, vetwrap (synthetic elasticized self-clinging wrap) and elasticon (a very sticky somewhat stretchy bandage material). These versatile materials are great for bandaging lacerations, abrasions and sprains.
Kristiana Kripena from InsectCop.net recommends using a pet-friendly insect repellent on your dog every time you're about to head out for a hike. That is the most successful way to ensure that mosquitoes, ticks, and other pests aren't attacking your dog while you're hiking.
Steffi Trott of Spirit Dog Training says it is important to be courteous of others while hiking. Everyone has a right to be on the trail and it is everyone's duty to make others feel comfortable. Keep your dog to the side to let other hikers pass and do not allow your dog to get up close and personal with them. Not everyone is fond of a dog sniffing their pockets or bare legs!