Zani's Furry Friends:
Their Mantra is Rescue
By Aaron Greenbaum
When you visit an adoption center to pick out a dog or cat, do you favor younger, perkier pets, or does your heart melt for older, less-active animals who need just as much love? Do you mind if your adopted fur baby is missing a limb, an ear, an eye, or is deaf/blind? Regardless of your preference, Zani's Furry Friends has your purrfect match.
Zani's Furry Friends ZFF Inc. (or ZFF for short) is a non-profit 501(c)(3) organization whose mantra is Rescue. The organization is dedicated to rescuing cats and dogs from New York City shelters, where space is at a premium and the risk of euthanasia is high. Completely funded by donations and staffed by volunteers, Zani's has operated for almost twenty years and has saved the lives of thousands of cats and dogs of all breeds, sizes, and ages.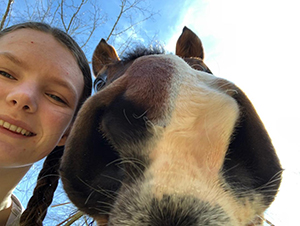 Zani's Furry Friends also helps the occasional horse, too.
Breaking Borders of All Kinds
Even though Zani's Furry Friends (ZFF) started as an adoption service to ferry pets from shelters to loving families, it has grown into a network of New York City foster homes and one New Jersey boarding facility – fittingly a renovated vet's office with plenty of outdoor space and couches.
Although many of the cats and dogs ZFF rescues are from the Animal Care Centers (ACC) of New York City there is also an overseas contingent, dogs in need of forever homes arriving at Kennedy Airport from far flung corners of the world. Zani's holds adoption events in New York and New Jersey, three or four a week during the warm weather months, thanks to its dedicated Adoption Van. Most Fridays, New Jersey adoption hopefuls can join the Zani's crew at the Iron Plow Winery in Columbus, NJ. On Saturdays or Sundays, the Zani's team visits the Tractor Supply Stores in Southampton and Allentown, NJ, just in case customers in the market for a new chicken coop or tractor may also want a loyal pet to help around the farm or lovingly greet them after a long day in the fields. Alternatively, Saturday or Sunday, the furry friends return to NYC to run around Carl Schurz Park for another weekly adoption event, weather permitting, of course.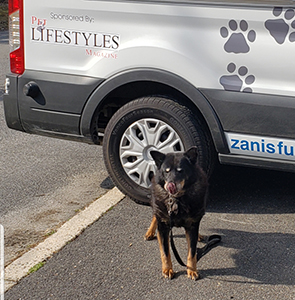 A furry friend in front of the Zani Adoption Van.
Even when the cats and dogs aren't playing outside on the weekend, they can sit comfortably in the adoption van, so people who are interested in adopting a pet need only walk up to a Zani's volunteer and ask how much is that doggy/kitty in the window. Zani's Furry Friends is excited to be a part of the World Dog Expo, keep an eye out for their van not to mention an array of rescue dogs ready for loving families.
The name of the organization might be playful, but Zani's Furry Friends' volunteers are one hundred percent serious when it comes to their wards' happiness. For instance, if their cats need the company of another cat, they only let people adopt cats in pairs. More importantly, Zani's only took on animals who got past the discerning eye of the Boarding Dog Director Ursula. Sadly, she recently passed but this beloved mascot was an excellent judge of character. If an abandoned pet got along with her, they were deemed prime adoption material. Will there be a new Ursula, we all have to wait and see.
This tripod-dog has a loving forever home thanks to Zani's Furry Friends.
Equal Opportunity Rescues for Equal Opportunities at Happiness
Zani's Furry Friends might focus on the pets of New York City, but they always have time to help cats and dogs in need from afar. I'm talking countries such as Puerto Rico, Egypt, Jordan, and Kuwait, and many other countries in the Middle East and Asia. Zani's works with foreign rescuers to save pets from any country where "animal welfare" is not a common practice. And occasionally, with advance advertising, these overseas pets are adopted upon arrival.
Volunteers at Zani's have rescued older, blind, three-legged cats and dogs, and they've also rescued animals thrown from buildings, burned with acid, hammered on the head, deliberately hit by cars, and have resultingly suffered other horrendous injuries – usually in countries with lax animal welfare if existent at all. ZFF tends to keep their adoptions local to the Metropolitan Area and New England, but volunteers never give up long distance options for that perfect home. While not their common practice, a few of their cats and dogs have found forever homes in Washington, D.C., Florida, New Mexico, Washington, Utah, California, and a coterie of adopters has even traveled from as far away as Nova Scotia, Switzerland, and Finland. Some of these adopters fly in for their new furry family members to meet them at the airport and load them onto their return flights. The less stress a rescue pet experiences before reaching its new forever home, the better.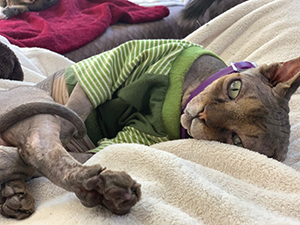 When a Zani's Furry Friends pet finds a forever home, they're set for life.
Instagram for Insta-adoption
To help find new potential adoption families and expedite the process, Zani's Furry Friends has adopted (pardon the pun) many social media practices. The organization has its own Facebook page, Zani's Furry Friends ZFF (not to be confused with the Zani's Furry Friends Facebook group; that's an unaffiliated group), as well as an Instagram account. However, the official Instagram account is just called Zani's Furry Friends.
Adoption hopefuls can check out Zani's latest rescues through Facebook and Instagram, and many of their adoptees have their own dedicated Instagram accounts. While browsing, potential adopters see the photos and fall in love, resulting in adoptions. Moreover, these accounts help ZFF volunteers keep up with the progress of an adopted pet, as well as spread word of Zani's Furry Friends' activities to potential adopters, always a boon for non-profit organizations that can't spend too much money on marketing.
Zani's Furry Friends ZFF, Inc has come a long way from its beginnings as a local adoption service. If you would like to help by donating your time or money, or if you want to read their most recent stories or check up on their adoptables, visit Zani's website at zanisfurryfriends.org. And, if you're in the neighborhood, please drop by their many adoption events in New York and New Jersey and say Hi! to the volunteers.