MOM ON A MISSION
FOUNDER OF FIVE STRANDS AFFORDABLE TESTING TELLS HER STORY
By Lori Zelenko
Mom on a mission - now that is a force to be reckoned with - a merger of power and passion. That's the force, the vital energy, of Lisa Blaurock, founder of 5Strands Affordable Testing. Struggling with weight and digestive issues most of her life, she spent thousands of dollars in testing and surgeries. Still desperate for answers on why she was not improving, she learned through an expensive allergy test that she was intolerant to some of her favorite foods.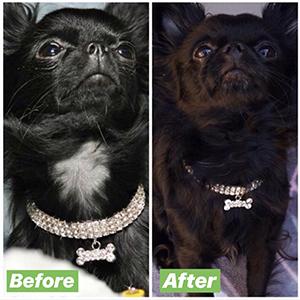 Diorabelle before and after 5Strands Testing helped eliminate intolerances.
Several months later, her daughter too had digestive issues. Although Lisa had the option of expensive blood tests and more invasive and yes, expensive, means of determining allergies, she felt this was not the route to follow.
Lisa searched for alternative ways to do intolerance testing. Research led her to discover a lab offering a blood test for $250.00 via an "at home kit." Lisa sent the kit to her daughter, away at college. Tears resulted when Lisa's daughter had to painfully prick her own finger in her dorm room and collect the blood sample. Surely this caring Mom said to herself, there has to be a better and easier way to test for intolerances. With further research, she found a lab in Europe that was doing testing with hair - and understanding her mission - AFFORDABLE TESTING FOR ALL - contracted with her and 5Strands Affordable Testing was created. Due to logistics, the lab was eventually opened here in the USA.
Fast forward about a year, Lisa's human customers start asking how to test their pets? Can Lisa help? Being a pet parent to four herself, she wanted to help. So she developed a hair analysis test for pets to determine food intolerances and environmental allergens.
The 5Strands Affordable Pet Test tests for around 200 food and 100 environmental items. A simple at home test that utilizes your pet's hair. Painless, hassle free, and affordable at $144.00. And best of all, no vet referral needed.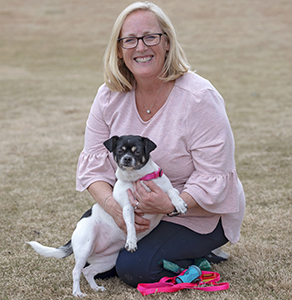 Affordable Allergy Test Founder Lisa Blaurock who is always so happy to see what a difference diagnosing intolerances and making changes can make for our pets.
Taking lessons learned from her human experience, Lisa recommended eliminating potential intolerances for Diorabelle. After the first week, her coat, eyes, personality, temperament, and energy level all improved greatly. There was also noticeably less itching after the very first day. Says Lisa, "I had been struggling for 2 years trying to figure out how to help her get healthy. THIS test with my quick action started her healthy life in just 3 weeks. She barely looks like the same pup. What a difference a few months can make when armed with the correct information." Within 4 months of Diorabelle getting on the right nutrition plan (eliminating trigger foods), she has gained 1 pound (she's now 4 lbs.), only has occasional itching, bright clear eyes, her coat is coming in thick and lush (no bald spots), she has much more energy and her tummy issues are gone. She is a very healthy happy pup now. It is obvious Affordable Testing is AMAZING! Don't hesitate to order today and get your pet healthy too! You'll be so happy you did!
For more information about 5Strands Affordable Testing please visit their website at affordableallergytest.com or contact directly at 1-833-600-8378